We've heard the question time and time again.
"How do you fund the Goodness Exchange?"
Part of that answer is affiliate advertising!
If you're a long-time Goodness Exchange follower, you've probably noticed a new addition: affiliate ads! After looking at grants, underwriters, Patreon, and donations to create sustainable funding, in 2020 we decided to try something new: affiliate advertising. We've found it to be the best way for us to support the Goodness Exchange financially and keep our commitments to quality content untouched by sponsors or obnoxious ads. 
Now you may be wondering: what on earth is affiliate marketing?
Good question! In short, we seek out companies who are truly doing good in the world whether that be giving profits to charities, using sustainable materials and practices, or being ethical and sustainable, and we promote them throughout the Goodness Exchange universe. When you click a link from GE to buy from these companies, we get a small commission!
That means you can support the Goodness Exchange, the planet, and some phenomenal causes all at the same time by purchasing from our affiliates. 
We want to assure you, we would never promote a company that we don't stand behind. The companies we promote are doing good for both people and the planet, and most have third party stamps of approval including B Corp, 1% for the Planet, and Climate Neutral certifications.
We believe deeply in something we call The Gratitude Economy: a way of looking at who we buy from and why that leads to the most possible good. Sure, you can buy a phone case, tote, or shoes just about anywhere, but when great companies are out there making the world better with their business practices, why wouldn't we want to support them, first?
In the current age of the internet, it's good to be wary of ad placements. That's why we wanted to tell you, right here, what you'll encounter when you see our affiliate ads. We want you to understand that there is no suspicious internet wizardry about it – because hopefully then you'll be more comfortable seeing and using those affiliate links!
Below you can find our Publisher Fair Processing Notice, intended to comply with all necessary legal disclosures including information about how we use personal data for the purpose of affiliate marketing.
Publisher Fair Processing Notice
When you click an affiliate link on our website, your Personal Data is being processed on behalf of the Goodness Exchange, known legally as Ever Widening Circles. Put simply, when you click on an ad, cookies placed on your computer by the Goodness Exchange can track you to that website. If you purchase from them within the next 30 days, we receive a small commission from their website for driving your purchase. 
Here is more information required by Articles 13, 14, and 26 of the GDPR about precisely how personal data is acquired and used:
Purpose and Use:
Data collected through affiliate links by the Goodness Exchange is for the sole purpose of affiliate marketing. The Goodness Exchange (known legally as Ever Widening Circles, thus hereafter referred to as "EWC") is represented by Liesl Ulrich-Verderber, who can be reached at [email protected] Data is controlled and protected by EWC. Legal basis of such data processing can be found in Article 6 of the GDRP point (f): it is based on the legitimate interests in affiliate marketing pursued by EWC. By accepting cookies on the EWC website and clicking on EWC hosted advertisements, you give your consent to the processing of your personal date for the purpose of affiliate marketing. The only recipient of the personal information is the company whose advertisement you click on. EWC does have the intention but does have the right to transfer personal data to a third country or international organization and the existence or absence of an adequacy decision by the Commission, or in the case of transfers referred to in Article 46 or 47, or the second subparagraph of Article 49(1), reference to the appropriate or suitable safeguards and the means by which to obtain a copy of them or where they have been made available.
EWC will store personal information in relation to affiliate links for only the period on which a commission from the cookie is available. For most merchants, that period is 30 days. However other companies extend cookies for 45, 60, or 90 days. Personal information from each affiliate link will only be held for the company's designated cookie duration.
The provision of personal data is a requirement for participating in affiliate linking, however the failure to provide such data has no consequences. EWC does NOT engage in automated decision making, including profiling, when processing personal data.
Your rights:
You as the customer have the right to request that EWC refrain from sharing personal data or that EWC restrict from processing concerning the data subject to or object to processing as well as the right to data portability. You have the right, where the processing is based on point (a) of Article 6(1) or point (a) of Article 9(2),to withdraw cookie consent at any time. This will have no effect on the lawfulness of processing based on consent before its withdrawal. You have the right to lodge a complaint with an EWC supervisory authority: [email protected]  
All of our current affiliate partnerships are run through ShareASale, aka AWIN. If you click on an AWIN affiliate program link you are also subject to the AWIN Fair Processing Notice, which can be found here: (https://www.awin.com/us/legal/privacy-policy).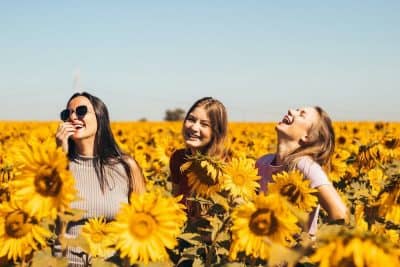 Don't miss out on a single article!
Enjoy unlimited access to over 500 articles & podcast that give you a positive perspective on the state of the world and show you practical ways you can help.
Sign up now!