Good Thing, Bad Thing, Who Knows? Silencing the Mental Chatter with Dr. Srikumar Rao (Episode #05)
Each day is absolutely wasted if you are not living each one radiantly alive. These are words from thought leader, Dr. Srikumar Rao, a world-renowned happiness guru and Founder and CEO of The Rao Institute which is dedicated to helping individuals live lives of extraordinary accomplishment and deep fulfillment. Dr. Srikumar is excellent at helping successful people make a quantum leap in their life to better relationships, work, and remove stress by becoming comfortable with ambiguity.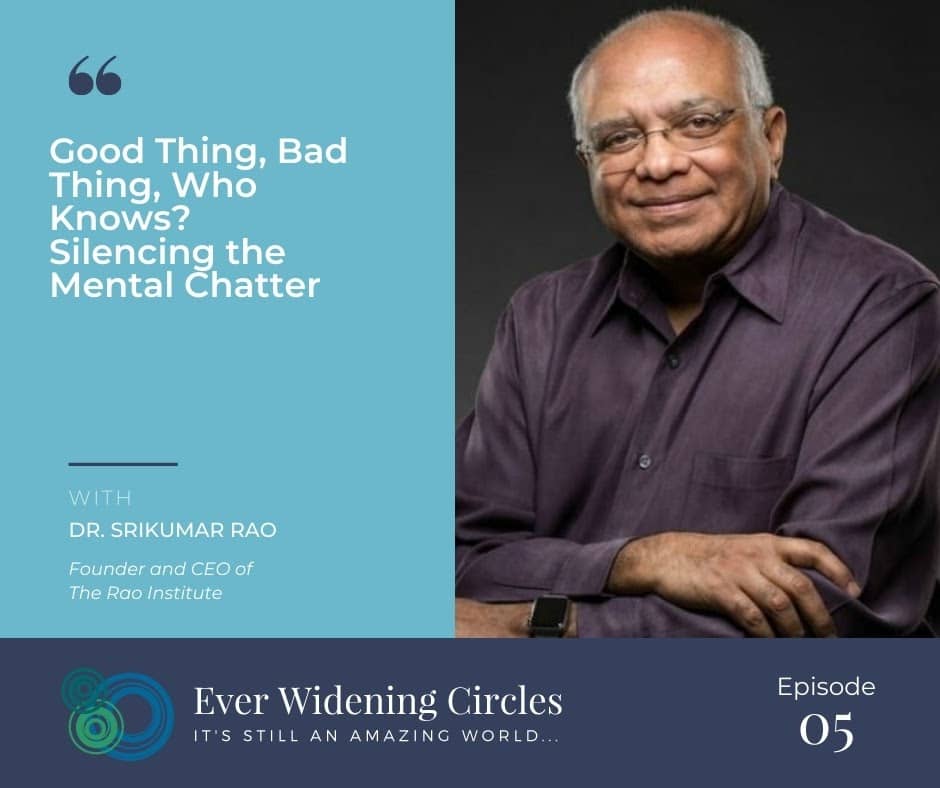 [00:01 – 09:06] Opening Segment
Let's welcome our guest for today, Dr. Srikumar Rao
Dr. Rao gives us some background

Being radiantly alive
There are steps we can take to get to this point

How Dr. Rao and I met
Dr. Rao's story

Tired of the politics in the corporate world
Teachings of the World's Greatest Masters
Created a course in personal growth
[09:07 – 18:36] Good Thing, Bad Thing, Who Knows?
A parable of wisdom from Dr. Rao

What was meant for bad became a fortune

Have you ever had something happen the life you thought was terrible but became a good thing
Dr. Rao shares an example from one of his talks

Stop and ask if this terrible thing could become wonderful

The realm of despair to the realm of possibility
Suffering begins when we label something bad and unbearable

Example of losing your job
Resilience comes when you stop labeling things as bad

Stuff happens to you, stop labeling those things as adversity and you won't have to bounce back from it
[18:37 – 28:46] Your Awareness Is Like a Flashlight
What Dr. Rao offers as a way of perspective

Timeless lessons from the Greatest Masters
Example: I suffered a great many tragedies in life, many of which never happened

Dr. Rao walks us through an example of awareness

The uselessness of worries

The conditioning of the mind around goals

Recognize you are happy, not that you will receive it
You don't get it because you need it but because it's your path in life
We have no control, we never did
Setting a goal is about the learning and growth as we try to achieve it
[28:47 – 38:56] Go Beyond the Duality
Dr. Rao shares perspective on the turbulence we experience

Is it bad? Is it good? Don't label it, go beyond the duality
It simply happened
This too shall pass
Do everything from the space of joy

Thoughts on mental chatter

The constant, incessant internal voice
The parable of the Second Arrow
Explaining through the story of a mother's child
The second arrow is always delivered through means of mental chatter
[38:57 – 46:58] Closing Segment
How would you have done if not for the pandemic?

The positivity that has come out of it

How can we find you?
What reminded you every day that it's still an amazing world?

Despite the fear we are in the best times we've ever been
There are multiple channels to discover that this is a matrix

Final Words