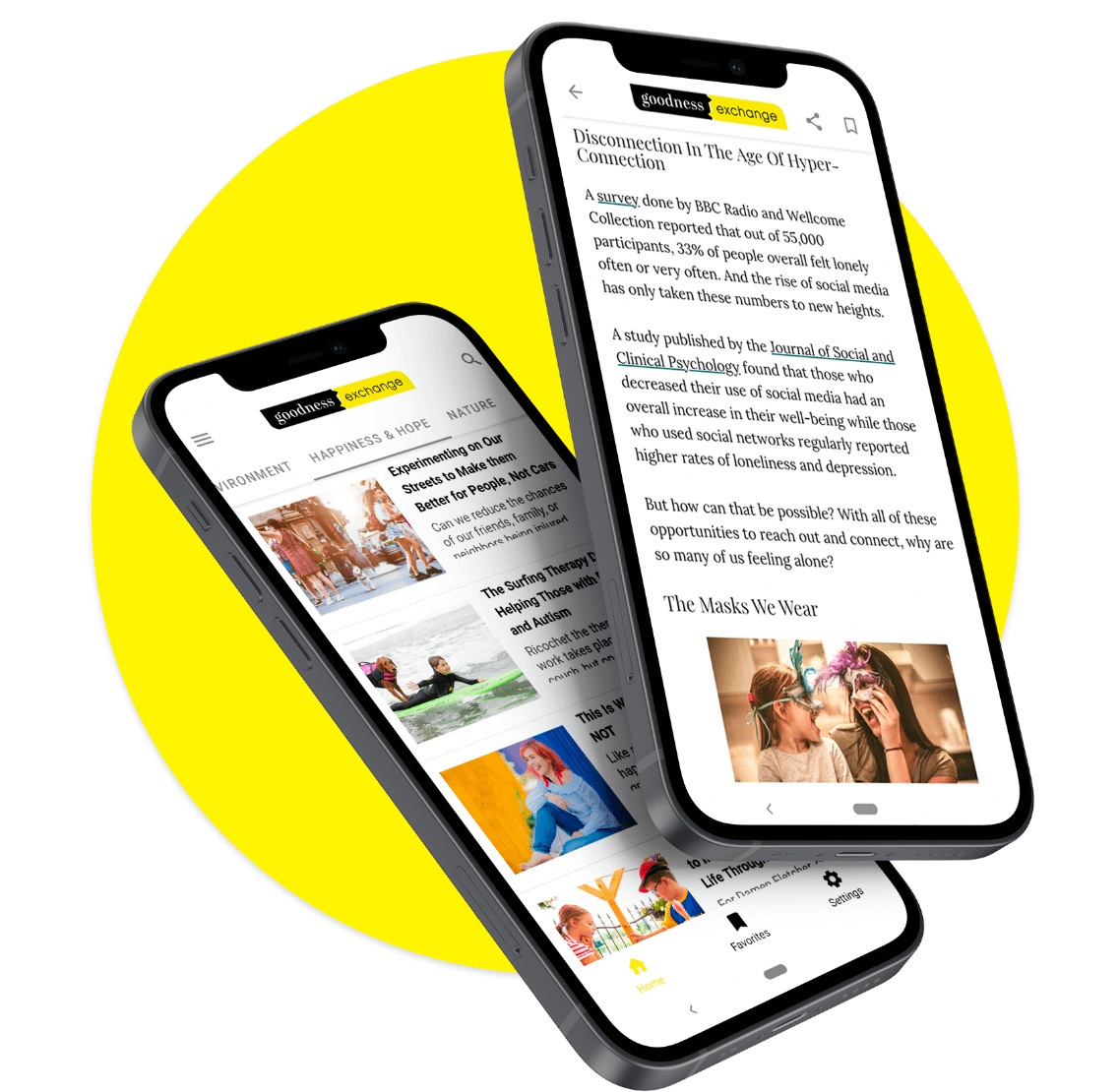 Your Daily Dose of Goodness
Start exploring insightful and motivating stories and good news, curated to lighten your step, uplift your spirit, and expand your mind. A world of good news is always at your fingertips!
Free
---
Read 3 free articles a month and subscribe to our This Week in Goodness Newsletter
---
Most Popular
Basic
---
Get access to unlimited articles, podcasts, and more!
Download our mobile app to keep all the Goodness you need in your pocket.
---
---
Make the most of your membership with full access to our online community, and events!
---
Benefits
Free
Basic
$2
Premium
$12
Content
Articles
Enjoy unlimited access to over 500 articles that give you a positive perspective on the state of the world and show you practical ways you can help.
3 Free Articles & Podcast Per Month
✔
✔
Podcasts
Listen to every episode and watch exclusive bonus content with guests who are tackling some of the world's most difficult problems and still think the future is bright.
3 Free Articles & Podcast Per Month
✔
✔
Community Groups
Share Some Goodness
Explore a feed of exclusively good news created by our users and share the good you're seeing in the world.
✔
✔
Seasonal Challenges
Join your community in seasonal challenges where we work together towards a tangible, shared goal. Past examples include: cultivating mindfulness, walking to plant trees, & adding more creativity to our lives.
✔
✔
Recommendations & Reviews
Share your favorite reads, watches, and listens and get trusted recommendations from others.
✔
Find & Offer Help
Find answers to your questions and help others by sharing your experience and expertise.
✔
Community Corkboard
Promote your own goodness-driven work and discover interesting events and projects led by your community members.
✔
Events, Networking & Recordings
*All Events are Hosted Online via Zoom*
Monthly Happy[ness] Hours
Engage in member-exclusive conversations with thought leaders in the world of goodness and network "in person" with other community members.
✔
Seasonal Workshops
Learn from workshops with experts in their fields who will give you tangible and actionable steps to grow your expertise to become a better communicator, leader, and individual.
✔
The Annual Conspiracy of Goodness Summit
Immerse yourself in an afternoon of talks, interactive sessions and live Q&A. Each year we explore a new theme to celebrate goodness and progress happening around the world. Past themes include: Live with Purpose (2021) and Finding Goodness (2020).
✔
Recordings of Past Events
Dip into an unlimited library of past Goodness Exchange Original Programming, including in-depth conversations with some of our favorite thought leaders and insights that will help you improve your personal and working lives.
✔
**Coming Soon!** Deeper Learning
What makes the Goodness Exchange different?
There is a wave of goodness and progress going on around the world.
The Goodness Exchange is your home for goodness on the internet, with articles, podcasts, events, and a community to give you a positive perspective on the state of the world.
We are a place for all, with no agenda: no politics, religious affiliation, or commercial biases.
What do we mean by Good News?
See for yourself and explore our latest stories.