What if you could freeze time, if only for a moment? These artists have fallen in love with the process, capturing moments in ice and revealing another level of wonder for us all, before those moments disappear forever.
How does spending hours creating something that will disappear into nothing sound to you? Let's meet two artists who are exploring the magic that happens when ice is your material of choice. They make us wonder: what moments would we want to capture, if even for just a little longer?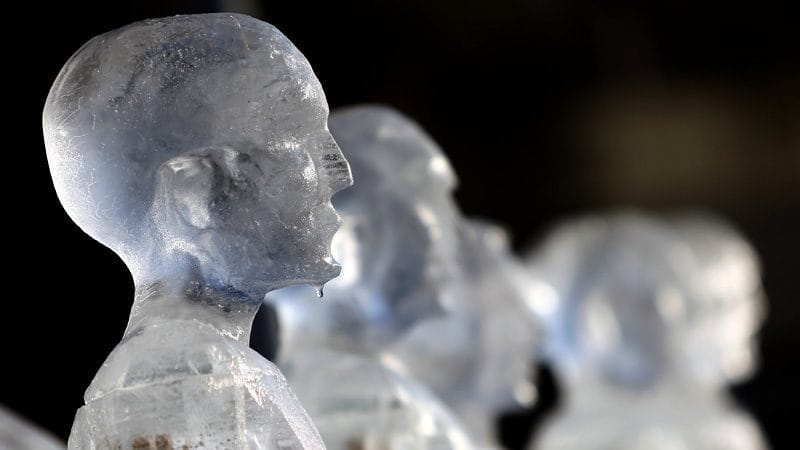 So, what if you could capture summer?
This was the challenge placed in front of Shintaro Okamoto, a second-generation ice artist based out of Queens, New York. Taught at the hand of his father when he was young, Shintaro is now well known for creating magnificent ice sculptures that freeze life in its place.
One of our favorite creators, Great Big Story, shows us the fascinating process he went through to, yes, capture the essence of summer!
Shintaro's portfolio is a breathtaking collection of work. Head over to his collective's website, Okamoto Studio, to explore all that they've made possible by manipulating water's solid form! A few quick links I highly suggest checking out are their collection of more items frozen in ice, and their out-of-this-world art pieces.
Explore the following article to see what another group of people is doing with this material!
So why do these artists work with a material that disappears over time?
There's a magic to ice sculptures. They're fleeting; sitting in their glory one moment and a puddle the next. They have a presence that makes us stop in our tracks. Seeing ice in another form catches our attention and invites us to spend a moment deciphering what exactly is happening. How is this chunk of ice sitting in the middle of a room? And why?
The next artist that Great Big Story introduces us to uses art to create performances that make us reconsider our place. Néle Azevedo brings frozen water to life in human forms and places them in public spaces to greet us all.
See the phenomenal performance she created in São Paulo, Brazil with 900 of these sculptures suspended in a public space with this video below!
If you'd like to see more of Néle Azevedo's great work, check out their website! You can stay up to date with what she's up to by following along on Facebook, Twitter, and Instagram!
And of course, I'd like to extend a huge thank you to Great Big Story for giving us a deeper look into this artform. They bring us to so many places we couldn't have gone without them! If you'd like to see their full library, head over to their YouTube channel! (And make sure you subscribe to stay up to date with all the wonder they share!)
The magic of impermanent art
On initial thought, the idea of hours of work being put into pieces of art that will just disappear may seem like a waste of time. But how many things in life truly last? Over time, everything fades. Paper disintegrates, stone crumbles, metal rusts. Even life itself is impermanent.
When we watch an ice sculpture melt into nothing, drip by drip, it's a wonderful reminder that those drips are as good as moments in our daily lives. As the ice sculptures melt, we're forced to appreciate the sculpture while it's still here, and then a few minutes later, how it has changed to something new, and then something new again, moment by moment.
What if we viewed others through this same lens? What if we remembered that the people we love, and those we work with, are moving through time just like these sculptures, moment to moment, changing too? And like the sculptures, the passage of time melts away the person they were yesterday, a month ago, years ago. Perhaps we would savor and be truly present for more moments with others if we considered impermanence a gift.
Working with that perspective, it would be so much easier to be truly present for others; to savor their uniqueness, persevere, to collaborate and to forgive.
Most importantly, what we experience and create is 100% dependent upon what we choose to give our attention to, in this moment, and then what we give our attention to in the next moment and so on.
If you could, what moments would you want to preserve for just a little longer?
The real beauty we find and create in life is fleeting. Maybe this notion of impermanence can inspire us to be truly present for others and for life's moments of wonder.
Stay open to new possibilities!
"No problem can be solved from the same level of consciousness that created it." — Albert Einstein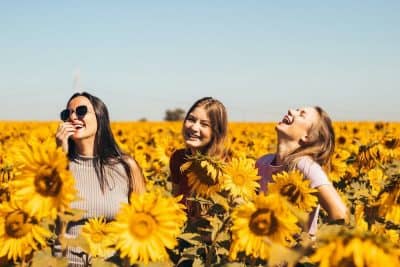 Don't miss out on a single article!
Enjoy unlimited access to over 500 articles & podcast that give you a positive perspective on the state of the world and show you practical ways you can help.
Sign up now!
Published: October 1, 2019