The original version of this article was published in July, 2019. It remains one of our favorite pieces, and so we've brought it back for you to enjoy anew!
It's 5:00 pm right outside of Nairobi, Kenya and a small group of people have eagerly gathered together. As they stare into the forest to their left, the sound of crashing branches signals something is about to happen. Seconds later, a baby elephant comes rushing down the path, and then another, and then, another. Trunks flailing, ears flapping, completely ignoring the crowd of onlookers; they are on a mission. It's dinner time.
This motley crew, with their loose skin, big eyes, and curious trunks, is the herd of orphaned baby elephants at The Sheldrick Wildlife Trust. For over 40 years, the trust has been on a mission to end poaching, protect Kenya's endangered wildlife, and rehabilitate orphaned and injured animals.
At the top of their list of accomplishments is their success with raising and releasing orphaned baby elephants back into the wild. It has made them a leader in conservation efforts to save the remaining African elephant populations in grave danger at the hands of the illegal ivory trade.
By the end of this article, you'll have a new soft spot for these remarkable, adorable, and intelligent creatures. And, you'll be able to see just how closely the lives of elephants mirror our own human experience.
In 1979, there were an estimated 1.3 million elephants living across Africa 1. Now, over 60% of those elephants have been lost and the population is down to just 415,000 2. At the hands of poachers and human influence, the world has been losing its elephants at an alarming rate.
Poaching is a problem that has captured the world's attention for years now. But even with this focus, measures to stop it have fallen short and the illegal and inhumane trade is driving animals like elephants and rhinos towards extinction at a rapid pace each year.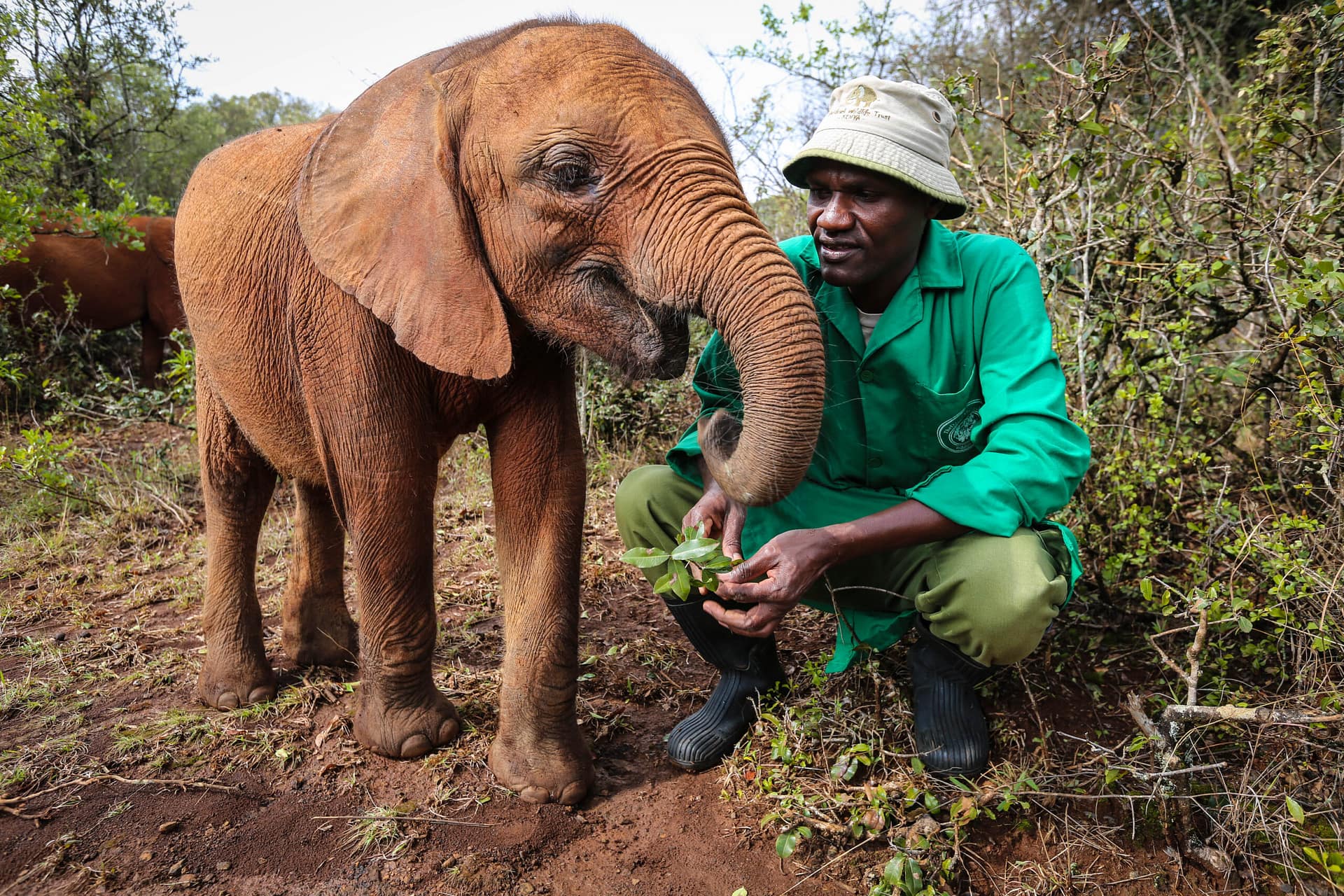 So, what happens after these elephants are killed?
Often, poachers leave behind milk-dependent babies still months or years away from being weaned. Without their mothers, they can only survive for a week or two without milk. Most importantly, very often these young ones are left psychologically traumatized and sometimes injured by the poacher's horrific attack on their mother and her herd.
Luckily, in Kenya and East Africa, the Sheldrick Wildlife Trust is there to lend a hand. They have become world leaders in orphaned elephant physical and emotional rehabilitation. Their orphaned elephant program was the first to successfully hand-raise milk-dependent orphaned elephants and reintegrate them back into free-ranging herds.
The Orphans Project has successfully raised and released over 244 orphaned elephants, and now those adult elephants have gone on to have over 30 babies in the wild!
Their elephant orphanage, right outside the city of Nairobi, Kenya is the first step in these orphans' process of recovery, and if you are one of the lucky few to witness their nightly rituals (as some of the members of the Goodness Exchange team got the chance in the summer of 2019) it's an incredible sight to behold!
What does the day in the life of an orphaned elephant caretaker look like?
From early morning feedings to days spent outside playing soccer with the young herd. Preparing gallons of milk to nights spent bedding down with these little guys, raising these orphans a full-time job. Yet, watching these caretakers in action it's obvious that this job is something more to them. They are working in service of something greater, dedicating their lives to these magnificent animals.
Though most of the elephants come in traumatized at the sight of humans–many having witnessed their mothers killed by human hands–the caretakers at the Sheldrick Wildlife Trust work to restore their trust. Helping the elephants to not only recover physically but psychologically as well. You can see it in their eyes.
Take a look at our first piece to give you a taste of the wonder of what's in store!
How did this all get started?
In 1977, The Sheldrick Wildlife Trust was established by Dr. Dame Daphine Sheldrick in memory of David Sheldrick, her late husband. As the first warden of the Tsavo East National Park—the largest National Park in Kenya—and a pioneer in conservation in Kenya, he and Dame Sheldrick devoted their lives to wildlife rescue and protection 4.
The Sheldrick Wildlife Trust works in all areas of conservation, not just orphaned elephant rescue. They take a holistic approach to wildlife rescue. The organization works to secure wildlife habitat, fence and guard tracks of wild land, educate communities, rehabilitate wildlife, and provide veterinary care to animals in the field. Their work now benefits over 11 national parks and has saved and protected hundreds of thousands of animals!
In 2018, after a battle with breast cancer, Dr. Dame Daphne Sheldrick passed away. Now, her legacy still lives on in the remarkable work of the organization and under the leadership of her own daughter and her family.
Take a look at this beautiful piece they released on their 40th anniversary. It's a remarkable look back at the work they have accomplished.
"I think humans have to understand that the world wasn't just created for humans. And understand that everything that is indigenous on this planet is meant to be here for the wellbeing of the earth as a whole."

— Dr. Dame Daphne Sheldrick
What would the world look like without those committed to saving and protecting wildlife?
In the great complexities of our world today, we go nowhere if we forget the impact we have as a species on the natural world around us.
The work of the Sheldrick Wildlife Trust and the Elephant Orphanage is a critical part of protecting our planet's rich diversity. With an approach that encompasses rehabilitation, education, outreach, and patrol, they are working to save elephants and other wildlife from all angles.
If you'd like to find out how you can get involved they have an amazing Get Involved Page where you'll find a ton of ways you can get involved. You don't have to visit Kenya to start saving wildlife. You can do everything from checking out their wish list of items they need to support their efforts, to adopting an orphaned elephant, to taking action in your own circles and so much more! There's an easy way for any one of us to show our support!
I'd also suggest you follow them on Facebook, Instagram, or Twitter to keep up to date with their projects and the orphans!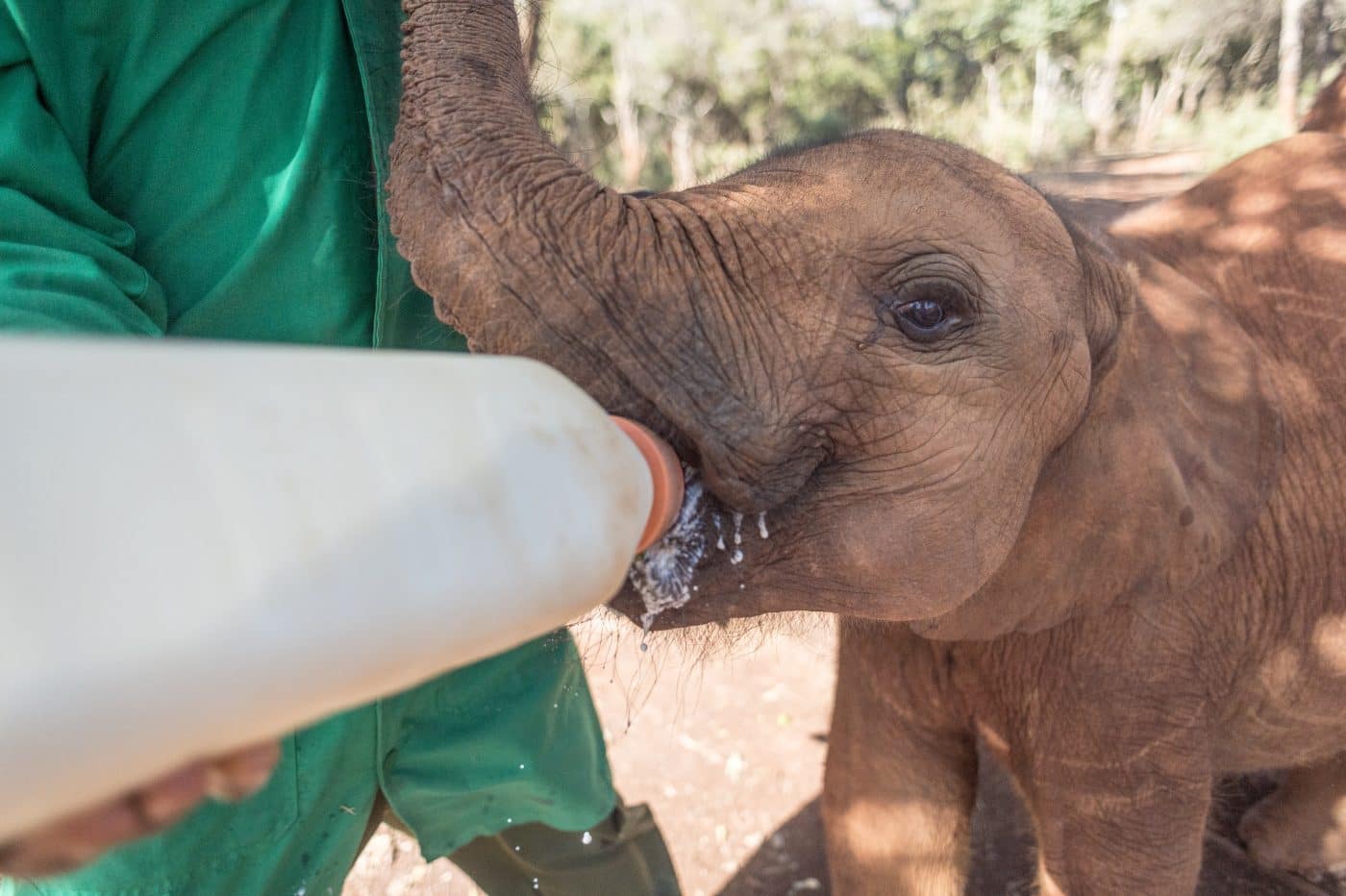 I'll leave you with this reminder as to why it's so critical we support conservation efforts like the Sheldrick Wildlife Trust.
Here is a little look at the recent graduation of two young elephants to the Ithumba Unit. There, the orphans make the transition from their orphanage outside of Nairobi to Tsavo National Park. And, eventually, go on to live with the wild herds.
When we visited the orphanage in Nairobi in June of 2019, we saw these two elephants preparing for their journey. So, it's no wonder that this short film had me in tears by the end. The kind of crying that leaves you a little out of breath and feeling very dehydrated.
Take a look…
"It would be easy perhaps to lose hope in these difficult times. but we've seen difficult times before in the early days and come through it."

—Dr. Dame Daphne Sheldrick
None of this work is done in a void. We all have something to contribute to the conservation of species on this planet. We can all contribute in our own way! Whether we become activists for change, donate to great causes, or make little changes to our lifestyle to live more sustainably!
I hope that you leave today uplifted by a sense of urgency. You are not acting in a vacuum. There are people out there tackling the major problems our planet faces. It's our job to rally behind them, support them, and tell their stories so they can continue to make a change!
Stay beautiful & keep laughing!
-Liesl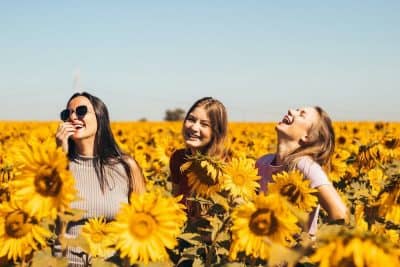 Don't miss out on a single article!
Enjoy unlimited access to over 500 articles & podcast that give you a positive perspective on the state of the world and show you practical ways you can help.
Sign up now!
Published: September 23, 2022