The drivers at the 24 Hours of LeMons are creating racing machines as you've never seen before using junkyard parts and a whole lot of ingenuity! Tractor engines in Porsches, wild costumes, broken down Corollas are becoming race cars? These creative tinkerers are about to show you the fun lying on the other side of what you think is possible.
If you've got a valid driver's license, less than $500, and a wild idea, you're qualified to become a racer in one of the world's greatest displays of scrappy creativity, 24 Hours of LeMons. Best described as "Halloween meets gasoline; Burning Man for car geeks," the race is a test of endurance and wild creativity that proves community and some good old fun are two of our greatest human assets!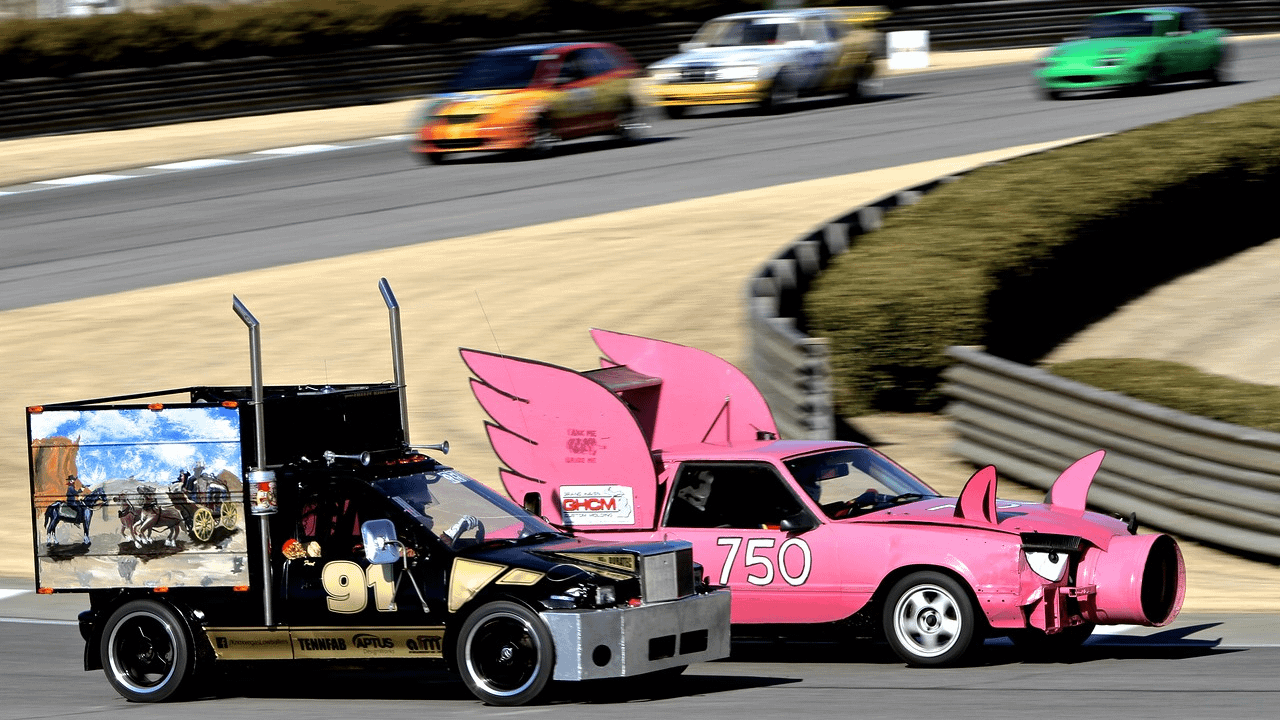 "If the thing runs and it's unlikely to kill bystanders, then bring it out!"
The cars you'll see on the track at a 24 Hours of LeMons race aren't at all like the ones you've probably seen zipping around a NASCAR track before. If you brought one of those fancy souped-up cars to LeMons, you can still race, but the judges will be starting you at lap -629. 1 Good luck catching up to those junkers, then!
It doesn't matter who you are or what your car looks like, as long as you're down for a good time, this race welcomes you.
Bringing new life to old cars!
With that low price limit, our car-loving friends are forced to get really creative with what they have. Most cars are purchased with a handful of cash and a case of beer, and then built up with pieces scrounged from the junkyard.
Because of this, we're able to see cars like they've never been before! Double engines, amazing designs, and additions that may not make much sense until you see them on the track. People even dress up to match the theme of their ride!
Take a look at this super fun event in this fantastic short film from Marcus Ubungen.
Want to learn more about this unique race? Find them on Instagram and Facebook, and check out the 24 Hours of LeMons website to dive in deeper!
Watch more great work from Marcus Ubungen over on his Vimeo!
You don't need much to do what you love!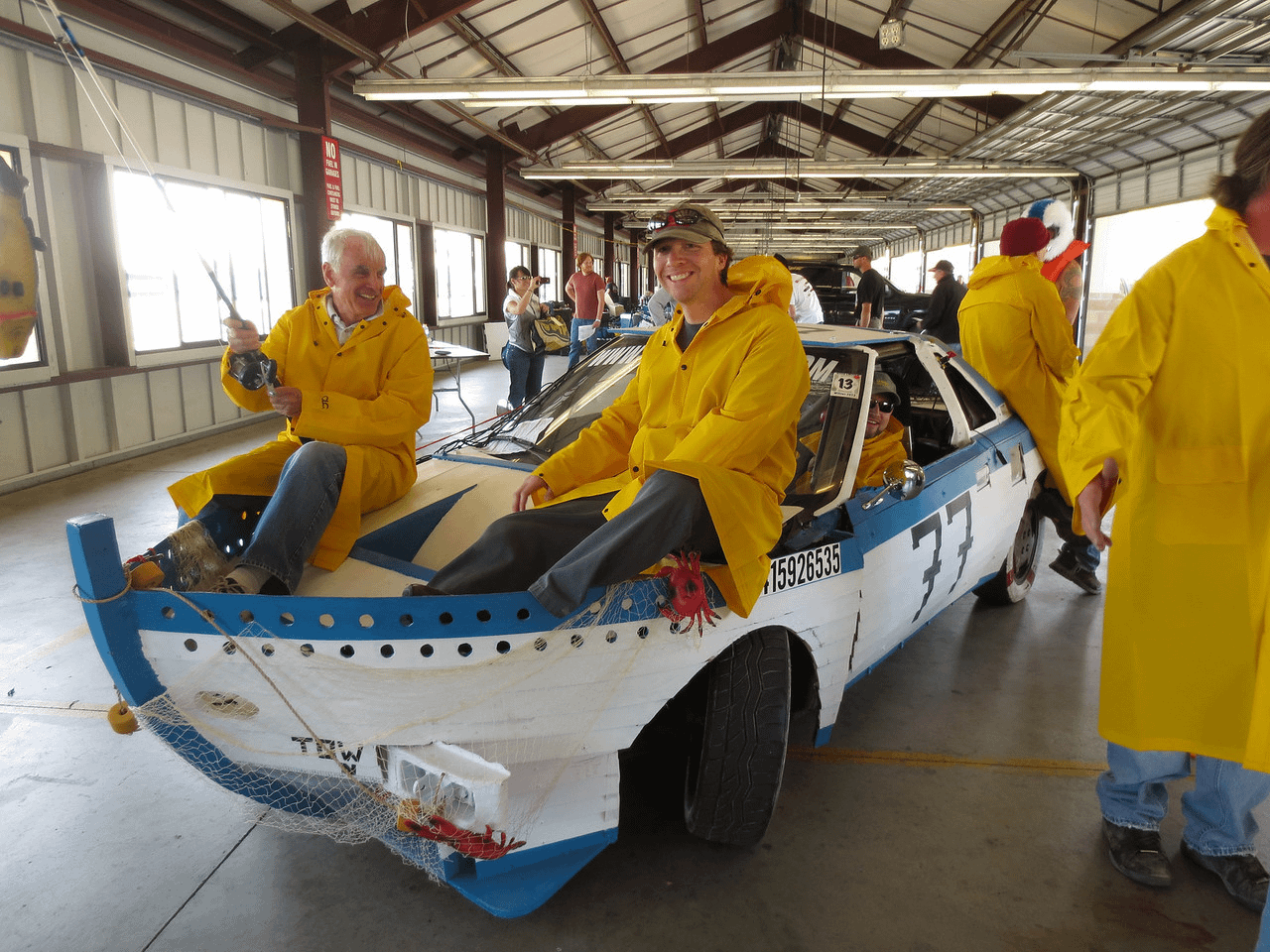 With bits and pieces, these folks have scrapped together a community of tinkerers and fanatics unlike any other. The goal isn't to come with the fanciest rig that you've dumped a lot of money into, but to present yourself and your creativity.
It doesn't take much more than tenacity and a passion to build a community around what we love.
Whether you're into cars, creating unique tricks with playing cards, a desire to live more sustainably, or simply a love for grits, when you share what you love and make it accessible, others will join you.
For another great look at a community getting creative with their rides, check out these folks in Indonesia and their out-of-this-world Vespas!
As always, my friend, stay open to new possibilities! The world's a whole lot more amazing when you use what you have to create whatever you dream of.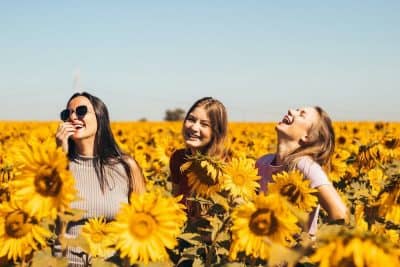 Don't miss out on a single article!
Enjoy unlimited access to over 500 articles & podcast that give you a positive perspective on the state of the world and show you practical ways you can help.
Sign up now!
Notes:
"WTF – 24 Hours of LEMONS." 24 Hours of LEMONS, Feb. 2021, 24hoursoflemons.com/wtf/. Accessed 9 Mar. 2021. ↩
Ubungen, Marcus. "Halloween Meets Gasoline – the 24 Hours of LeMons." Vimeo, 9 Mar. 2021, vimeo.com/136061500. Accessed 9 Mar. 2021. ↩
Published: March 17, 2021