Move over monster trucks, muscle cars, and tricked out choppers, there's an even badder bike in town: the Vespa. Vespa? Yeah, the Vespa. On the roads of Indonesia, this humble Italian moped is getting a new punk makeover. Human creativity is endless, even when all you have to start with is a Vespa.
What we drive says a lot about us. The minivan screams soccer mom, while the hot red sports car tells an entirely different story. For the extreme Vespa mechanics of Indonesia, it's no different; only they come up with imaginative vehicles that would put even the greatest creatives at Harley-Davidson to shame.
So, in this article we travel to Indonesia to check out some of the world's most extreme Vespas. It's a wild look at what's possible when creativity and community collide!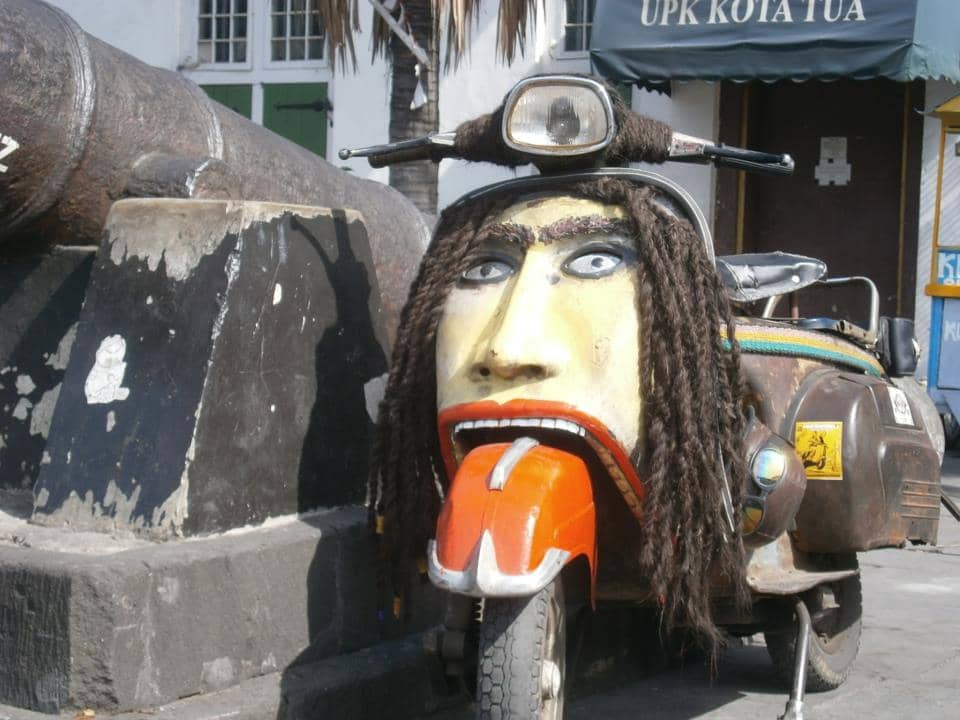 Not your neighbor's Vespa
Take everything you thought you knew about a Vespa and throw it out the window. The extreme DIY Vespa community of Indonesia takes pride in turning the humble Vespa into a form of crazy, mobile art; the more unique, the better. From blending tree and scooter into an otherworldly creation to adding rows—you read that right, rows— of tires, if you can dream it up, there's probably a Vespa out there that rivals it. So what drives this Extreme Vespa community? And why the Vespa?
Let's start with that last question.
Vespas made their way to Indonesia in the 1960s with peacekeepers as gifts for their work in the Congo. 1
Vespas grew into a beloved vehicle, with clubs for Vespa enthusiasts popping up across the country. In the 2000s the extreme Vespa community, Vespa Ekstrimists, entered the scene. With their rebel culture, they started tinkering with Vespas (a relatively cheap vehicle to buy) and began modifying them.
With their ornate Vespas, they have created their own community, defying society's notions of formality and finding their own family on the road.
You have to see these Vespas in action to get a feel for just how extreme these mechanics and artists have pushed their vehicles. Here's a great video from Marc Aziz Ressang and Daniel Agha-Rafei inspired by the Photo Essay, Rebel Riders by Muhammad Faldi that takes us to Indonesia for a look at the world of extreme Vespas.
If you want to see more from Marc Aziz Ressang, check out his Vimeo page or Instagram. You can also find Daniel Agha-Rafei on Vimeo and Instagram as well!
If you want to learn more about how Marc stumbled across this story and the adventures he embarked on to make it happen, there's a great piece he wrote about the experience on Directors Notes. You can take a read by clicking here.
You can check out Muhammad Faldi's project that inspired the video on his website, and keep up with his work on Facebook, Instagram, and Twitter.
"I can call it unity in diversity, we are different but have the same goal…"

– Extreme Vespa Rider
Communities of artists, creatives, and rebels have always been making their own, boundary-pushing cultures. Their passion expands our definition of possibility. Why not see a tree and be inspired to make a Vespa out of it? Maybe add more tires, more plastic bottles, or more buffalo skulls? Why not explore the limits of our creativity? Better yet, why not do it among friends, building your own creative community?
We've featured a few more boundary-pushing communities for you to explore! Who knows, maybe yours is out there waiting for you!
Your passion creates your community. So, whether you're building fantastical extreme Vespas, mastering your chess game, or picking up a new hobby, there's probably a community out there ready to welcome you with open arms.
I'm left thinking about this Jack Kerouac quote:
"…the only people for me are the mad ones, the ones who are mad to live, mad to talk, mad to be saved, desirous of everything at the same time, the ones who never yawn or say a commonplace thing…
In a world that can be so commonplace, why not dress up your Vespa, and ride off into the world?
Stay beautiful & keep laughing!
-Liesl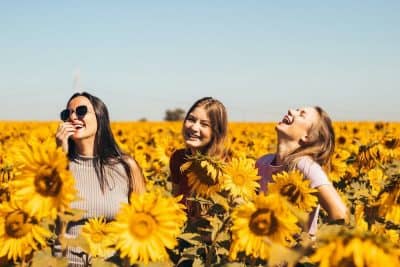 Don't miss out on a single article!
Enjoy unlimited access to over 500 articles & podcast that give you a positive perspective on the state of the world and show you practical ways you can help.
Sign up now!
Published: January 25, 2020