It's America's favorite pastime, the first sport many kids are introduced to in a game of catch with Mom or Dad, and is chock full of peanuts and cracker jacks. Sitting at a baseball game with a hot dog and all the fixins' in one hand, an ice cold beer in the other has long been hailed as the perfect Saturday. But thanks to television, advertising, and the evolution of the game, this sport has become slower. A… lot… slower. And because of that, it's started to lose its appeal for many people.
So what are we supposed to do? Well, the Savannah Bananas have a solution and are changing the game… literally! Playing "banana ball," the bananas do all kinds of crazy things, and you never know what's going to happen. From #20 ordering pizza mid-game and having it delivered to center field, to the team dancing a viral Lizzo TikTok dance before the pitch, to a player going up to bat on stilts (yes, he got on base!), to another player lighting the bat on FIRE, this team is proudly all about the show, and puts the fans first!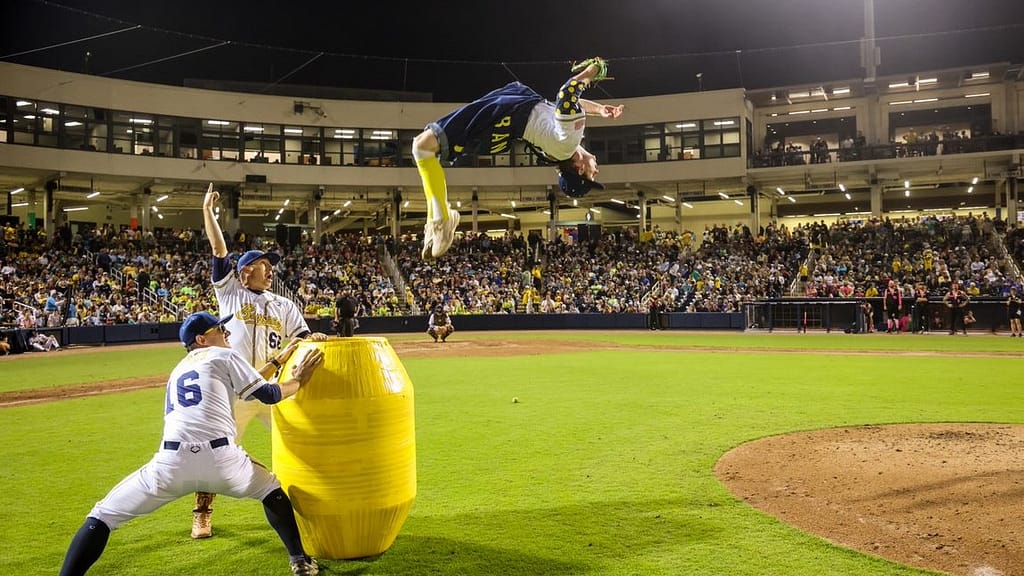 Back up… what in the heck is "banana ball?!?"
Banana ball is a bit different from classic baseball… it's absolutely bananas. There are a few new rules to make the game faster and more entertaining for the fans:
Win the inning, get the point. Whichever team gets more runs in an inning gets a point for that inning, and the first team to 5 points wins!
Two hour time limit.
No stepping out of the batter's box. If you step out, that counts as a strike!
No bunting. If you bunt, you're ejected from the game!
Batters can steal first – yep, any time they want. This makes the game a lot more interesting and fast paced, because there could be action at any given moment!
No walks allowed. Ball four means the hitter can sprint and take as many bases as they can before every player in the field touches the ball.
No mound visits from the coach, catcher, or anyone else. These often aren't necessary anyway, and just slow things down.
If a fan catches a foul ball, that's an out! That's right fans – you're a part of the game, too!
If the game is tied after two hours, the game goes into a showdown tiebreaker! Pitcher vs. hitter, it's a one on one play at the plate.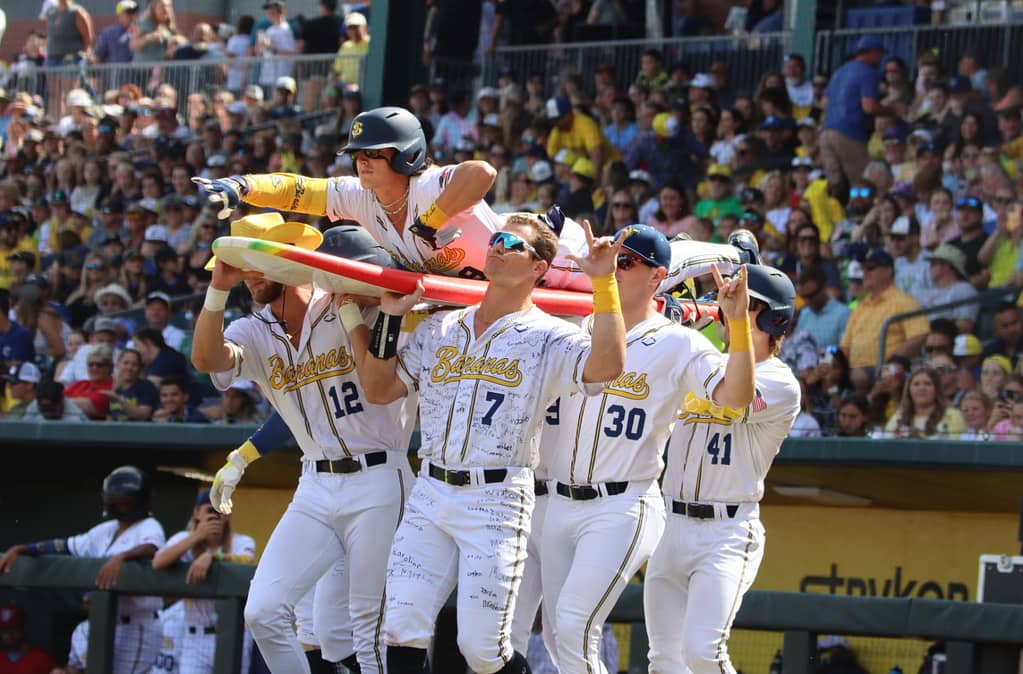 The Bananas are based in Savannah, Georgia, with a home field at the historic Grayson Stadium. But they've quickly outgrown this 4,000 person stadium, and will be on the road for all of summer 2023, playing in 33 stadiums all across the country. They bring their own opposing team with them — The Party Animals — for all kinds of crazy antics. But they play some other challengers too, including teams from MLB partner leagues like the Kansas City Monarchs. 
Think baseball's Harlem GlobeTrotters! These teams don't play in "real" competitions or tournaments — they're in their own league of fun and entertainment, and boy, are they fun and entertaining! With 30 home games and 53 away games from March to September this year, their busy schedule is jam-packed full of crazy ideas and dances. Plus, they're viral on TikTok (that's how we first learned about them!) and the trends they hop on and create there will have you laughing until you fall out of your chair.
Jesse and Emily Cole, owners of the team, founded the Bananas after attending a baseball game that was basically empty of fans on a beautiful summer Saturday in 2015. They quickly realized that they wanted to create something fun-focused, fan-focused, and family-focused. Working out a deal with Grayson Stadium, a team of Jesse, Emily, the team's president, and three fresh college graduates built the team from the ground up, from name, to mascot, to eventually renovating the stadium and — while it was no easy journey — creating the absolute dynamo we see today.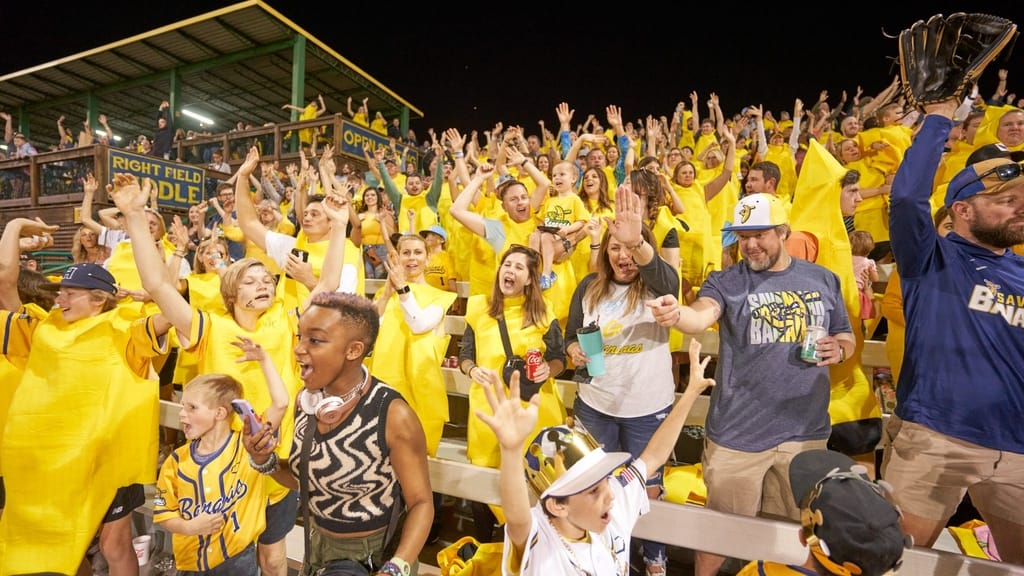 The team launched in February of 2016 to immediate fanfare right off the bat, no pun intended! The Bananas took their league — the Coastal Plain League — by storm, and that year won the Coastal Plain League Championship. They spent seven seasons in this league, but in 2022 announced they were leaving the CPL to play Banana Ball all year long. The players themselves are a "team of professional, scouted, and recruited top talent from all over the country" 1, so when you're asking yourself if these crowd-pleasers are baseball players turned performers, or performers turned baseball players, it's pretty much the former! 
The Savannah Bananas do have a mascot named… you could've guessed it… Split! This seven foot tall banana with a six pack of abs and giant muscles is as fun and unique as the team is, and makes appearances not only at baseball games, but at schools and charitable functions, too.
Quick question…. Why?
"No one leaves a great movie in the middle of the movie. No one leaves a great concert in the middle of the a concert. And yet, for some reason, people leave baseball games in the middle every time. And what does that say? That maybe the game is a little bit too long, a little bit too slow, and a little bit too boring for too many fans. So we had to change it."

– Jesse Cole, Owner of the Savannah Bananas 2
‌
So why, you ask? Well, that's simple. Because it's fun! Jesse says it best: they aren't in the baseball business — they're in the entertainment business.
I could describe the unbelievably fun antics all day long, like the Banana Nanas senior citizen dance team, or the Banana Man-as all-male cheerleading team, the banana baby or breakdancing coach, but instead, we think it's better if you take a look at this part sport/part circus for yourself:
To find more great (and hilarious) content from the Savannah Bananas, check out their YouTube channel, and to learn more about the team check out their website.
Tickets to attend one of these fun-filled games are sold out for this summer, but don't lose hope! You can get on the waitlist for tickets at this link.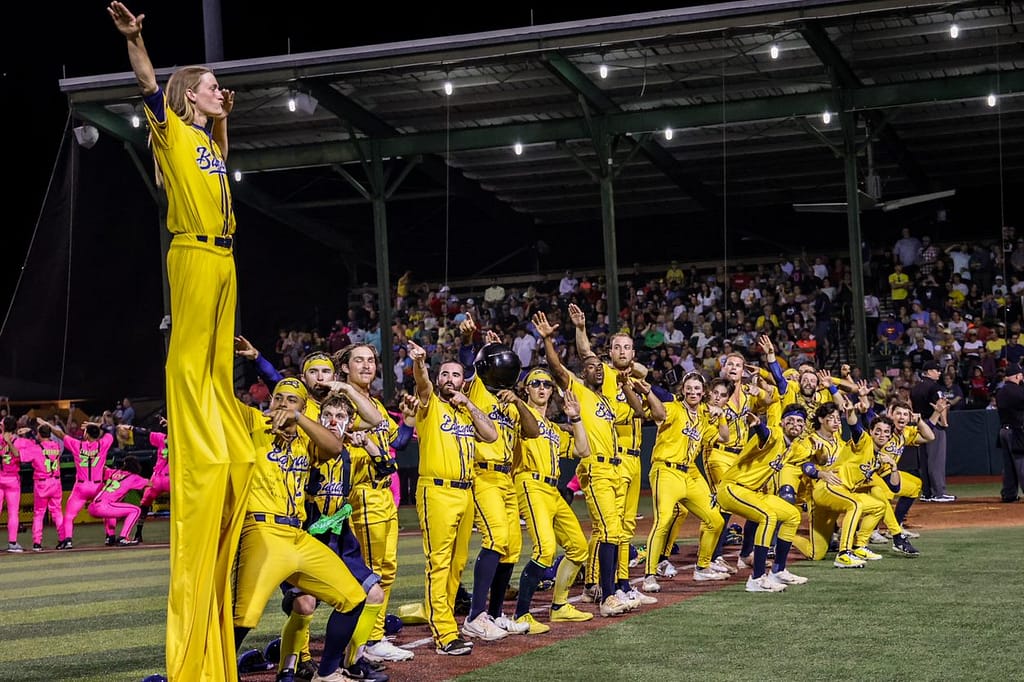 Plus, they give back!
Partnering with hundreds of schools, churches, organizations, and nonprofits, the Bananas have raised a bananas amount of cash for great causes: over half a million dollars. And their 50/50 raffles at every game feature a different non-profit every night. 
Major League Baseball has taken notice, and is starting to take action.
Now, the MLB has acknowledged a lot of the "problems" with modern baseball — facing declining attendance numbers 4, record strikeout totals and low batting averages due to increased velocity from pitchers 5 and criticism over the league continuing to change the actual baseballs – most recently trying to produce a ball that didn't fly as far when hit hard, in response to a rise in home runs, 6 they know they've got some work to do. This all isn't to say that baseball is on its way out. But as a baseball fan myself and according to rumblings online, the game is heading just the way Jesse suggests: too long, too slow, and a bit too boring for many.
In response, the MLB has taken the "too long" argument head on, and instituted a pitch clock for the 2023 season in an attempt to move the game along. That means pitchers have 15 seconds to throw the pitch when the bases are empty, and 20 seconds if there are any runners on. If the pitcher fails to throw a pitch in that time, a ball will be added to the count. So far, this rule has shortened games by an average of 20 minutes. 7 I saw this myself at a Red Sox game mere weeks ago, when the game ended not even halfway into my second drink! So yay for faster paced games, but for fans in the stadiums, this will take some getting used to.
A lesson on not taking yourself too seriously!
In life, we all have a tendency to get a little serious. But take note from the bananas: the reason for their success is that they flipped the script, chose a wacky, un-serious name, a hilarious mascot, and just have fun. And don't we all need more of that in our lives?
Too see more crazy examples of how having fun is making the world a better place, check out these, next:
So next time you catch yourself taking something too seriously, pause, take a deep breath, and remember: life is supposed to be fun! And in almost every moment, there's something we can do to make it that way.
Ellen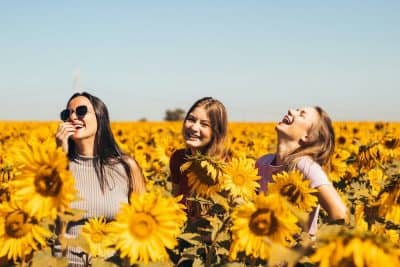 Don't miss out on a single article!
Enjoy unlimited access to over 500 articles & podcast that give you a positive perspective on the state of the world and show you practical ways you can help.
Sign up now!