As life's currents sweep us from place to place, further and further from where we began, how do we return to those important places? This story can remind us!
Place and time have an interesting hold on us, don't they? We can be away from somewhere for decades, but as soon as we return, we travel back in time. Old feelings fill us again, memories come rushing back, maybe time feels like it collapses a little.
Very often, we never get the opportunity to experience the important places of the people we love most, particularly our parents. What places mean the most to your mother? Where does your father feel the spirit of his youth again? What corners of the world meant most to them as they grew up, and brought them the most awe?
We have a very special film to share with you in this article, a rare occasion where one filmmaker was able to experience his father's important places, and along the way wrestle with some of life's most complex emotions.
It's a story of not ignoring reality or the fears that come with it; one of time travel, embracing aging parents and following the river.
While every film I curate strikes me in an important way, there are few that have hit me as strongly as this one; it's not a standard story of father and son. In one way, it explores the fragility of life; the idea that we don't know half there is to know about our parents, and that losing them can be our biggest fear and make us do funny things. In another, it shows us the connection we have to places; how returning to somewhere we've loved but then left can quite literally transport us back in time.
In this film, The Important Places by Gnarly Bay, we follow filmmaker Forest Woodward's journey on the Colorado River with his aging father. On this journey between father and son, Forest lets us in on his own struggle with his father's humanity and brings us along on his journey to seeing and experiencing who his father was when he was younger and exploring this great river himself.
Enjoy:
See more work from Gnarly Bay and Forest Woodward by clicking their names respectively! They each create films that bring us along on journeys into some seriously important places around the globe. Highly recommend diving into both of their libraries!
Truly meeting our parents…
As we grow up, our parents are elevated to more than just "people." They're our guides, the law-bearers, the providers, the creators of our worlds. But there comes a certain point where you look at them and that reality begins to crumble. We see them learning, tripping, and exploring life just like the rest of us. And it's a bit unnerving, honestly, to see the people we've based our lives on in their true form; to see them as humans, with all of the uncertainties, blunders, and frailty that come with it.
So, how do we embrace this reality?
The first reaction may be to pull away—to protect the image that we have of them. But what would happen if we leaned into it? If we got to know them as they are? What if we allowed our relationship to grow beyond father and son, or mother and daughter, parent and child, to something that allowed both to express our full selves?
But that's where place comes in. We find a unique understanding and connection when we navigate the same lands.
I am a part of all that I have met.

Lord Tennyson
Even if we can't visit these places with our parents, standing on the same soil or floating on the same waters can have a powerful effect. That same experience connects you, regardless of the years that have passed. That's the power of land; of place. As we come and go, what we leave for the generations after us is a deeper connection to the spaces around us. Certain places are special purely because someone you loved, loved them. It's almost as if a bit of them stuck there. And when we visit these places, we visit them. Along the way, as we explore, we may find we understand our loved one a bit more than we thought.
So, where are your important places? Where will you want to bring your loved ones back to later in life?
This article is a great example of this phenomenon:
The next time you're with a loved one or want to connect with someone, ask them what places are important to them. I promise, the responses will be varied and you're sure to hear an amazing story.
Stay open to new possibilities!
"No problem can be solved from the same level of consciousness that created it." —Albert Einstein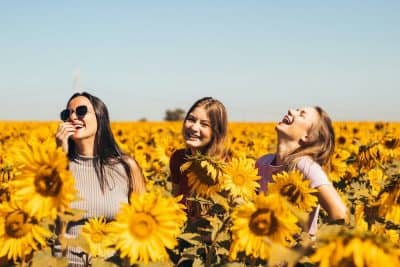 Don't miss out on a single article!
Enjoy unlimited access to over 500 articles & podcast that give you a positive perspective on the state of the world and show you practical ways you can help.
Sign up now!
Notes:
gnarly bay. "THE IMPORTANT PLACES." Vimeo, Gnarly Bay, 30 Apr. 2015, vimeo.com/126544483. Accessed 10 Dec. 2019. ↩