What words do you use to describe the place you love? How do you feel about that place, right now, thinking about those words? A little happier, more joyful, a little less stressed, maybe? If we talked about what we loved about a place, what we admired about somebody, and what brought us joy about each other more often, how would that change the way we see the world? The trick to seeing the world in a brighter way is far easier than you may think!
Had you been on the New York City subway in July of 2019 you might have run into a strange scene: a man wearing a shirt with a heart on it carrying around an easel with a map of New York City and talking to passers-by. If you'd stayed a little longer you would have heard him ask this question: "What do you love about NYC?"
The man with the easel was the artist Marco Santini, and on that day, he was creating a piece of art that captured what New Yorkers celebrate and love about their city even on the most average (and maybe a little warm) day.
It's a project to prove that the way we talk about anything can change the way we see it! This is a power each of us can harness to create a better world.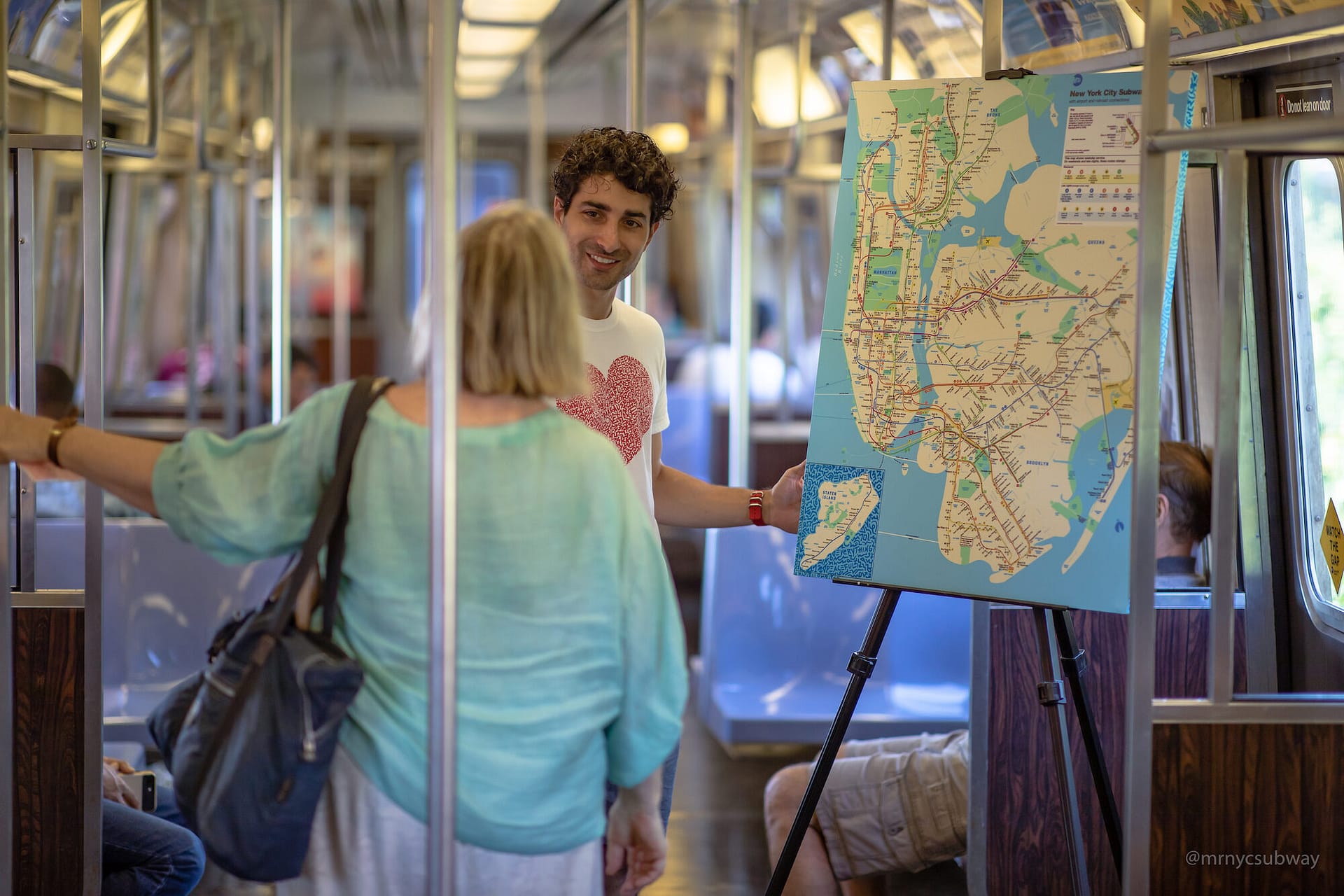 When you look for the beauty and you look for the positive energy, you're going to find it."

—Andreas Verrios
Since 2018, Marco Santini's work as an artist has focused on celebrating what connects us. And he's developed a unique way to showcase it!
He's most well known for his "One Love" logo. At a glance, the piece seems simple enough: a heart with a bunch of words written inside. But take a closer look and you'll start to make out characters from other languages, and words you may recognize. Each word in the heart is the word for love in languages from around the globe.
Since its first design, the logo has had a deep impact on Marco and those his art touches. He has taken his talents from the streets of New York City to the headquarters of the UN to celebrate what connects us, and a world of positivity!
For his project on the New York City subway, Marco partnered with fellow positive energy pioneer, photographer Andreas Verrios. Andreas started his Instagram, Mr. NYC Subway, in 2017 to change the way he looked at his commute. As he moved his gaze from what was wrong with the subway of NYC to what was positive around him, it had a deep impact on the way he lived his life.
Over the course of a day, they traveled to all five boroughs of NYC, starting in Staten Island and ending in Brooklyn.
They collected words like "food", "friendly", "diversity", "craziness", "sandwiches", "opportunity", "people", and "culture". Through the simple act of engaging people in a positive conversation, they were able to see the beauty of New York through other's eyes.
Dael Mundy captured Marco's beautiful interactions on the New York Subway. It's a great reminder that spreading positivity starts with an action as simple as asking people about something they love. Take a look…
You can see more from Andreas Verrios, known as Mr. NYC Subway, on his Instagram, and over on his website. And, you can learn more about his story over on his about page.
For more from Dael Mundy, head over to her website. I'd also suggest you check out this awesome video that follows Marco Santini on 4 months of projects. It's a great way to see what his work looks like out in the world splashed across walls, pillars, and windows. It's really quite remarkable! You can check that out by clicking here.
A Little Look Behind the Scenes…
This was such a beautiful project and a wonderful reminder that sometimes we need a nudge to look for the beauty around us.
I wanted to share a second, short video with you from Marco that dives into the day he spent on the subway as he gives us a tour of some of the wonderful words New Yorkers used to describe their beloved city. Take a look…
What words would you use to describe home?
For me, "beautiful", "birds", "woods", "nature", and "sanctuary" come to mind—even when it's snowing in April for the 5th time, and the clouds have barely parted for days. This video reminds me to stop, pause, and reframe my words from what I dislike to what I love!
Marco's Work in the World!
Since his first one love logo design in 2018, Marco's work has had a rippling effect well beyond the NYC subway. In 2019, he partnered with the UN three times to create works during events at the General Assembly, working alongside the Red Cross, and designing for UN Women to create their new equality logo. And he's spent countless hours in schools, creating murals to spark inspiration and connection, and working with students to help them see the possibility in their lives. You can read more about some of his recent work, and his remarkable origin story in this piece from UP Magazine.
You can also keep up with his work over on Instagram and on his website.
How Can Words Change the World?
Marco reminds us that the words we use matter in how we see the world around us and ourselves. We can choose to talk about the world in terms of the negative or what divides us, but is that really productive?
The next time you catch up with somebody or make small talk, notice the way you talk about the world. Does it immediately begin to head in a negative direction? Does your mood start to change? Now, try to have conversations about how great this weather is, something good you heard on the news, or give a compliment to the other person. You'll probably notice your mood improve, not to mention the mood of the other person!
What if when our partner or friend asked us how work was, we immediately talked about the best part of our day? If we did this day after day, our default habit would start to become looking at the positive instead of the negative.
The next time you're sitting with friends (or even strangers), take note of how often the conversation tends to spiral downward. Whether you're talking about the weather or the latest thing on the news, conversations can become negative pretty quickly. So, try being the intervention in those downward spiral conversations. Language is a powerful tool that connects us all, it can even shape the way we see the world! Check out this great TED Talk about it!
The more you practice leading with the positive, the easier it becomes.
You don't have to be an eternal optimist to do this, nor do you have to be the one with the smile on your face at all times. But, choosing to see what's right with the world first, and encouraging your loved ones to do the same, will have a profound positive effect.
If you're interested in learning more about this world-view check out our article featuring National Geographic photographer Dewitt Jones, and his movement to "Celebrate What's Right!"
I want to give a special thanks here to Marco for his work, and for taking the time to chat with us about his story. His work is a beautiful visual reminder that we can make a change in the world with our passions. And, so importantly, that we can choose love and positivity over hate and divisiveness. We are all more alike than we are different.
We share this planet and we share our humanity, what if we started from that position of similarity more often?
Stay beautiful & keep laughing!
-Liesl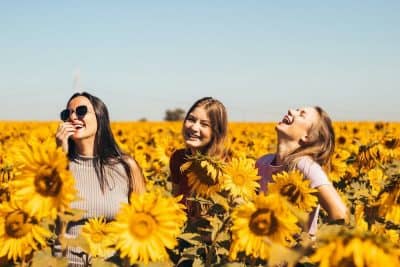 Don't miss out on a single article!
Enjoy unlimited access to over 500 articles & podcast that give you a positive perspective on the state of the world and show you practical ways you can help.
Sign up now!
Published: April 24, 2020