I have a very specific memory of seeing someone spin pizza dough for the first time. Our family was going out to dinner at our local Italian restaurant, and we were seated in the booth closest to the pizza making station. I noticed the man behind the counter pick up the dough and start throwing it in the air. I was transfixed: the way the dough spun, how easy it looked for him, I couldn't stop watching. Maybe you have a similar experience—there is something truly amazing about watching. But how does spinning pizza dough prove it is still an amazing world? Just wait until you see a world champion pizza spinner in action!
So, how do you take a talent as remarkable as pizza spinning and make it even more mesmerizing? Let us introduce you to Justin Wadstein, a 13-time world pizza spinning champion. He is taking pizza spinning to new extremes with "pizza acrobatics"; throwing pizzas over his shoulders, spinning three doughs at once, even adding some fire from time to time!
It's an insane world that will leave you inspired to pick up some dough of your own and give it a whirl!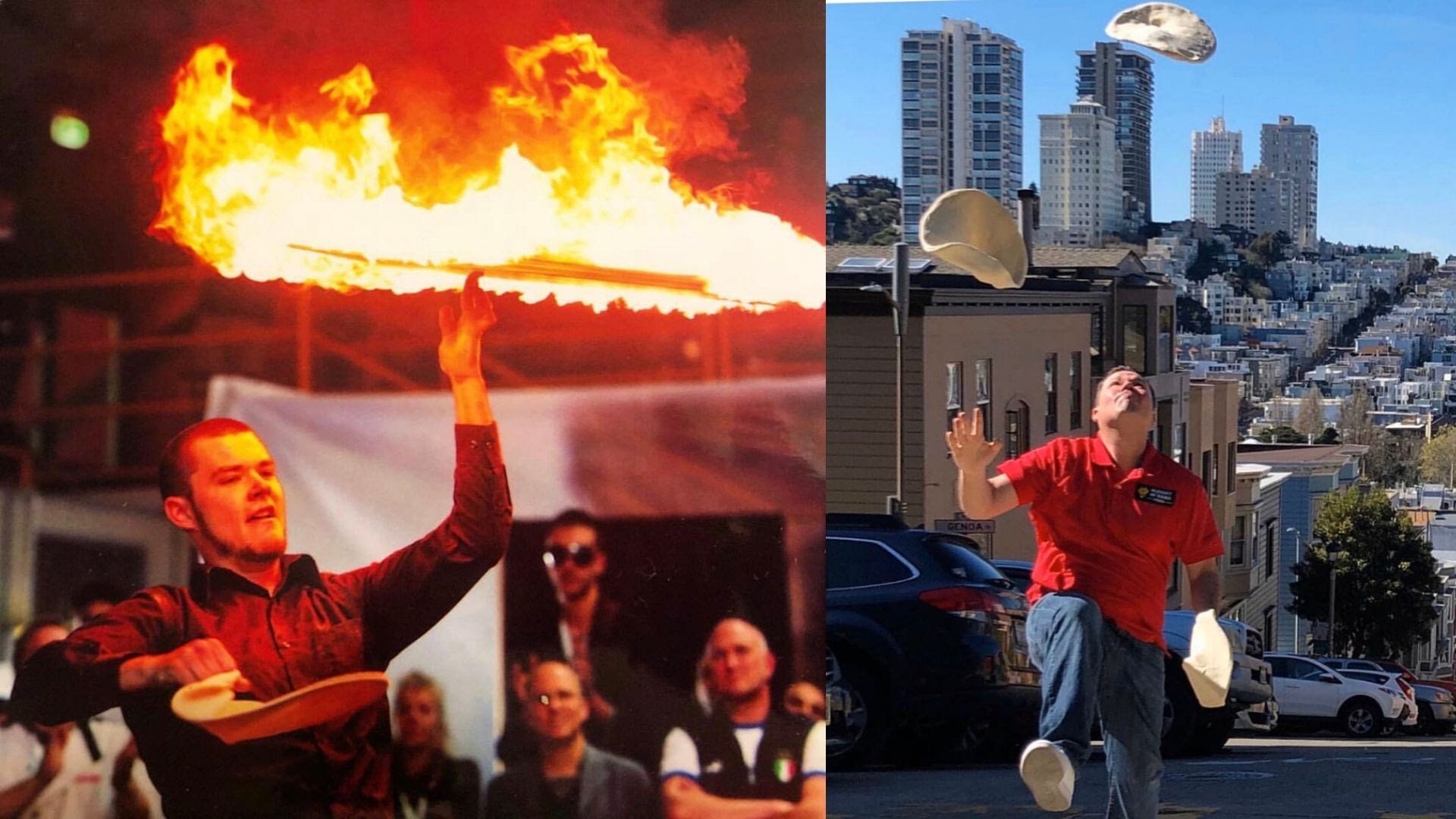 A Slice of Pizza's Long History
Before we meet Justin and learn the secrets of pizza spinning, let's first begin with a little pizza history. There are accounts of people eating flatbreads with various toppings for millennia across the Mediterranean in ancient Egypt, Rome, and Greece. Our earliest record of a food similar to pizza in Italy comes from a region 50 miles from Naples, in 997 AD. It was in Naples, though, that pizza as we know it today emerged.
Pizza got its start as street food, something that was cheap and easily accessible to the common person. It could be eaten on the go, by hand, and didn't require specific toppings. It wasn't until 1889 that pizza got its elevated status when it became celebrated by King Umberto I and Queen Margherita on a visit to Naples. 1
Even with the queen's blessing, it wasn't until the 1940s that pizza made its way beyond the streets of Naples with the help of Neopolitan immigrants to the United States, who made the dish wildly popular.
So, let's get into the spinning. First off, does it actually do anything to the dough or is it all for show?
Well, actually, it's a pretty effective way to get a thin, even crust without putting a hole in the dough. It also makes the dough less sticky so it's easier to handle and makes for a crispier crust! 2
This delicious dough hack has been around for centuries. Indeed, spinning is an essential part of making that authentic Neapolitan pizza, a process called pizzaiuolo. It's an art form passed down through generations, and one that joins North Korean kimchi-making, Irish harping, Mongolian Calligraphy, and many other important cultural gems on the list of UNESCO "intangible heritage" traditions.
As with so many things, it has grown into a modern art form of its own. And, on the stage of the World Pizza Games Competition, dough spinning takes on a less culinary and more acrobatic flair.
To give us a better look at this wild world of pizza spinning we have a great piece for you from WIRED featuring 13-time world pizza spinning champion Justin Wadstein. Take a watch…
If you want to see more from WIRED go check out their YouTube Channel! They've got some great videos there ranging on topics from pizza throwing to the latest in tech. It's a great place to get lost on the internet.
As for Justin's work, you can check his full list of accolades over on the World Pizza Champions Website. You can also keep up with him over on Twitter and Instagram. Be warned: his Instagram is a great mix of him spinning pies, as well as some of the absolutely mouthwatering pizzas he makes and finds in his travels.
So, what does a pizza spinning competition look like?
Let us take a quick detour to the World Pizza Games hosted every year in Las Vegas, Nevada. Seriously, you'll never look at dough the same way again.
If you want to see more from Great Big Story, go check out their YouTube channel. There you'll find stories on some of the most quirky, wonderful, and awe-inspiring people around the globe!
For the Love of Pizza and People!
What if we knew what everybody's off-the-beaten-path talents were? If we knew that the kid tossing pizza at our local Italian restaurant was a master of pizza acrobatics? Or that the guy walking by us could solve a Rubik's Cube blindfolded? What if we knew that somebody was a great artist, or a karaoke master (looking at you EWC office-mates, Sam and Renee). Seriously, most people have some kind of hidden talent!
What if, instead of asking people "What do you do?" we found out what they were passionate about outside of, or in addition to, their day job? It's okay to have fun in the world, to bring joy to others, and to share that joy. Sometimes, what we really need is a little fun, and some great pizza to make the world a little more interesting!
Here are just a few of the other hidden talents that could be out there in the world!
Is the Yo-Yo Making a Come Back?
When you think of a yo-yo you probably don't think athleticism, creativity, and community. For those in the know, though, yo-yo can be all of these things! Yo-yos have become a creative and artistic outlet for a remarkable community of people. Check out how a world champion yo-yoer got his start and what world champion yo-yo skills look like!
Read More
Stay beautiful & keep laughing!
-Liesl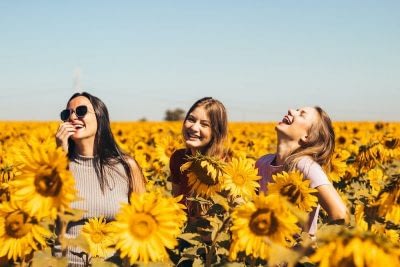 Don't miss out on a single article!
Enjoy unlimited access to over 500 articles & podcast that give you a positive perspective on the state of the world and show you practical ways you can help.
Sign up now!
Published: February 6, 2020