Every year, one harmonious patchwork of people (complete with their own Queen!) comes together in Paducah, Kentucky to celebrate the unity of quilted fabric in the sweetest chaos you'll see today. Their epic squares of our lives warrant every nook and cranny of their pandemonium—and who knows, you may find your own story reflected in one of their works, as well!
Tucked away in the small town of Paducah, Kentucky, a community of movers, weavers, and shakers meets every year to share in the experience of quiltmaking. Their craft is as ancient as our human need to keep warm; their strips of cloth—the size of bedroom walls—are works of human belonging, telling tales of our capacity to love our hearts out.
These aren't your superstore comforters or bargain bin finds. Quiltmaking is the show business for needles and threads. The craft is as solitary or as public as you choose to be, kind of like bouncing your first basketball to the court in your neighborhood—either you work on your free throws, or call next on a pickup game. So, if you're up for a change of pace (and lace) why don't we see what this quaint stripping activity is all about? (You'll know what I mean soon enough, pinky swear).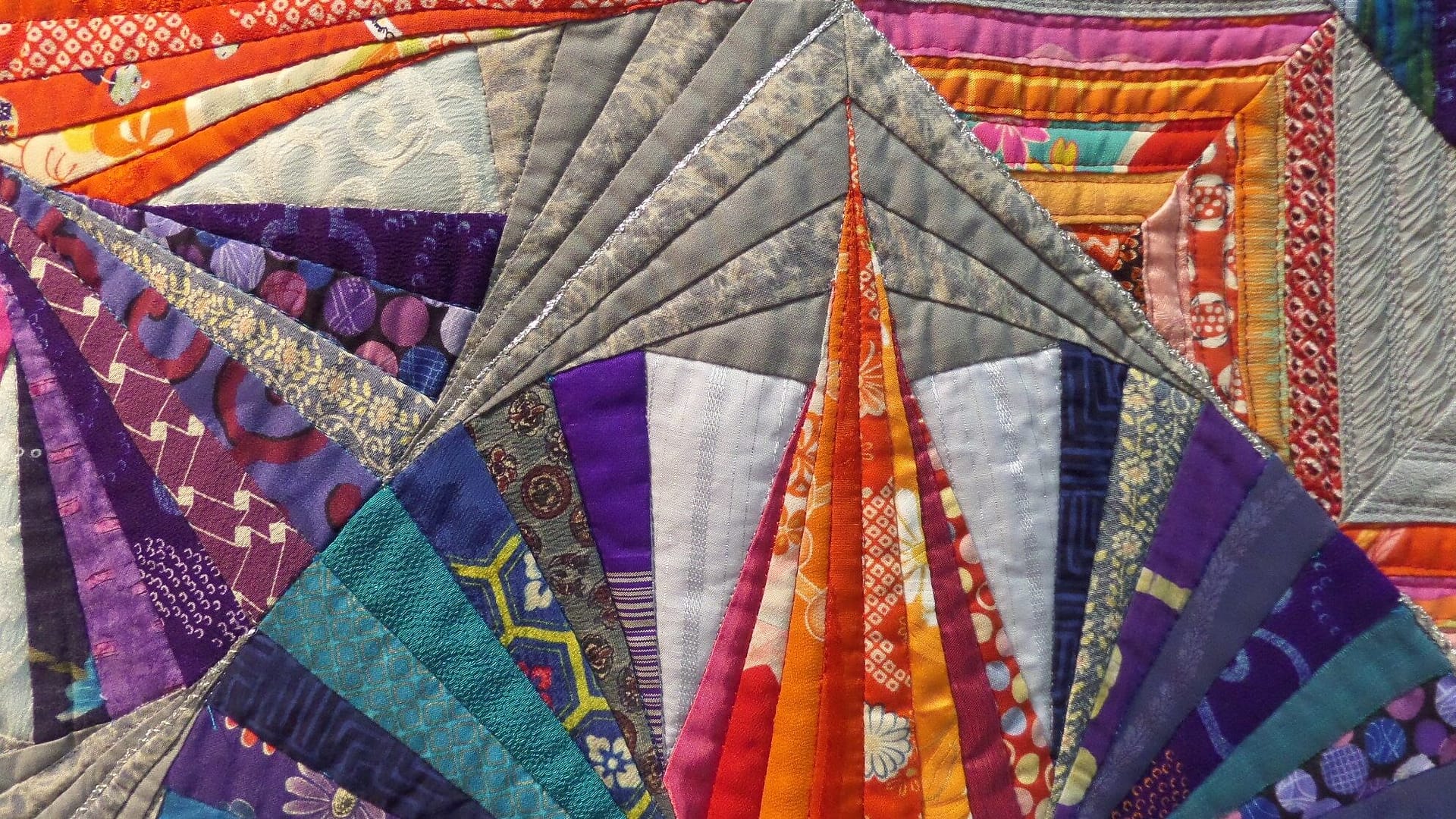 "We stitch together quilts of meaning to keep us warm and safe, with whatever patches of beauty and utility we have on hand."

— Anne Lamott
Blankets, and comforters, and duvets, oh my… but why are quilts so special?
What if I told you that quilts have centuries of street cred—enough to have their own cable channel?!Quilts narrate themselves in the form of big, sacred hugs from the past, for they are stories of their makers; places of refuge after an exhausting workday, and an opportunity for community. Quilts are more than simply sheets of zig-zag fabric, they are an extraordinary record of our shared lives.
You can see this in the morning star patterns of the Lakota People, or cozy time machines of the "crazy quilting" movement, or the improv techniques of contemporary quilter Michael A. Cummings. Did you know these stitched fabrics have even been traced all the way back to Ancient Egypt?
It's no wonder that each year, thousands of quilters bus, fly, and arrive on a horse-drawn carriage to the annual Quilt Show Week, held in Paducah, Kentucky! Paducah practically doubles in size as the festival takes over the town in the sweetest chaos I've ever seen on the screen—everyone has gone bananas for quilts, myself included!
Stars, Stripes, and . . . Secrets?
Is it too soon to confess that I've become obsessed with quilts? After all, my grandfather sewed theater costumes back in the days of the Soviet Union. The story of how he'd stitch his own jacket from scraps of unused leather—in secret—is one of the comic legends in our household; his purple pillows, embroidered with gold lace, remain in our family till this very day. So, I can see it now: I'm an unforgiving quilter in my later years, mixing and matching to my heart's content. I'm already planning my pizza quilt to honor my token city, New York. (Pepperoni were born for patterns.)
How did I catch the quilting fever? Well, it all started after I watched one of the best short docs I've seen in recent years, "Quilt Fever," by filmmaker Olivia Merrion.
Warning: your cheeks may swell up from all that laughing and crying all at once. Plus, you'll never think of stripping the same way!
Feel that Quilting Fever Coming On?
If your forehead is burning for more, here's an extra three degrees of this sincere craftsmanship.
Today, an entire museum is dedicated to the preservation of these timeless textiles, shared means of translating the world with the help of cotton or silk, even old jeans, and of course—our fingers. This documentary, courtesy of craftinamerica.org on the current state of quilts in the United States, is worth every minute of your time; complete with an interview by the great documentarian and avid quilt collector, Ken Burns.
And of course, we can't talk about quilts without celebrating the history of the quilters in Gee's Bend, Alabama. The quilters here are sewing centuries of their history into every stitch!
"If I'm not working, I'm sewing."

— Bobbe
Where would we be without people to share our joy with?
Why do we send each other funny cat videos we've found on the Internet? Laughter and applause are as personal as they are collective parts of who we are. After all, there are groups for everything. If one doesn't exist, make one! The mathematical definition of the word "group" is that it needs to have at least two members—that's you and someone else.
If those quilting fabrics don't keep you up at night with excitement, what does?
Maybe it's the new routine of your synchronized swimming group. Or perhaps, you've always wanted to try your hand at woodworking? Or flying down over the mountaintops? Finding a community where you feel truly at home can be a journey, but it's worth it.
By embracing how warmly the kindred community of quilters welcomed Anita and her moving quilt of stars as one of their own, we will find that acceptance is one of the best gifts we can bestow on one another.
So, go forth and create with your mind, heart, fingers, and share. Leave something lasting for your loved ones, whether it be your first quilt or wooden chair, your project car, or a shining legacy of kindness. Along the way, you might find your very own Paducah.
As you navigate through the rest of your life, be open to collaboration. – Amy Poehler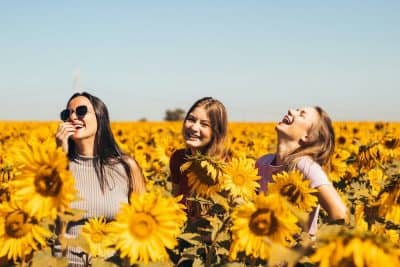 Don't miss out on a single article!
Enjoy unlimited access to over 500 articles & podcast that give you a positive perspective on the state of the world and show you practical ways you can help.
Sign up now!
Notes:
Merrion, Olivia. "Quilt Fever." Vimeo, 20 Apr. 2020, vimeo.com/399322718. Accessed 21 July 2020. ↩