Every year about 8 million tons of fresh flowers end up in the Ganges River 1 every year. These flowers, while sacred, are a major pollutant to one of India's most important rivers. So, what do you do with all these flowers when simply throwing them away isn't an option?
Ankit Agarwal is taking discarded temple flowers and rebirthing them in an eco-friendly way we can all learn from. Ankit has found a way to transform these precious flowers, seen as gifts and offerings to the gods into another sacred form, incense.
This idea feels like a door bursting open to new possibilities with all things precious that we have in surplus: a way of continuing to honor what we have in abundance!
The power of Flowercycling!
So, why not just let the flowers enter the river, they're natural, right? Unfortunately, it's not that simple. Most of these flowers contain harmful chemicals like arsenic, lead, cadmium, and pesticides. And once these flowers are used in ceremonies or given as offerings they are considered sacred and cannot be disposed of in the trash.
Seeing the enormous toll these flowers were having on the environment, Ankit, who was originally a software engineer, quit his career to bring an innovative solution to life: Flowercycling. A process that turns sacred flowers into a clean burning incense!
While flowers may be polluting the Ganges, traditional incense has the potential to pollute homes or places of worship, giving off chemicals like sulfur dioxide. Ankit's flower-made incense eliminates this danger, solving two major problems at once!
The following short video by Business Insider takes us to learn more about Ankit's story, his company Phool, and the journey of turning flowers into incense. Check it out to get inspired about what you may do with waste in your community!
‌Learn about other interesting topics from Business Insider by checking out their YouTube Channel.
Small Impact for Lasting Change
It's clear to see Phool is focused on stepping forward into the world, putting the environment, and the community first. Phool products aren't just environmentally friendly, Ankit is also working to make his community around him thrive as well. He has employed over 100 local women with plans to grow the company in the near future. 3
It is incredible the impact one man has had on his community by recognizing a problem and finding a way to create an impactful solution. This doesn't take all the pollution out of the Ganges, but it takes some. Sometimes we have to search for the small impact solutions we can create and hopefully along the way inspire others as well. Many small efforts can create larger, more impactful efforts.
If you want a little inspiration and a few more stories of how people have seen a problem and then stepped in to fix it here are a few we suggest:
What would happen if each of us could contribute in a positive way to our communities, no matter how small? We don't necessarily have to start a business or create an innovative product to make a difference. Just acting in a positive direction makes all the difference sometimes. Whether it's the products or companies we support that have a positive mission, like Phool, or finding ways to contribute our unique skills and talents to the community around us, we have the power to make and effect positive change.
Bring your joy to the surface and share it!
Brittany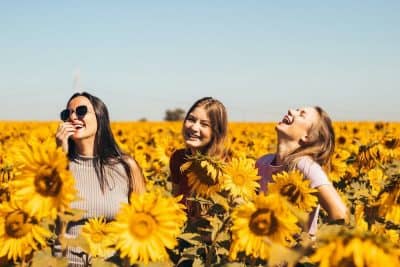 Don't miss out on a single article!
Enjoy unlimited access to over 500 articles & podcast that give you a positive perspective on the state of the world and show you practical ways you can help.
Sign up now!
Published: October 25, 2021