Ready to find more wonder and awe right in your own backyard? A creature with giant pectoral muscles, a huge heart, a voracious appetite, and vicious tendencies lives among us. No, it's not an apex predator, it's the world's tiniest bird! What hummingbirds lack in size, they make up for in some fascinating adaptations you may not know about.
Hummingbirds have stolen the hearts of many, but what is it about them that makes these birds so interesting? This buzzing, shockingly fast little bird is about to bring so much more excitement to your summer!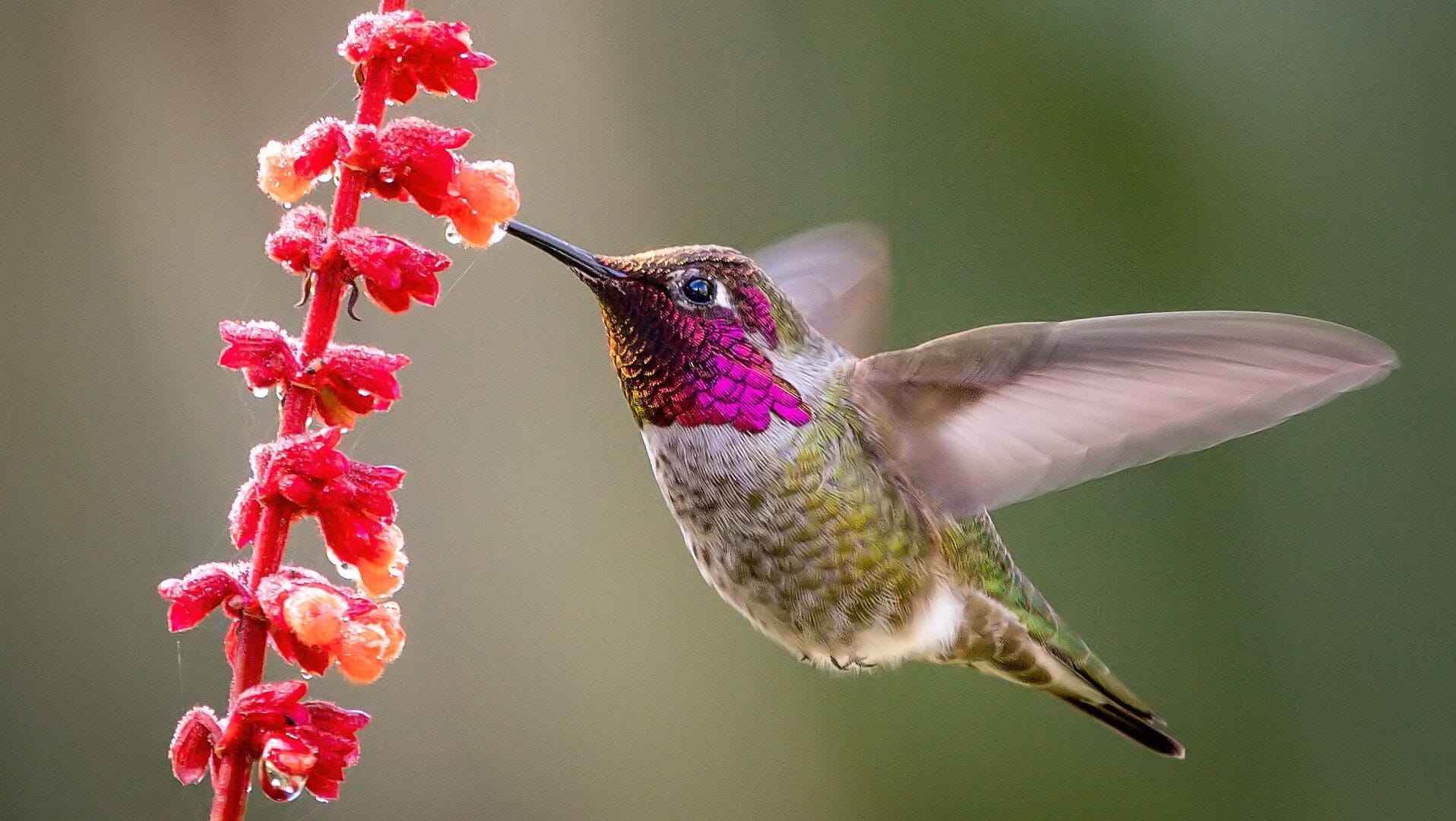 All in the name of nectar!
If you live in the Americas, you've probably encountered these humming, nectar-obsessed tiny birds before. They zip from flower to flower, seemingly in an instant, buzzing by like a giant insect on the hunt for more and more food. Little have we onlookers known, though, that we are in the presence of a bird like no other—capable of feats we won't see any other birds pull off.
From hitting speeds of 60 MPH in their dives, having sword-fights for territory, hovering in mid-air, and performing acrobatics, hummingbirds are full of surprises.
So, for a much needed introduction to these small but mighty creatures, we turn to this fantastic short video from TED-Ed! What a welcome reminder that there's so much wonder to find right outside our windows.
Find more of our TED-Ed videos by heading over to their full library to keep exploring their collection of amazing insights in whatever direction you'd like.
Want to feel refreshed and excited about the future? Check out our founder's TEDx Talk: Exposing the Conspiracy of Goodness.
In 11 minutes, you will know how to see and connect with an enormous wave of goodness and progress well underway in the world that almost no one knows about.
Watch Now!
Other fun facts I've stumbled upon about hummingbirds!
The smallest hummingbird species, the bee hummingbird of Cuba, weighs just 1.6–1.9g (little more than a standard paperclip). Its eggs are smaller than coffee beans. 2
Of the 350 known hummingbird species, only 8 of them live in the United States. The rest live in the tropics of Central and South America! 3
Hummingbirds don't have a sense of smell! Their eyesight is great, though. 5
They also can't walk or bounce! In order to fly better, they've given up having strong legs. In fact, their legs are so weak that for them to move while not in flight, they can only perch on a branch and scoot along it. Even the name of the order they're in, Apodiformes, is based on the Greek words "a pous," meaning "without foot." 6
Hummingbirds are migratory. Some, like the Rufous Hummingbird, have extremely long trips. They fly over 3000 miles from Alaska to Mexico twice a year! It's one of the longest migratory journeys of any bird, in reference to their body size. This typical migration is 78,470,000 body lengths! 7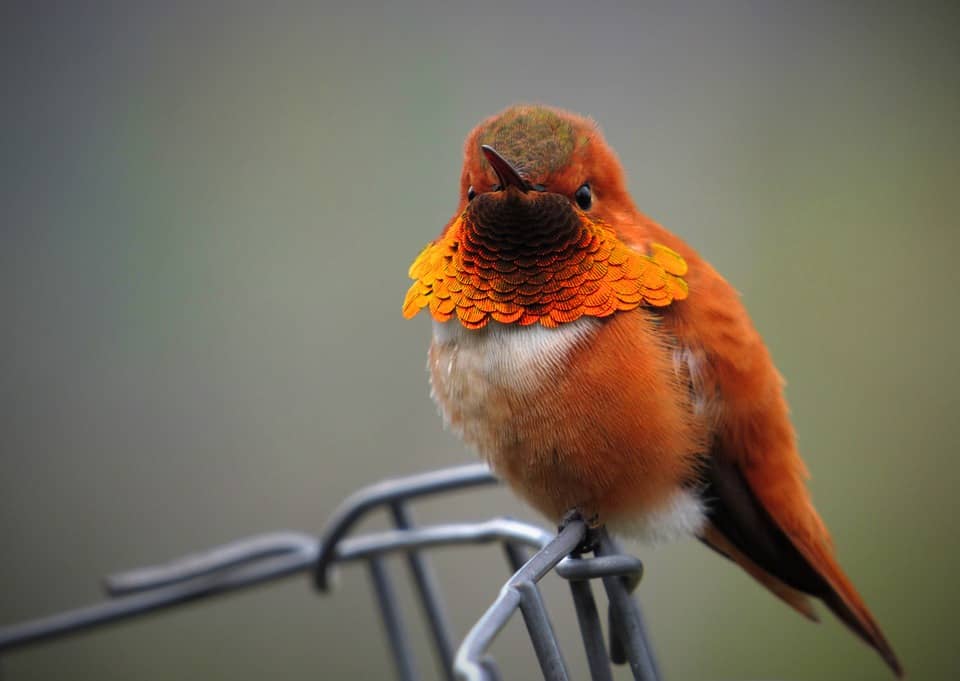 How to help these small wonders!
Because they travel so much throughout the year and need constant food, planting a garden ripe with some of the hummingbirds favorite flowers is one of the easiest ways to help them! There are even wildflower seed packets specifically mixed with flowers they love that you can likely find at your local garden store.
Another simple way to give our fast friends the food they need is to hang up a feeder with sugar water. It's 1 part white sugar to 4 parts water! All you need to do is mix it until it's dissolved. Here's a guide on how to make this simple food from the Smithsonian's National Zoo & Conservation Biology Institute. Just make sure you change and clean these feeders daily to ensure mold doesn't grow and endanger the hummingbirds!
Of course, the easiest way to start helping them right now is to tell your friends what you've learned in this article. Share how awesome these marvels of nature are and count yourself lucky when you see one in action!
We live in an amazing world, full of unexpected twists and turns—just like the hummingbird.
When we start to open our minds to learn more about our backyard neighbors, the more exciting a relaxing summer afternoon can be. Every moment can become more wonderful when we take the time to get to know what they're capable of. It's the simplest way to start finding more joy in your life!
For more wonder close to home, discover the fascinating creatures in these articles!
As always, my friend, stay open to new possibilities! Take a page out of the hummingbird's book and keep seeking out the sweetness.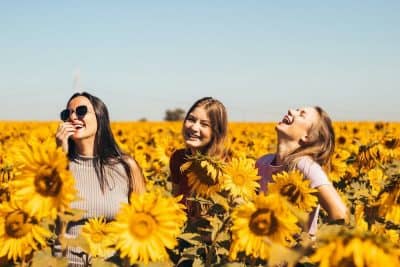 Don't miss out on a single article!
Enjoy unlimited access to over 500 articles & podcast that give you a positive perspective on the state of the world and show you practical ways you can help.
Sign up now!