What do your favorite meals from your childhood say about who you are and where you come from? Do you reminisce about tuna noodle casserole that was a staple on Friday nights? Potatoes cooked to crisp perfection in a way you just can't quite replicate? Stews made with just "a dash of this and that" that, try as you might, you can never get your grandma to give you actual quantities of.
The food cultures we grow up with, whether exceedingly elaborate or utilitarian, say a lot about who we are and where our parents and grandparents come from. If we let it, food can tell some wonderful stories, stories that we may not be able to hear otherwise.
In college, some of my favorite conversations with other people revolved around learning about the food other people grew up with. I would joke about the Jell-O salads and "hot dish" casseroles that were so foreign to east coasters with my midwestern friends. I learned about the wonders of bulgogi and bibimbap from my first generation Korean-American friends, and heard about their experiences bridging the "food divide" between home and school. And I was deeply invested in my roommate's quest to find the best Ethiopian food in Boston that could even come close to the cooking he grew up with.
For us, food was the way we could express who we were and where we came from in a way we could share tangibly with others. It gave us the opportunity to talk about the stories that we knew–or sometimes didn't know–about the lives of our parents and grandparents. It was a beautiful way to connect deeply with each other.
But often, we don't stop and think about the ways in which the food we ate growing up reflects the experiences of those who raised and fed us. We rush through our busy lives, not thinking much of the quick breakfast we whipped up when we were late for work. But when we pause to think and ask questions about why grandma started adding that one spice, or what circumstances led to the blend of cuisines we grew up with, we can connect with our roots in ways that truly enrich our lives.
One of my favorite food writers, Priya Krishna, explores this in a beautiful way in the interview we're sharing with you today. It reminded me that we can approach foods from our own histories with that same kind of excitement and enjoyment, and use them as a catalyst to learn more about the people who helped shape our own food identity: our parents, grandparents, and whole families.
"We don't ask our parents enough questions about where they came from, what life was like."

Priya Krishna
Priya is one of my favorite food writers and YouTube food personalities. She is an Indian-American food writer who you may recognize from her work with New York Times Cooking, Bon Appetit, and the New Yorker. She is also the author of multiple New York Times bestselling cookbooks including a book she co-wrote with her mother, Ritu, called Indian-ish. Full of recipes that came from her mother's experiences teaching herself to cook after moving to the U.S. from India and eventually raising a family in Dallas, Texas, Indian-ish celebrates the Indian-American cuisine that Priya grew up with.
The recipes themselves are delicious and original (and now in rotation on my dinner table, too!) but from page one, there is more happening in this book: a wonderful celebration of the relationships we have with the foods and people that raised us.
Even if you are not a self proclaimed "food person" this wonderful interview from NPR between Priya and her mum is such a wonderful reminder of how food can give us an outlet to get to know the people in our lives in a deeper, richer way. (Oh, and you learn how to make a few of Priya and Ritu's favorite easy dishes, too!)
If you'd like to get a copy of Indian-ish for yourself, you can buy it from your preferred book-seller here. You can also keep up with and support Priya's latest work via her Instagram and find her on YouTube on the New York Times Cooking channel. She also has a new cookbook out with David Chang called Cooking at Home that I, for one, am very excited to dive into!
Celebrating who we are with what we eat!
In the United States, nearly 25% of the U.S. population was first or second generation American in 2013, meaning they were either born outside of the U.S. or had at least one parent who was. 2 And, very often, the pieces of culture that stick with us the longest are the foods that make their way to the family table. Sometimes, it can be difficult to know how to open up a conversation with a loved one about their life, and where they came from. But by starting the conversation with the foods you love and culture you share, you can make those conversations easier.
Maybe at the next family meal, that dish that's so precious to your family—whether it's a wonderful dal or my family's favorite, cheesy mashed potatoes—could be the conversation starter to learn more about the people you love, and where you come from.
Aunt Anna's cinnamon rolls, Mimi's meatballs, Pat's Potatoes, Grandma's zucchini bread, John's fresh goat cheese. These are all dishes that I—and the people I love—cherish. Each time they make their way to the table, they give us the opportunity to celebrate where we come from, and tell stories we may never hear otherwise.
So, what are the tastes of your childhood? Whose name and story do you honor every time you dig in? What stories can you share with the people you love around the food that brings you together?
Stay beautiful & keep laughing!
-Liesl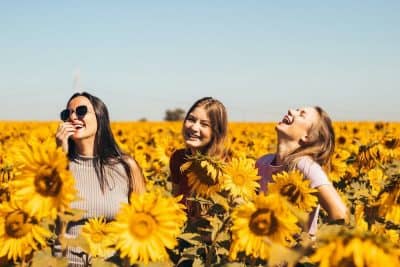 Don't miss out on a single article!
Enjoy unlimited access to over 500 articles & podcast that give you a positive perspective on the state of the world and show you practical ways you can help.
Sign up now!
Published: December 20, 2021