This article was originally published November 9, 2018.
Whatever you call it—the loo, lavatory, latrine, WC, jacks, john, pot, thunderbox, or simply, a toilet—the innovation that is keeping us from being knee-deep in, well, you know, has played a crucial role in human history. In fact, it may be why you're still here today!
But the world didn't always have toilets, and unfortunately, a lot of humans still don't get to flush away their waste. So how important is this invention really? And how did we all handle our waste before the toilet came to be?
It's a fascinating story. One that most of us have never considered and yet many of us would not even be here were it not for its invention. And who better to have as an advocate for the toilet, than Bill Gates!
So let's get down to it.
You can say what you want about the toilet; that it's wasting water, spreading germs, or just downright gross. But the thing is, even though we have far to go in making it more sustainable (more on that later), this innovation has already saved countless lives.
And, well, kept our streets free from becoming streams of human feces.
If not properly taken care of, our waste is exceptionally good at spreading disease. So let's celebrate what's said to be the most important medical innovation in human history and settle in with this fantastic episode of It's Okay To Be Smart from PBS, all about our friend, the toilet.
There, just one more thing to contemplate while you're sitting on the throne.
How one of the best innovations is getting to everyone around the globe!
You may have noticed that this episode of It's Okay to be Smart was sponsored by Bill and Melinda Gates. Their foundation has actually been supporting innovations to bring the health benefits of the toilet to everyone around the globe! But how?
Well, they're on a mission to "reinvent the toilet" with competitions and expos around the world, so that the approximate 2.5 billion people who don't have access to modern sanitation can live healthier, cleaner lives. (You can see the write up from their latest expo by clicking here.) These developing new approaches are able to process waste locally and keep it from getting out into the community and making people—mostly children—sick.
Here's Bill Gates to discuss this exciting step forward!
Bill Gates has also been involved in finding ways to recycle our water and make it healthy and usable again. In the following article, you'll meet the Omniprocessor and its creator. This innovation can clean wastewater from say, the toilet, and make it drinkable. Bill even tests it out for us! Take a look…
Have you heard of the "The Big Squat" and the Other WTO?
Fun Fact: Did you know there is actually a wonderful non-profit called the World Toilet Organization (WTO)? Take a look at their website for more interesting facts about the importance of this innovation!
There's also a whole day celebrating the toilet, to raise awareness for the necessity of everyone having access to it. It's coming up on November 19th, we can do our part in spreading the word (and not infectious disease) by simply sharing this article with anyone you know who uses one of the world's best inventions. (Every $1 spent on water and sanitation generates a $4.3 return in the form of reduced health care costs.)
Now, let's meet Mr. Toilet and hear about this so-called "Big Squat".
"What you don't talk about, you can not improve."

Mr. Toilet (Jack Sim)
We could never leave an article of this gravity without introducing you to Mr. Toilet. Now, this guy, who also goes by the name Jack Sim, has it all going on with it comes to common sense talk about the need to get people talking about this problem! (A lot of "potty mouth" in this next video if you consider Jack's calling it like it is—sh&t—a bad word. So to those with sensitive ears, heads up!)
A lot to think about there! So thankful that Jack laid it out for us so nicely.
But Jack is not the only person leading a charge on this issue. Narendra Modi, the current prime minister of India, campaigned with a catchy slogan:
"Toilet's Before Temples"
A truly great National Geographic Magazine article had to say a lot about his efforts combined with others. The article begins with the idea that this isn't a problem just about toilets—it's about having toilets people actually want to use. So here's Modi's plan:
In 2014, before the UN set its 2030 goal, Modi declared his intention to end open defecation in India more than a decade earlier, by October 2, 2019—Gandhi's 150th birthday. He allotted more than $40 billion for a latrine-building and behavior-change blitz called Swachh Bharat Abhiyan (Clean India Mission), for which the World Bank threw in another $1.5 billion in loans. Modi aims to build more than 100 million new toilets in rural areas alone by 2019.

4
That is some serious money behind a serious problem. We will keep you posted on the progress!
Stay open to new possibilities!
"No problem can be solved from the same level of consciousness that created it." —Albert Einstein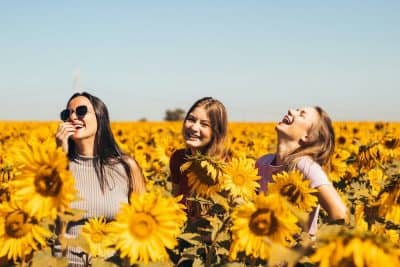 Don't miss out on a single article!
Enjoy unlimited access to over 500 articles & podcast that give you a positive perspective on the state of the world and show you practical ways you can help.
Sign up now!