This article by Nicole Nathan Bem originally appeared on Goodnet.
The Appalachian Trail winds some 2,190 miles across 14 states in the eastern US. Spanning almost continuous wilderness, the popular hiking trail follows the Appalachian Mountains. Although it attracts thousands of serious hikers each spring, only one in four hikers completes the entire trail, according to the Appalachian Trail Conservancy.
The Sutton family recently finished hiking the entire trail. They are a unique trio as their son Harvey turned five on the trail, making him the youngest to complete the 2,100 Appalachian Trail, according to National Public Radio.
Josh and Carrie Sutton told Liberty Champion that they decided that life should be fully lived, and so they decided to take breaks from work called mini-retirements. "We came up with the family goal to live a life with extraordinary stories. Doing things like hiking with a child on the AT [Appalachian Trail] – those give you extraordinary stories," Josh Sutton said.
So when Harvey turned three, they took him winter camping, and by the time he was four, the family completed a 50-mile hike, camping over six days. Seeing that Harvey took to the trail so well and flourished in the outdoor life, they planned a thru-hike on the Appalachian Trail. Hiking from end to end is called a thru-hike and generally takes five to seven months to complete.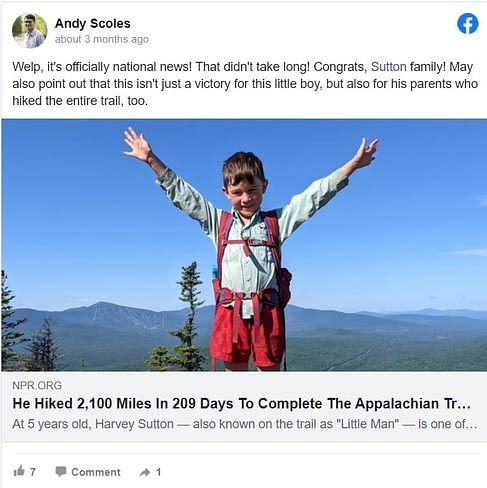 Since the Suttons were hiking with their four-year-old boy, they decided to get a head start and hit the trail in Georgia on January 13, 2021, according to their Live Sutton channel on YouTube. The first weeks were cold. The trail was icy and snow-covered, and the weather was often cloudy and bitter, yet they trudged north. They would wake up early each day, pack their gear, and then start walking. As they had many miles to cover each day, they had to be inventive and started using imagination and Skittles as motivation for little Harvey.
"The days had to transform from hiking to elaborate games of pretend so Harvey would have fun," Carrie Sutton told Liberty Champion. As they walked, they talked about making spaceships and building houses. They eventually met up with other thru-hikers who became their "tramily" and who gave Harvey the trail name Little Man. Harvey's trail friends would also motivate him along the path and up the steep ascents. One trail friend nicknamed Sugar Man even made an intricate treasure hunt for enthusiastic Harvey that lasted three days.
When Harvey celebrated his fifth birthday on the trail, fans sent him 300 birthday presents from 45 states and eight countries, according to Liberty Champion. And this included 50 pounds of Skittles!
The family completed their journey on August 9, 2021, making a final ascent up Mount Katahdin in Maine. Little Man learned to count all the way to 2,193, the total miles his little feet traveled, and a big number for someone who just started kindergarten. "I would do it again because I like it so much," Harvey told National Public Radio.
During 209 days of hiking the trail, this family from Lynchburg Virginia bonded, formed a tight community with other hikers, and gained an appreciation for living in the great outdoors. It was also transformational for the many supportive followers on social media.
Although the Suttons are now back at work, they have incredible memories of this mini retirement. Harvey was the star of their show. Bringing him along on this feat of endurance was life-changing for the parents, other thru-hikers, and was an inspiration for families who dream of taking a similar journey.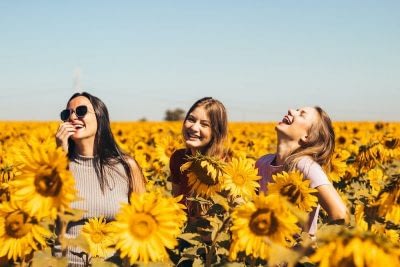 Don't miss out on a single article!
Enjoy unlimited access to over 500 articles & podcast that give you a positive perspective on the state of the world and show you practical ways you can help.
Sign up now!
Notes:
Inside Edition. "5-Year-Old Hikes Entire Appalachian Trail." YouTube, 26 Aug. 2021, www.youtube.com/watch?v=fjU_stKcy5A. Accessed 2 Nov. 2021. ↩
Published: November 5, 2021