Even when you've been doing something for decades, there is always something new to learn. Come with us on an exciting trip to the middle of nowhere in the Arctic Circle with an award-winning figure skater to test the limits of our capabilities and find new facets in the passions we think we know.
When three-time Finnish Championship winner Emmi Peltonen ventured into the Finnish wilderness with a camera crew and a dream, something astonishing took place. Her athleticism and artistry faced the challenge of natural, outdoor ice—an exciting, new landscape for a traditional skater—and the result is simply beautiful.
Even though she's been skating since she was just 2 years old, this was a first for Emmi. Keep scrolling for proof that even with the things you've loved for a long time, there's always something new to discover!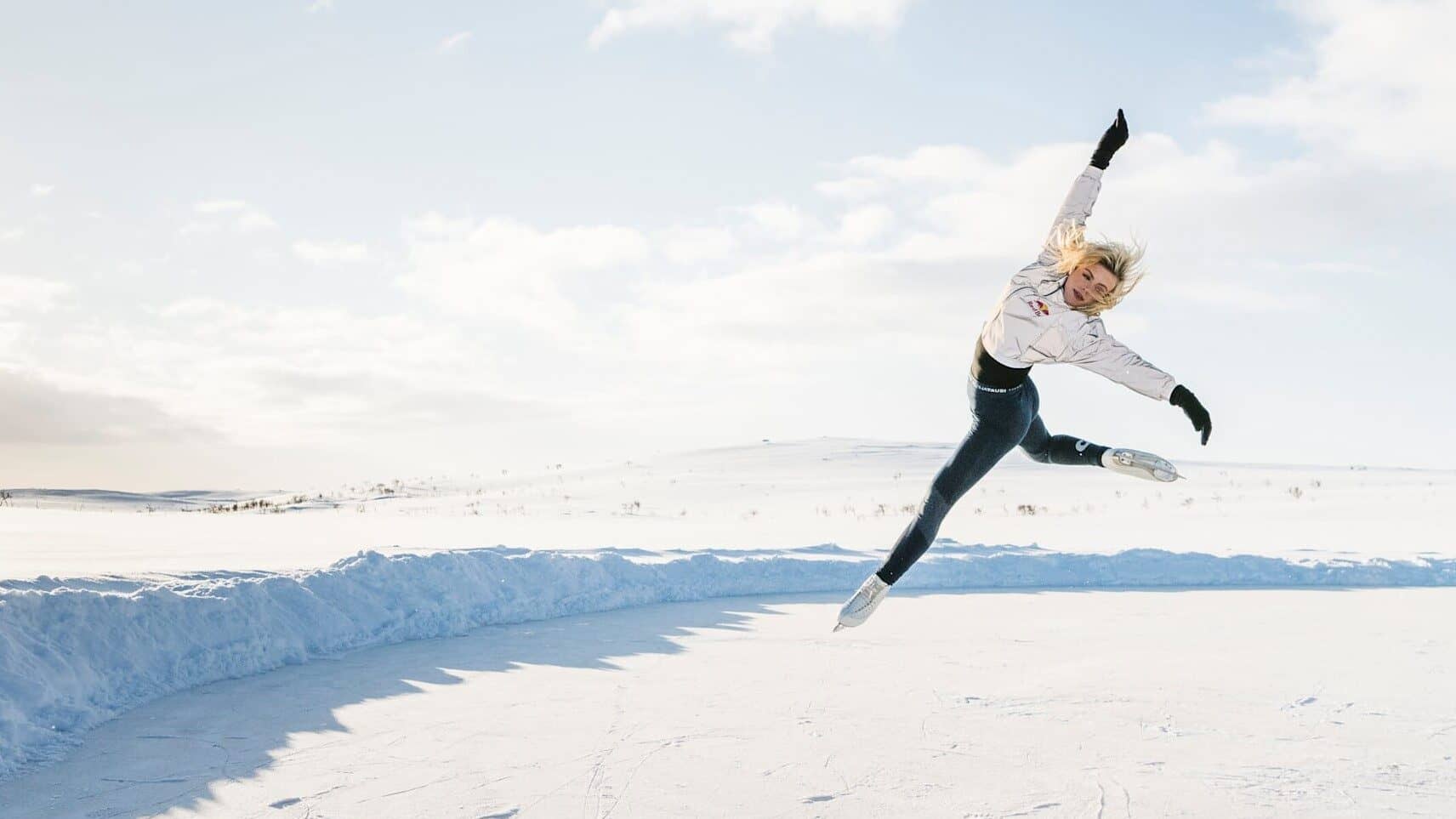 With freezing winters and cool summers, the subarctic 1 town of Nuorgam lies sheltered by the shores of a frozen lake, beneath the Northern Lights at the tippy-top of Finland. With neighbors Norway and Russia, this place gets cold, and yet it was the perfect place to create this feat of artistry, athleticism, and technology.
Skating out in the bitter cold on frozen ponds, lakes, or rivers is how skating started, yet today we often only think of skating taking place in an indoor rink.
And skating on outdoor ice is difficult.
Unlike an indoor rink smoothed over by a Zamboni, natural ice, on a lake, pond, or any natural body of water is never completely smooth. During its formation, any slight breeze, wave, air bubble, or snow can cause impurities on the surface. 2
3
Even with scraping, washing, and squeegeeing to be smooth like rink ice, it's not the same—those imperfections and impurities in the ice will always find a way to catch your blade and make you stumble or fall.
That's what makes Emmi's excursion to the Arctic all the more fearless. She's not only testing herself and her skills by skating on rough ice, but putting herself in a desperately cold place in the middle of nowhere. Her ice dance is all the more difficult and all the more gorgeous as she pushes the limits of what's possible in her sport.
Figure skating coming back to its roots!
In this stunning video presented by Red Bull, we've come full circle. When returning to its roots in the rugged outdoors, skating like this allows us to see the true freedom of leaving the four sides of a rink and a classical tune behind to discover a new limit of a craft.
With drones illuminating the night sky to look like the Northern Lights and the camera right in the action following Emmi's every move, this film is unlike any other in figure skating.
Without further ado, here's Emmi and the team from Red Bull, coming together to create a film that is simply beautiful. If you care less about the "behind the scenes" stuff and want to see the final, finished product of stunning landscapes, cinematography, and athletics, skip to 7:34.
You can find more amazing feats of athleticism and artistry on RedBull's YouTube page and keep up with Emmi by following her on Instagram.
Even if you're a master, there's always something new to learn.
Did you catch when Emmi said she got her first pair of skates when she was 2 years old? And yet, this beautiful masterpiece is unlike anything she's ever done before. That's proof that no matter how long you've been doing something, explored somewhere, or thought you knew about something, there's always a new bit to discover about what you love.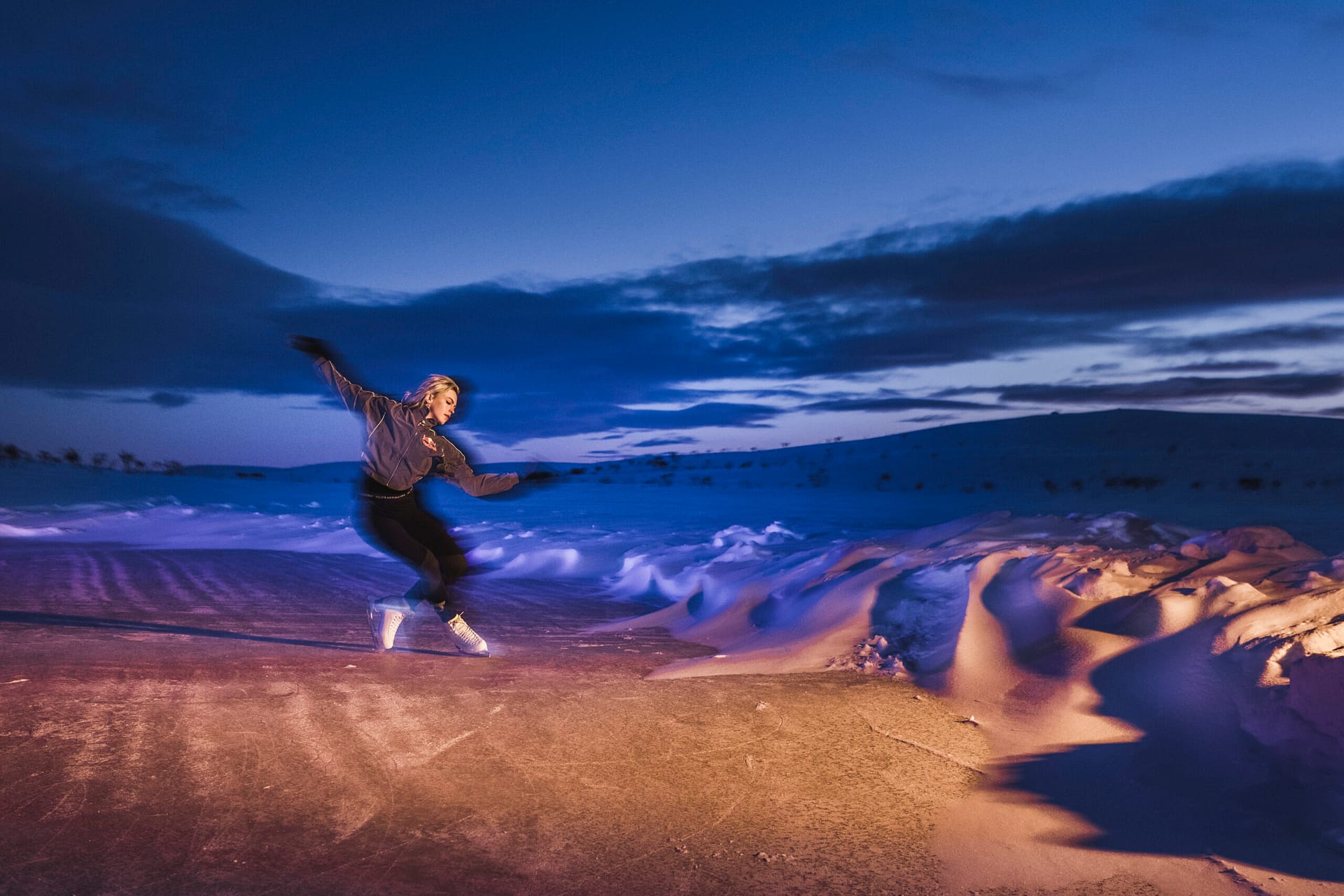 So, don't stop trying new ways to love what you love! There's always a new method or challenge waiting for you.
And think back to that part in the video where Emmi fell, over and over. Even with masters of their craft, mistakes happen. And imperfections—when embraced—can make your passion all the more beautiful.
Find a new way to experience something you love, even if it isn't perfect. Draw a terrible picture, take your photography to the sky, give your poems to strangers, or paint by pixel. There is no end to the new things you can discover about something you think you know when you get creative and open your mind to the possibilities.
To dive deeper into our library of articles about inspiring and beautiful athleticism, I highly suggest you check out these next.
Remember, the world is a playground. So get out there, have some fun, and test the limits. Where might you find the Arctic Circle equivalent of your own passion?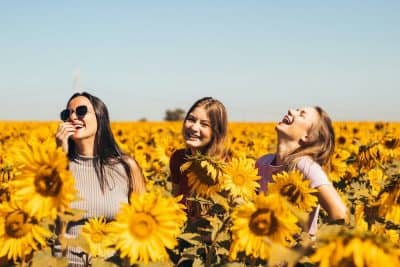 Don't miss out on a single article!
Enjoy unlimited access to over 500 articles & podcast that give you a positive perspective on the state of the world and show you practical ways you can help.
Sign up now!