In 2013, Javier Zamora did what many of us would think impossible: he created an entirely new life for himself. After a working life spent in the restaurant industry, he became an organic farmer. But not just any farmer, one of the only 4% of farmers in the "Salad Bowl of the World" who are Mexican immigrants. And now, he's helping others do the same!
With a passion for sharing knowledge and building community around him, his story is an inspiration not only in the agricultural fields, but for every one of us building skills to create our own, brighter future!
The Salinas Valley in California is known to be the "Salad Bowl of the World," producing 60% of food crops in the United States. 1 It's a multi-million dollar industry, yet only 4% of these farms are owned by Mexican immigrants—even though they make up 90% of the workforce.
ALBA is helping to change that!
ALBA is a 100-acre farm in the Salinas Valley that works with aspiring low-income and low-resource farmworkers. ALBA's efforts provide all of the training, information, and help they need so that they can get better jobs and even build sustainable, organic farms of their own!
Javier graduated from ALBA's Farmer Education and Enterprise Development (FEED) project in 2012. There, they taught him the ins and outs of organic farming through hands-on, land-based practice. Participants first complete a 250-hour course with classroom and in-field training to jumpstart their knowledge. Once they've finished this, they can join the Organic Farm Incubator, where they can lease land from ALBA to start their own farm!
"In any given year, ALBA leases over 80 acres of farmland to 36 to 40 start-up organic farms, of which 10 to 15 are newly launched. Land and equipment are offered at subsidized prices, set at 20% of market price in the first year, rising to 80% in the fourth and final year. Starting on 1/2 acre, farms expand up to five acres over four years before they transition from ALBA to continue farming independently." 2
There are now over 40 independently owned organic farms throughout California that are alumni of ALBA!
In 2013, Javier started his own farm, JSM Organics, on just two acres of ALBA's land. Now, he's farming 25 of his own! He joined their board in 2014 and continues helping more people climb this ladder to a better life.
For a taste of how truly remarkable and life-changing, their systems are, here's Javier in this fantastic video presented by Patagonia!
Patagonia features a lot of really stunning films like this on their YouTube channel. If you haven't yet, go subscribe!
To learn more about ALBA and their much-needed, innovative work, head over to their website! They lay out details of all of their programs, the alumni farms and farmers that you should keep an eye out for, what projects they're up to, and most importantly, why it's so important.
If you'd like to support them, you can find a multitude of ways to get involved by visiting this page.
You might recognize Javier from our article from a few weeks ago! He's featured in the video from AJ+ where we get to discover the super-speed out-of-this-world talents that these farmworkers have. If you haven't enjoyed that piece yet, I highly suggest you check it out!
What if our trajectory to "success" didn't have to be a straight line?
So often we see and follow the myth that from high school to retirement our trajectories in work and life will—or need to—follow a straight line. But very few of us ever go from point A to point B without a few detours along the way.
Sometimes, the world doesn't seem set up for these detours. But this is slowly changing. Organizations like ALBA are working to give people the opportunity to create a brighter future for themselves and their communities.
What would it look like if we created more opportunities for people to learn from a community of others with a similar life path? People who have made the same life pivots and come out the other side with a wealth of knowledge? So very often we lose talented, brilliant individuals because they lack access to communities and individuals who can share their resources, knowledge, time, and tools.
Here's how other people are coming at this problem in their fields:
As always, my friend, stay open to new possibilities. And remember, the more you help others, the more of that will come back to you!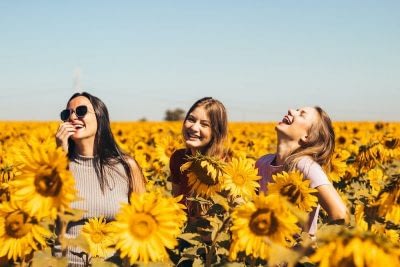 Don't miss out on a single article!
Enjoy unlimited access to over 500 articles & podcast that give you a positive perspective on the state of the world and show you practical ways you can help.
Sign up now!