Grandmothers can be a source of light in our lives, but for a village in Madagascar, they are quite literally bringing light to people's lives! Yes, these intrepid grandmas saw how a lack of access to electricity was taking its toll on their community and decided to become solar engineers to bring light. It's a story that celebrates what happens when we include everybody in the progress of our communities.
Grandmas as solar engineers? This concept may seem foreign to a lot of us, but for rural communities around the world, grandmas are at the forefront of bringing light—and love—to their villages.
Let's go on a little journey to Ambakivao, Madagascar to meet these solar grandmothers, learn a bit more about the incredible organization that helped train them, and see the ways we can learn from their tenacity!
Grandmothers lighting the way!
In the village of Ambakivao, there's something new happening in town. People are playing in the streets, kids are doing homework at night, and the community is feeling more secure and unafraid. How is this all possible? Well, with something that most of us take for granted: light.
Before this small group of women from Ambakivao—affectionately known as the solar grandmas—took a 6-month journey to India to become solar engineers, getting much done after dark was difficult. Locals had to rely on firewood and gas lamps to see after the sun went down. These incredible solar grandmas have since installed over 200 solar panels and constantly work to repair broken ones—all to illuminate their villages and create a more secure future for their communities!
Here's Great Big Story with a deeper dive into this incredible story:
‌If you want to enjoy more short documentaries like this one about cultures from around the world, check out Great Big Story's YouTube channel. Their archive of videos is a wonderful place to get lost on the internet for a while!
How The Barefoot College teaches solar mamas!
So, how did these women learn to be solar engineers? Through a collaboration with the World Wildlife Fund and one of the most extraordinary colleges in the world—The Barefoot College—the solar grandmothers of Madagascar were able to make their way to India to participate in life-changing (and community-changing) education! 2
And this isn't a new program. For almost 50 years, The Barefoot College has been teaching women from rural areas around the world to become solar engineers and bring their knowledge back to their home villages. The most extraordinary part is that most of the "solar mamas" are illiterate. So, the educators at The Barefoot College have created a curriculum that is approachable for their students no matter their level of education!
It's truly remarkable to watch these women hard at work, learning a skill to bring back to their homes that will—most certainly—change lives, communities, and the prosperity of generations to come.
Here's a great short video from the creators at makesense, so you can see the solar mamas in action!
(Make sure you have your subtitles turned on in your preferred language so you can read what the non-English speakers are saying!)
Find more from makesense on their YouTube channel! Their work covers stories that inspire us all to take action to create a more inclusive and sustainable world. You can also see more from the series this video is from here!
For more information on The Barefoot College, or to support their work, check out their website. The college's founder also has a remarkable TED Talk! I heard it many years ago but it is still one that resonates with me when I think about unlocking the potential of all members of our communities. You can give that a watch here!
Lighting the Way, Unlocking Our Potential
What potential are we leaving on the table because we think that somebody doesn't have the "right" education, the "important" life experiences, or the "correct" background? The solar mamas of the world are certainly showing that all members of society have something to contribute to the greater good, if only we find a way to connect with their unique skills and abilities.
How many children are we leaving behind because of marks they received as teenagers? Which retirees are we neglecting to include in our conversations because they use technology differently? How many brilliant people are we not listening to because they don't speak our language perfectly? There is genius everywhere, if only we choose to listen to those around us on their terms.
The world is so full of human potential, it can make your heart soar. If you want a few examples, here are some of my favorites!
So, what can you bring to your community, your family, and your loved ones? Or, better yet, what potential could you help unlock in others?
Stay beautiful & keep laughing!
-Liesl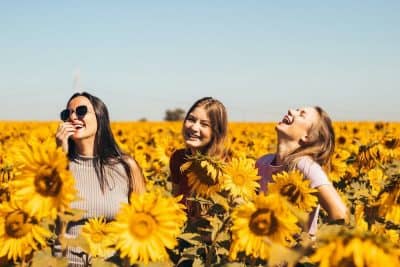 Don't miss out on a single article!
Enjoy unlimited access to over 500 articles & podcast that give you a positive perspective on the state of the world and show you practical ways you can help.
Sign up now!
Published: February 2, 2021