New York Harbor is now the cleanest it's been in over a century thanks to… oysters? That's right, a seafood delicacy is making the water in 8 million people's backyard healthier, and cleaner! But these oyster powers don't stop in NYC—their skills could be employed to clean up waterways around the world!
If you've ever eaten oysters in New York City, your dinner may now be a part of the growing oyster reefs (also called beds, which is cute!) that are restoring life to a once abundant harbor. Using waste shells provided by almost 80 restaurants in New York City and teaming up with teachers and students all across town, Billion Oyster Project is restoring the natural oyster beds that once existed in New York Harbor!
100 years ago, New York Harbor was home to 220,000 acres of oyster reefs, but when more people started moving to the city and boat traffic in the harbor increased, these giant structures—home to a menagerie of critters that depend on them—almost entirely disappeared.
Here's one way we can all work together to create a better world, one half shell at a time!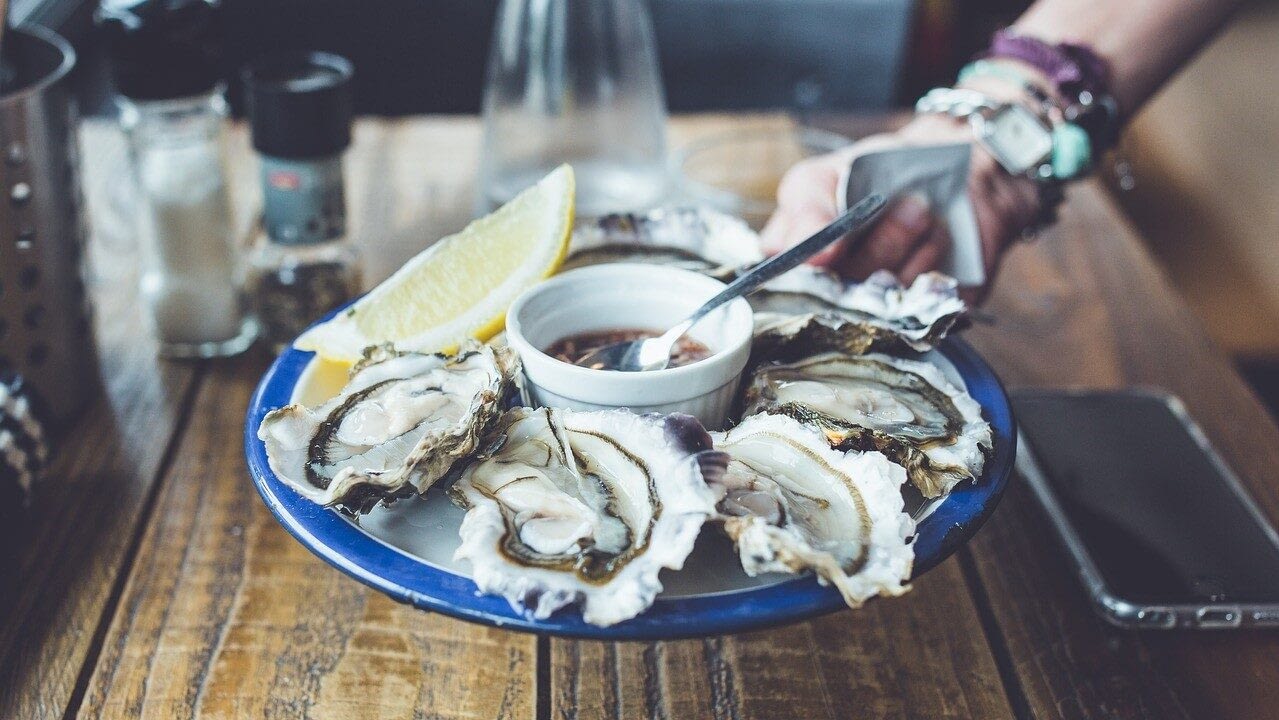 Why oysters?
Oh man, I'm glad you asked—they're super cool. While these mollusks are inert beings (they don't move), they sure do a lot of work. As they eat, they help clarify the water and filter out pollutants, like nitrogen, which is a big help in preventing overwhelming algal blooms that can choke out waterways and kill off entire ecosystems. 1
Oysters also grow off of one another naturally. So as generations go by, the reefs build themselves, creating giant structures with lots of hidey-holes for other creatures to make a comfortable home in. This makes them an important creature to have around!
Ever since New York City became a hub of American life, waste runoff into the harbor has been a huge problem, making it very hard, if not impossible, for marine life to sustain itself. But since Billion Oyster Project started their work in 2014, species like blue crabs and sea slugs are starting to come back, and the harbor is already the cleanest it's been in a century. 2 There's still more work to be done, but this is a very hopeful start.
Not only does the project help the water quality and invite more life back into the harbor, but the reef also acts as a natural defense from storms! It can provide an underwater barrier to protect New York City from the power of waves eroding away the land.
The kids are in on it, too!
In order to collect the data that they need and to engage their community and future generations, Billion Oyster Project has teamed up with close to 100 schools across NYC's five boroughs. They've given approximately 6,000 students in grades 6 through 8 access to a fascinating hands-on science curriculum! With this, the students are able to monitor their own box of oysters, meet the critters that are coming back, and collect data that's actually used by BOP to monitor reef health.
It's an exciting way to learn, especially when you're learning about the unique natural resources you never knew your own home had.
One of our favorite people on YouTube, Brad Leone, meets with Pete Malinowski—the founder of Billion Oyster Project—to see how all of this actually works. In typical Brad fashion, this is a wonderfully entertaining and enlightening video!
You can find more episodes of "It's Alive" with Brad Leone, where he travels all over the place, diving into the fascinating stories about our food, over on YouTube!
And if you'd like to get involved with Billion Oyster Project, head on over to their website and explore! Give them a follow on Instagram, Facebook, or Twitter to stay connected.
**Please note that the oysters from the harbor are not suggested for consumption yet. Remember: they filter the water, so everything that's in the harbor is in them!
For another great story about how an oyster reef restoration saved another important North American environment, check out this article from our archive! The difference oysters can make is amazing.
"There is no power for change greater than a community discovering what it cares about."

—Margaret Wheatley
It's hard to choose just one great reason Billion Oyster Project is having a positive impact on all of our lives, regardless of how close we live to New York Harbor. This story has it all: the active restoration of an environment by a community of locals with diverse interests; a new, important use for a resource that would otherwise go unused; and the pure awe of thousands of kids as they discover a new world teeming with life and hope in a harbor they probably see every day.
It seems as though their ongoing success is a blueprint for how to engage our communities to enact real, much-needed change. By bringing in people with a diverse range of talents—from those who first eat the oysters at the restaurants, the restaurants themselves, and the middle school science teachers and their students—they have ensured that this movement has all the ingredients to be replicated for generations to come!
This idea of using what already exists in new, innovative ways isn't limited to environmental projects, either. For when many people from different walks of life are brought in on finding a solution to the problems that impact us all, the more apt we are to find success. Our collective ability will always be far greater than the individual.
For a few of my favorite examples of this, check out these articles where people thought outside of the box when deciding who to bring on to their team!
The School that Changed an Entire Community
What if lasting social change started by getting adversaries to become advocates for some new future that everyone could imagine together and feel good about? This is how Dr. Kakenya Ntaiya started a revolutionary school that is changing the lives of generations of students!
Read More
As always, my friend, stay open to new possibilities!
Published: January 21, 2021