You might start seeing some mysterious refrigerators pop up around your town! Big and small, people are stocking these fridges with fresh food for their neighbors, no questions asked. It's an ingenious way that's sweeping the nation to bring healthy food directly to the street corner in communities—and it's super easy to get involved!
If you've given away canned goods at a food drive or donated some groceries at your local supermarket, the free food fridge is a part of the next wave of ways you can help a neighbor get access to fresh, healthy food! It's a nutritious cycle of goodness that's easy to contribute to that can have a huge impact on a community.
Here's a look into why this is so important.
Hungry? Just check the free-dge!
How long does it take you to get to the supermarket? Can you count on there being fresh fruits and veggies there? For nearly 24 million people in the United States alone, being able to get to a grocery store and find fresh fruits and vegetables is a luxury, not a given. It is such a prevalent problem that it even has a name: food deserts.
In rural areas, these food deserts are regions where a grocery store is over 10 miles away, and in urban areas—where many people don't have cars—it's a region where there is no grocery store or place to get fresh food within walking distance. 1
It's a bigger problem than you may think. Just take a look at this map from the U.S. Department of Agriculture showing the number of food deserts in the country!
As you may have already guessed, these food deserts are more likely to impact low-income and already marginalized communities. 2 And very often, the burden of these food deserts falls on children.
But we can come together as communities and work to change this!
All it takes is a fridge, electricity, and food donated by neighbors! Here's how Jammella Anderson started a highly sought after free food fridge on her block in Albany, New York!
To learn more about Free Food Fridge Albany, make sure you check out their website or follow them on Instagram!
Another great place to learn where there's a free fridge in your area is the nonprofit Freedge.
They've connected community fridges all over the world, from Brazil to Canada to Lebanon, in an easy-to-use platform. Check out their interactive map or detailed spreadsheet to see if there's a fridge in your area. One Freedge recently opened up down the block from me here in Burlington, VT!
If you'd like to start your own, they also have great resources on their site for that!
Or you can do what Jammella suggested and head to Lowe's and just ask for a fridge! Who knows, they may just give it to you.
Can't host a fridge or afford extra food but would like to contribute?
On the same note of "asking for what you need," try going to your local grocery store and asking what they do with their food once it's reached its "unsellable" stage—when it's close to its sell-by date or isn't "beautiful" enough. A lot of stores don't have an actual plan for the food they take off their shelves other than throwing it in the dumpster. If you ask, you may be able to pick up food and deliver it right to the community fridge or food bank for free!
Are you planning to leave home for a little bit and have a lot of food that'll spoil? Or maybe your zucchini plant has produced way more than you thought it would and you're overrun with squash—you can offer those items up as well!
And of course, one of the best ways these days to help the word get out is to share what's happening on your social media. Let your community know that this is a thing! Someone nearby may have a fridge they no longer need, and this could spark a new purpose for it.
Fresh food feeds your community in more than one way!
When we don't have access to fresh food, a lot more suffers than just our general health. Food is one of our base needs as humans; we have to have food first before we can even start thinking about moving up Maslow's Hierarchy of Needs.
Thankfully, there's more than one way to bring more nutrition to food-insecure and desert communities and help them grow and thrive. The folks in these articles will show you their fabulous techniques!
There are endless ways to get involved with the Conspiracy of Goodness™, big and small. Do what you can with what you have and you're sure to start a positive ripple effect that spreads far and wide!
As always, my friend, stay open to new possibilities.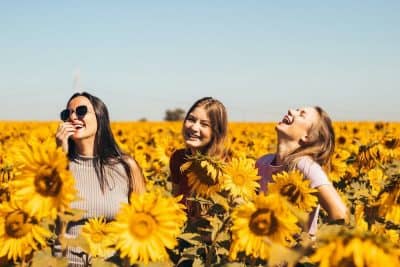 Don't miss out on a single article!
Enjoy unlimited access to over 500 articles & podcast that give you a positive perspective on the state of the world and show you practical ways you can help.
Sign up now!