What if there was a vault so full of wealth and knowledge that it could not only help you understand the past but predict and plan for the future? We're about to head to one of these magical places where behind closed doors, some of the most enormous breakthroughs and fascinating discoveries are being made! Here's a peek at the treasures hidden in the rooms you aren't shown when you go to the museum.
From solving the mysteries of birds dying off to helping cultures whose history was torn away reconnect with their roots, we have the jaw-dropping collections of natural history museums to thank! They're even figuring out how humans became humans and making leaps in our understanding of climate change—but how?
Well, behind those perfectly curated rooms and hallways you and I have walked through, scientists and researchers are hard at work studying tens of millions of unseen artifacts. Why? Well, these specimens hold the key to understanding the inner workings of life as we know it!
So, stick around as we take a peek into this hidden world. You'll be looking at these extraordinary places with a bit more gratitude and wonder!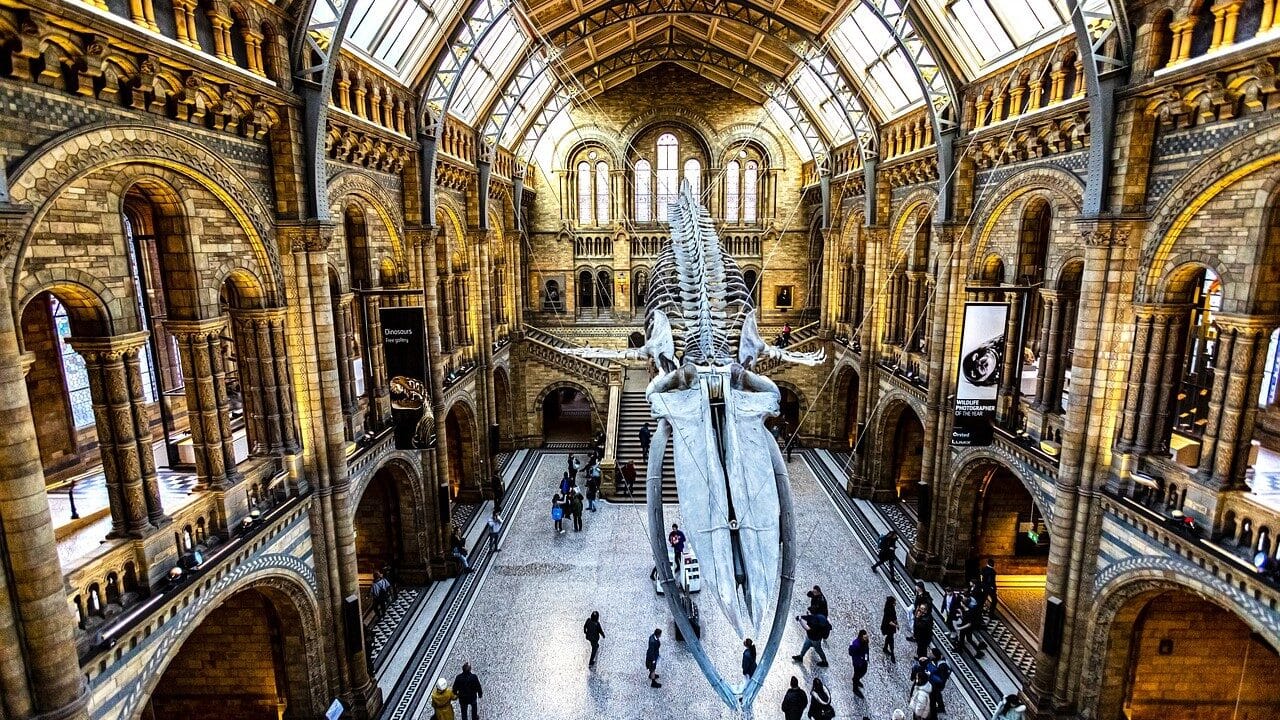 Why collect so much stuff?!
If you walk through a natural history museum, you might be overwhelmed with just how much stuff there is. Endless fossils, rooms of taxidermy animals, and rows of human artifacts—surely this has to be the extent of it all! But oh, my friend, we aren't even being shown the whole story. For what we see in most museums is just a tiny fraction of their incredible collection!
I mean, the American Museum of Natural History alone has 34 million artifacts and specimens lining row after row of shelves and drawers not seen by the general public! 1
So why do they need so many "extra" things?
Between the hundreds of millions of artifacts in the world's hundreds of natural history museums, we have an incredible collection of historical data. And this data is being used to better understand the problems we're facing today and help us predict and plan for the future!
Mosquito collections have been used to understand and mitigate diseases like West Nile virus. Seed collections are aiding in ending crop shortages. 2  Artifacts from expeditions in the early 1900s are helping people reconnect with their spiritual and ancestral roots, 3 and some specimens have even been used by law enforcement to solve crimes!
These discoveries only begin to scratch the surface!
Prepare to have your view of museums turned around from stuffy, stagnant buildings to places alive with learning and discovery. Their endless collections from our world's life are changing how we view our planet and ourselves. Now, let's see what this really all means—and hear more from people who work in these museums—in this great video from TED-Ed!
If you want to see more from TED-Ed, check out their YouTube channel! Their content covers every corner of the world of science, art, history, and even philosophy in short, fun, digestible ways.
As I was researching this article, I also came across an amazing series from the American Museum of Natural History called Shelf Life. In the series, they explore the museum's collections and explain how their artifacts are helping researchers make cutting-edge discoveries and unearth lost knowledge. Make sure you check it out! In one of my favorite episodes, they show how a collection of artifacts gathered in Siberia at the turn of the 20th century is helping the indigenous peoples who still live there today reconnect with a heritage that was lost during Soviet rule.
If reading is more your thing, I also found this great piece from The Museum Scholar that details some of the ways natural history collections are being used to inform and shape scientific research.
The incredible power of the museum!
Museums are incredible treasure troves for our imagination and our curiosity.
I'll never forget the awe I felt walking into Chicago's Field Museum as a child and seeing SUE the T-Rex towering above me in the main hall. That day, I scurried from room to room with glee, completely absorbed in a feeling of wonder at the science, culture, and history all around me. These museums aren't just important because of the groundbreaking research they are doing, but because of the way they inspire us—yes, even us adults.
For many of us, natural history museums are the closest we will get to the hands that painted the intricate coffin of an Egyptian mummy, the dinosaurs that once roamed this Earth, the extinct dodo bird, or the cultures of people whose traditions lived long ago or far away. And now, we know how close we are to the insights that will lead us into the next century.
What can you do?
Right now, many museums are struggling. But never fear, for we can support our beloved collections and the research and education they keep alive! If you have the means, please consider donating to your favorite museum. You can also support museums by checking their online stores and making your next gift or book purchase there. Of course, if you have a young person in your life—or just need some inspiration yourself—a virtual tour is always a great way to spend a weeknight.
Who knows what the "artifacts" of our time will look like in the museums of the future!
Whatever the future holds, we now know that museums will continue to use knowledge and exploration of the past to change the world. One discovery at a time, we will all be the beneficiaries of their wealth of knowledge.
There is a reason we here at the Goodness Exchange call ourselves "curators." Like museum curators, we are finding the most remarkable examples of science, art, human ingenuity, culture, and our planet and putting them on display for our viewers. So, if you want to explore a few more ways (big and small) that museums are inspiring us and see how you could become a museum specimen, check out these articles!
Stay beautiful & keep laughing!
-Liesl