If you've ever stood in front of an array of waste bins at the airport holding your empty coffee cup wondering "Is this garbage? Is this recycling? What do I do with this stuff?" and you desperately wanted to do the right thing but didn't know what to do, this is the article for you. We're going to break down what's waste, what's not, and what we can do to make waste a thing of the past.
Let's face it, knowing what to compost, what to recycle, and what to throw away is difficult. It feels like everything from fruit to lightbulbs comes with a pound of packaging, and don't even get me started on giant boxes from Amazon used to ship a single tiny item. So, what do we do with all of this confusion? Don't throw your hands in the air and just head for the trash bin yet, we've got your waste questions covered.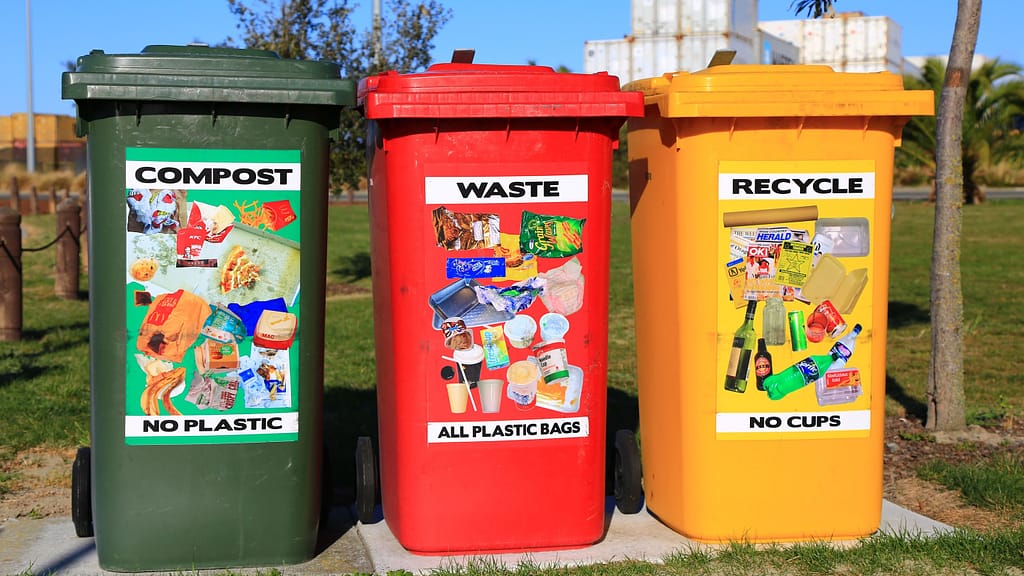 Where there's waste, there's a way!
When it comes to waste, we produce a lot of it… an estimated 2.2 billion tons worldwide each year 1. And from 2018 estimates, the average American contributes 4.9 pounds (2.2kg) of waste to that total per day! 2
But we're not here to get stuck in this trashy mire, no, we're on a mission to educate you so that you can make your own dent in this heap, and in doing so influence others–from friends to major corporations–to do the same.
Let's start with a basic question: what is "waste"?
Well, think of it as everything from bottles to food, grass clippings to computers, and tires to refrigerators. Some of this waste can be recycled, like bottles, cans, and cardboard. Some of it can be composted, such as food scraps, coffee grounds, and yard clippings. And some of it we haven't been able to engineer a next life for, so it gets sent off to a landfill or incinerated. It's this latter category that we, as a world, have to start rethinking.
We are making strides in reducing the amount of our waste that goes to landfills. In 1960, 94% of American waste found its way into landfills, but thanks to regulation and new methods of handling waste, that number dropped to 50% in 2018. 3 But there is still a lot of work we can do when it comes to decreasing the amount of compostable and recyclable material that ends up getting thrown away. Let's take one corner of the waste stream, glass, as an example: of the 12.3 million tons produced in 2018, only 3.1 million tons were recycled that year. And while some people may look at this as a huge hurdle to overcome, we can also flip this on its head and realize that there is a lot of room for improvement when it comes to reducing the amount of compostable and recyclable materials that are being mistakenly thrown away!
So, why can't we, say, send our trash up into space or chuck it into a volcano?
If you are asking these kinds of questions, I have to applaud your creative approach to problem solving. But as the guest in the video we're going to share with you will explain, these kinds of "out of sight, out of mind" approaches to waste disposal not only pose threats to our environment, but also contribute to a loop of waste production that keeps us from finding value in materials again, and again, and again.So here's self-proclaimed garbage nerd and executive director of Common Ground Compost, Meredith Danberg-Ficarelli, to give us the ins and outs of waste management!
If you want to see more in the WIRED "Questions from Twitter" series, go check out the WIRED YouTube channel where you can find all kinds of content from tech, to pop culture, to science!
Breaking Down the Big 3
We've been talking a lot about recycling and composting, but there's a third, altogether more important step before we stand in front of those bins wondering what to do. And that is simply, waste reduction. Here's the lowdown on all three of these awesome ways to reduce waste.
1. Waste Reduction
What can reducing the amount of waste we createlook like? The simplest way to start, really, is with a reusable water bottle and a reusable tote. I know these sound like fundamental swaps, but these are the first small actions to reduce your plastic use and the use of plastic bags (which can be hard to recycle in a lot of places), that start building habits that make you think about how you consume.
Okay, so you've been on the water bottle and tote game for a while now, what's next? Some easy questions to ask are: Can you reduce the amount of single-use items you use on a daily basis? Can you invest in products that will last a lifetime instead of a few years? As you need to replace daily use items, can you replace them with more sustainable swaps?
As Meredith pointed out, going zero waste really encompases all aspects of how a product is created. Luckily you don't have to be out there on your own to find these kinds of long lasting, recyclable or compostable products made with a sustainable supply chain! Two of my favorite places to look for these kinds of products are the Package Free Shop and the Zero Waste Store.
Here's another of my favorite easy swaps: If your kitchen sponge is nearing the end of its life, try replacing it with a scrub brush that has compostable heads! Getting to the end of that bottle of body wash in your shower? Why not replace it with some bar soap, or liquid soap from a company you can return the bottles to and replenish again and again! Both stores have everything from beauty products to cleaning supplies all carefully sourced and with details on what the "end of life" for every product looks like (and none include the trash)!
One of the things I love about both the Package Free store and the Zero Waste Shop are that they source from small-environmentally conscious producers, so you don't have to go searching a million different sites to find the items you are looking for. Not to mention, by supporting these kinds of stores and their products, you're making a statement about the direction we want the rest of the economy to go.
2. Composting
Full disclosure, I am a compost enthusiast, perhaps to a fault–it actually pains me to watch a friend just toss compostable material in the garbage, yes I have brought food scraps back home from a dinner party to compost them. But seriously, composting is such an important part of reducing the waste that heads to landfills. And the best part, composting greatly reduces the amount of trash you create and thetrash's "stink factor". You can compost fruit and vegetable scraps, leaves and flowers, grass clippings, mulch, egg and nut shells, rice, bread, and pastas, and even in some cases dairy products, food soiled paper products (thosethat you cannot recycle) and compostable plastics! 5
Organics (things you can compost) make up one third of our waste! Not to mention, when those organic materials decompose in landfills, they release methane: a greenhouse gas 20 times better (which really means worse) than carbon dioxide at trapping heat. 6 Right now, landfills are the largest methane producers in the US, so by introducing composting to our waste habits, we could make an enormous dent in the total amount of methane released into the atmosphere.
Perhaps composting sounds a little overwhelming (or stinky) but we can break that down, too! The first thing to do is to look up if your area has municipal composting, or if there are composting services in your area. A simple Google search of "composting in [your town/city]" can get you started. Another option is to start your own composting at home. There are a lot of options based on where you live, how much organic waste you create, and what works best for your lifestyle! A great resource to start with is over on the Common Ground Compost's website. Their What is Compost page is the best all in one composting resource I have been able to find. There you can learn all about what composting is and what it could look like for you! Head to the Techniques & Technologies section–you can reach it quickly in the left side menu–to check out some of your many at-home composting options.
Oh, and if you are in a city, or small apartment and produce relatively few food scraps every week, I suggest creating a compost bag that you can pop in your freezer as you fill it to keep the smell down! This worked wonders for me when I first moved to a new apartment and was in transition on a local compost pickup service.
There's a lot to say when it comes to composting, but like anything, just start small with what you can do and you'll start to develop the systems and habits that will make composting easy (and if you're like me, fun)!
3. Recycling
Now, when it comes to recycling, you've probably heard a lot of people even asking "Does it even matter?" and while our global recycling systems still have a lot of room for improvement, recycling still does matter and it is still important.
The first part of any great recycling endeavor is to reflect back on #1 on this list. As I started my own push to reduce my waste production I would often make purchases of things in plastic packaging thinking "Oh, I can recycle that". And while that may be true, plastic is one of the most expensive and labor-intensive materials to recycle.
Recycling can also be confusing because how your recycling is sorted and what, exactly, can be recycled differs from place to place. So as you recycle at home, make sure you look up what can be put in the same bin, and what is considered recyclable by your recycling provider. A simple search or a call can be helpful if you have questions! I also find it helpful to print out these instructions and tape them above my recycling bin so I have a quick reference. One universal rule though: make sure what you're recycling isn't soiled by food in any way, so greasy pizza boxes or yogurt containers that aren't rinsed out will always be a big no!
Plus,recycling isn't limited to paper, metal, plastic, and glass. Many other materials can and need to be recycled. Things like old appliances, electronics (e-waste, like old charging cords or smartphones), rubber, tires, and batteries can't just be thrown in the garbage. But again, these materials are handled differently by different areas, so I've found that a Google search of the item and recycling or waste management in your region can go a long way to helping keep these things out of landfills. Yes, I know this is a little more cumbersome than just tossing things in the garbage, but the more people we have utilizing these specialized recycling and waste management facilities, the more our municipalities and regions will invest in robust recycling systems!
We've got to prove there's a demand, friends!
If you want a really comprehensive resource detailing just how robust recycling can be, check out this great article from Pela! It's a resource I'll be returning to again and again.
Progress, not Perfection
If you've read any of our other articles covering the topic of reducing our waste and impact on the environment, you'll know that my number 1 mantra is "Progress not Perfection." A handful of people fitting all of their waste into a mason jar is not going to swing the needle toward progress. What we need is for the vast majority of people to be starting down the road of doing what they can.
And always remember: we don't get anywhere with shaming people. We get far with making access to alternatives easy, and with educating people on ways that fit their lifestyle to reduce their impact.
If you want some more inspiration on ingenious ways that people have found to reduce our world wide waste and create a more zero waste future check out some of these articles (they're some of my all-time faves).
I hope you're feeling a little inspired today, maybe a little more knowledgeable about that coffee cup, and a lot more confident the next time you sidleup to those bins at the airport and want to do the right thing!
Stay beautiful & keep laughing!
-Liesl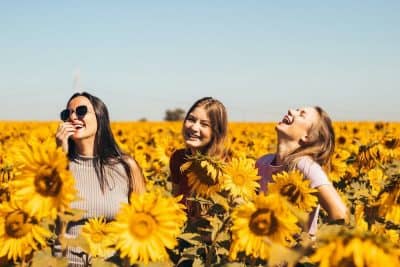 Don't miss out on a single article!
Enjoy unlimited access to over 500 articles & podcast that give you a positive perspective on the state of the world and show you practical ways you can help.
Sign up now!
Published: August 1, 2022