Sustainable ways to reduce waste have become a big part of many of our everyday lives. People from all walks of life are making a habit of transforming food waste into compost, using old pickle jars to store anything from pens to peanuts, and even using discarded chopsticks to create beautiful furniture. But what about the waste that comes from something EVERYONE uses every single day? That's right, I'm talking about the waste from our clothing.
Before we get too much further, I'd like for us to take note of the strides that people around the world are taking toward living a zero-waste lifestyle over recent years. Woop woop! That is seriously something to celebrate!
However, textile waste from clothing manufacturers is one of the largest waste issues we face for the planet. Did you know that every year the excess fabric from the design process alone contributes 40 times more waste to landfills than the average person? In the United States alone, 21 billion pounds of textile waste piles up in landfills every year! 1
Thankfully, a delightful human named Jessica Shchreiber recognized this problem and vowed to create both a solution to the problem, and an answer for companies looking to lessen their environmental impact. It's called FABSCRAP. And to say it's awesome is quite the understatement.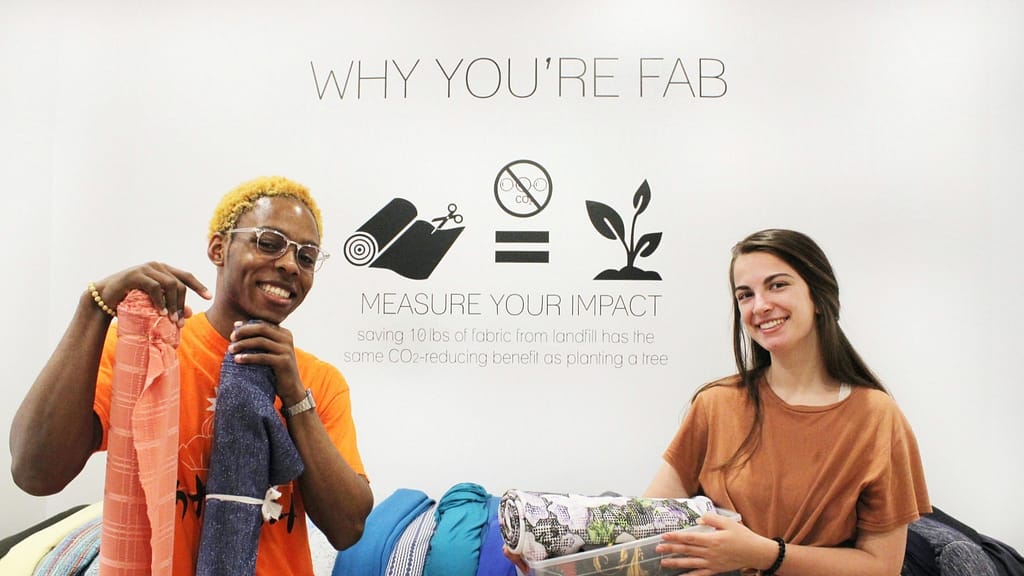 It all began when Jessica was working for the New York City Department of Sanitation, and she noticed the crazy amounts of clothing and textiles that were winding up in people's trash. Making this discovery more disturbing, was the fact that most of the clothing waste she was seeing was made of synthetic fabrics like polyester, which is basically plastic, in fabric form.
In fact, most of today's apparel being produced is made of polyester, and it's troubling because these bits of plastic never truly dissolve, they just break down into smaller pieces. Those tiny pieces wind up in our waterways and seep into the crevices of our lives in ways we hardly ever think about. 2
Considering that we will all be wearing clothes for the foreseeable future, this polyester problem can be overwhelming to think about. Jessica started asking around to see where the problem is originating from, and how she could find a solution for the beginning user (the apparel manufacturers), the middle user (the consumers who purchase the clothing), and the end user (the planet).
Taking a problem and transforming it into change…
In 2016, Jessica took what she learned and started FABSCRAP, a convenient and transparent recycling and reuse service, which is also an affordable and accessible materials resource, and a platform for educating and empowering a diverse community of changemakers.
In the video we're about to watch, Jessica explains that if your business solves a problem for others, there's an excellent chance that it will be a success. When she began asking apparel manufacturers what their biggest hurdles were in trying to make their brands more sustainable, they often responded that they didn't have an efficient way to ethically dispose of their design excess. And this is where one of the major steps of FABSCRAP comes into play.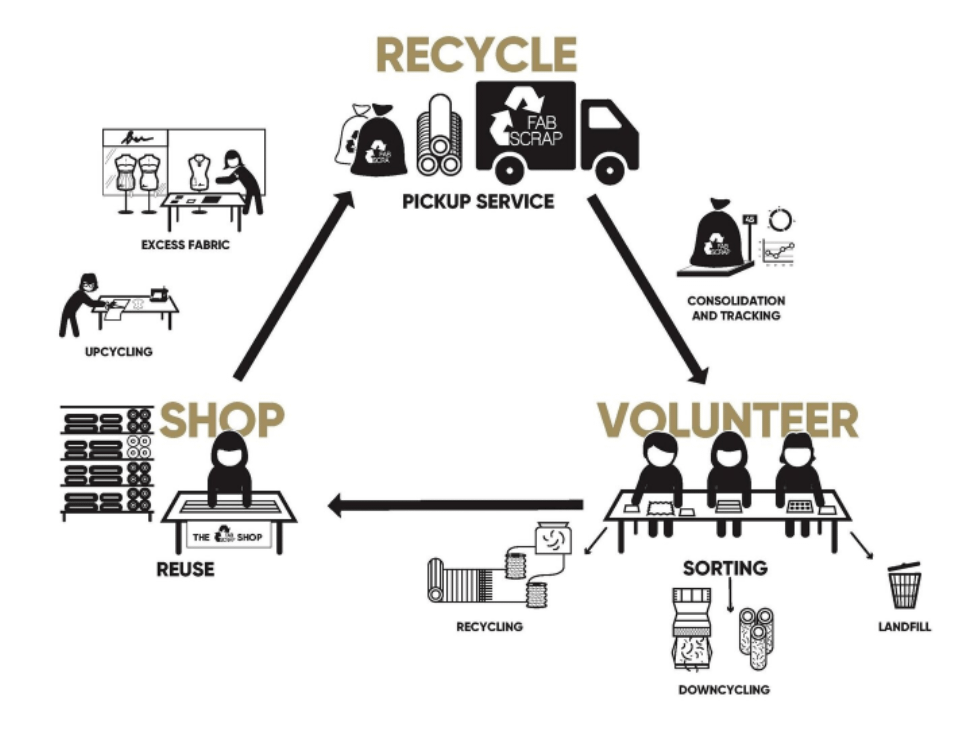 Step 1:
FABSCRAP offers an easy and convenient pickup service! They will come to a manufacturing facility and pick up the extra fabric leftover from the design process, and any experimental garments that didn't make the final cut.
Step 2:
FABSCRAP's team consolidates and tracks what they have gathered.
Step 3:
Volunteers sort through all of the donations. They separate materials into four categories: Donations (clothing that can be worn as-is), Recycling (stuff that can be reused), Downcycling (stuff that can be shredded and used for mattress stuffing or insulation), and Landfill (stuff that has reached the end of its life and has to be thrown out).
Step 4:
Shop the fabric! FABSCRAP sells the reusable materials and mendable garments at thrift store prices to be given a second life by someone who can see its potential. Fashion design students, crafters, and quilters love to shop there, but you'll often see them volunteering in the warehouse in exchange for material too.
Want to see the FABSCRAP magic in action?
Check out this wonderful video by Now This Earth, where you get to meet Jessica and see the remarkable process from start to finish.
Via: NowThis Earth 3
To see more from NowThis Earth, check out their YouTube channel where you'll find an entire library of content exploring all things climate, sustainability, biodiversity, and environmental justice!
A Win-Win for Everybody!
Isn't it amazing to see all those bags of unwanted scraps become something valuable again? I imagine it's very rewarding to weigh the impact you are making…by the pound! Plus, click here to see all of the outstanding brands that they are currently helping reduce their environmental footprint!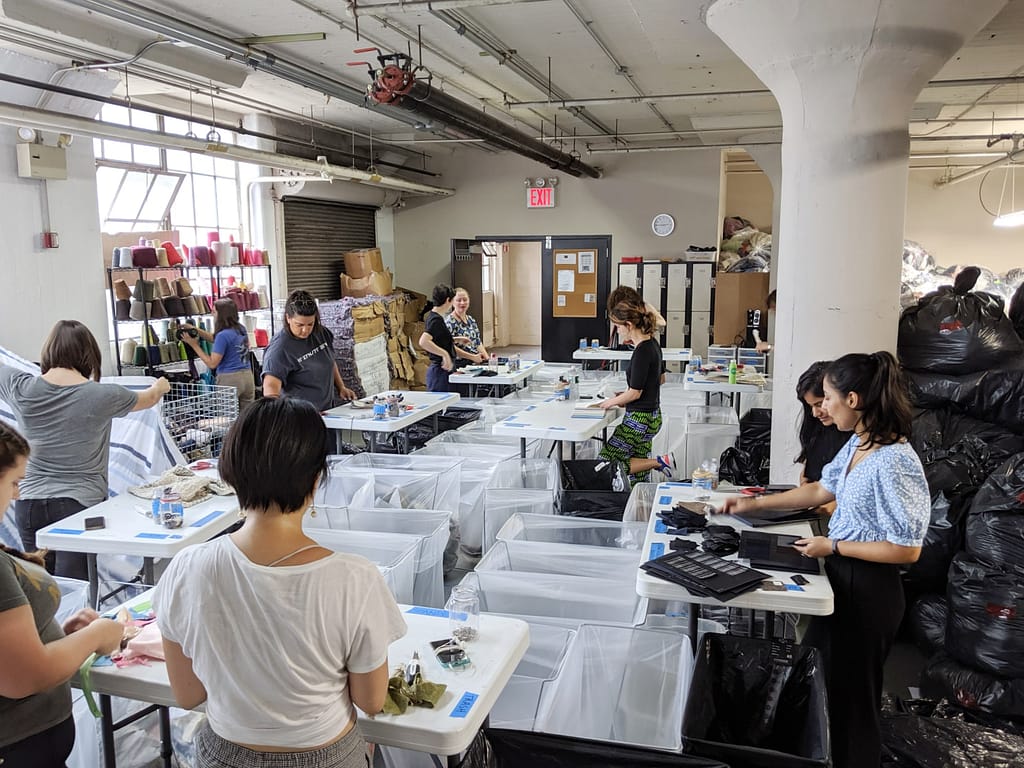 If you love to tinker around on the sewing machine or want to help their cause, there are a few ways you can get involved.
FABSCRAP currently has two stores where you can volunteer and shop by appointment for fabric, one in Manhattan, NYC, and one in Philadelphia, PA. They also have an online store on their website where you can purchase quality fabrics and materials by the square foot.
Volunteering at FABSCRAP is truly a win-win situation. You can register to volunteer on their site, and in exchange for a 3 hour session, anyone over the age of 10 gets to go home with 5 pounds of FREE fabric plus a 30% discount on additional goods.
Volunteer groups and fundraisers are also encouraged to come help out. FABSCRAP has hosted Girl Scout troops and even birthday parties!
I want to help but I don't live near a FABSCRAP location… Now what?
You don't need to be directly involved with a textile recycling facility to make a difference.There are so many ways we can give new life to clothing and fabrics on an everyday scale.
Re-selling or donating things that don't fit your body or style anymore is a great way to avoid sending clothes to landfill. Using old clothing as rags for household chores, and quilting with old tee shirts are also easy ways to reduce your own waste. Even better yet, host a clothing swap and get your friends involved! Someone else may even inspire you in ways you never dreamed!
After all, FABSCRAP is what it is today because Jessica turned to others seeking information on the problem, and for ideas and inspiration that would improve her own way of thinking.
One of the biggest challenges that we face when it comes to textile waste is awareness.
While textile waste management is starting to register on the radar of apparel manufacturers, we still have a long way to go. And the average consumer is still pretty in the dark about it. But, the more we share stories of organizations like FABSCRAP who are solving the problem, the faster we can make a difference.
We are super excited to announce that Jessica Shchreiber will be a guest on an upcoming episode of the Conspiracy of Goodness Podcast! Be sure to subscribe to the Goodness Exchange so you don't miss it.
In the meantime, I'll leave you with these articles from our archives to zip things up and leave you feeling hopeful.
Keep dreaming and notice the beauty around you!
~Renee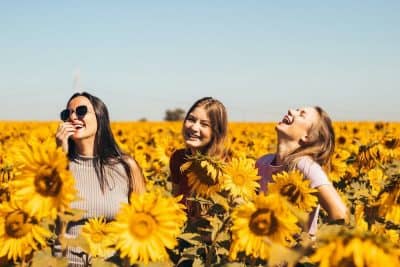 Don't miss out on a single article!
Enjoy unlimited access to over 500 articles & podcast that give you a positive perspective on the state of the world and show you practical ways you can help.
Sign up now!