Inspiring some of Hollywood's most iconic films and even an annual discovery channel event, there is one animal that captures our fascination like no other. Sharks often get a bad rap for their position at the top of the food chain, sometimes leading to unfortunate encounters with humans. And while there are few in the world that would willingly swim in shark infested waters, for some, the draw to the ocean is strong enough to be worth the risk. So, how can we coexist with these formidable predators?
People have always felt drawn to the sea, despite the dangers. Thousands of people flock to the ocean every day and grab a surfboard just to feel the powerful rush of water beneath their feet, taming the waves and feeling the rush of adrenaline that comes with it. And when the best surf in the world falls in a location where sharks are abundant, the danger factor for these daredevils makes the surf even more enticing. 
So in a world where there are those who just can't seem to leave these dangerous places alone, there are also those who put themselves in harm's way to defend not only man, but nature, too. At that intersection, you'll find the shark spotters of Réunion Island.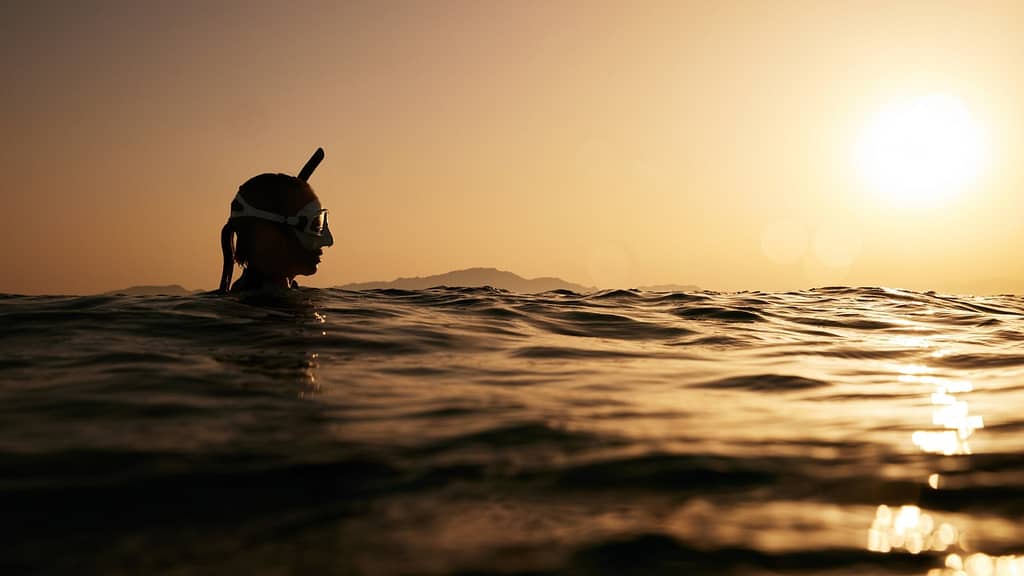 Réunion, a French island off the coast of Madagascar, is a small volcanic country with a population about 983,000, comparable in inhabitants to South Dakota but smaller in size than Rhode Island. With an economy based on sugar and tourism, 1 this small country has one claim to fame: the quality of their surf.
The stunningly beautiful country offers as many natural landscapes as you'd find across a whole continent, with dry deserts sloping up to humid forests, crescendoing with waterfall-covered slopes leading up to the island's volcano. 2 The people however remain largely in coastal towns, where tourists from around the world in numbers larger than half the population of the French Department 3 (before the pandemic) gathered.
The quality of the surf in Réunion is one of legend. Its location in the Indian Ocean places it in just the right spot to be in the direct path of the swells from South Africa, which create waves straight from a surfer's dream. But despite this reputation, surfing and even swimming in Réunion havelong been banned except for in a few small areas. This is because while Réunion finds itself not only in the path of stunning swells, it is also in the path of the so-called "shark highway" between Australia and South Africa. 4
The island also juts more steeply out of the ocean (a result of its volcanic creation) than its neighbors such as the nearby island country of Mauritius, which mean that sharks who are accustomed to living in deeper waters come much closer to the shore in search of food. Despite all of this, most sharks (even the notorious bull and tiger sharks) are relatively harmless unless provoked, with some experienced divers even comparing them to stray dogs. 5
That being said, shark attack numbers are consistent, with 1,218 bites and attacks recorded around the world in the past 47 years, 14% of which have been fatal. 6 Now, it's true that you're more likely to be killed by a champagne cork, lawn mower, or lightning strike 7 than you are a shark, but think of surfing in Réunion like pointing the cork directly at your face, trying to fix the lawn mower while it's actively moving, or holding the lightning rod in a storm… not the best way to avoid such a mishap. 
While most of us don't need convincing to not give surfing a go in such shark-infested waters, there are always those undeterred by the danger, and those who are convinced that the risk makes the reward all the sweeter. (Mount Everest, anyone?) With this in mind, there are two things we know to be true: First, daredevils will risk their lives. And second, shark attacks are not only bad for humans (duh), but they're bad for sharks, too. The creatures are critical to our ecosystems, and yet their bad rap inspires fear in humans, which makes conservation and education efforts all the harder. 
So, where do we go from here? Enter, the shark spotters!

These shark spotters in the Réunion Islands, also known as the Vigies Requins, have been operating since 2015. The lookouts work as a team with people in the water, on multiple boats, flying drones in the air, and watching underwater cameras from the beach to, as their name implies, spot the sharks before they venture too close and peacefully turn them in the other direction. To do this, they use walk sticks to keep distance from the sharks and spear guns for last resort defense, all to keep the surfers safe.
This team of twenty is trained to do three things: First, observe. The humans, drones, and cameras keep a watchful eye for potential threats. Second, alert. With foghorns, whistles, and visual signals, the spotters can quickly alert anyone in the area of a dangerous animal. And third, evacuate and rescue. The team is trained in ways to safely clear the area and redirect the sharks to clearer waters, or to save anyone in a dangerous situation, if it comes to that. 8
The work that these shark spotters do to defend both human and animal alike is remarkably brave. To see more of this dangerous job, here's a look behind the curtain with the only female shark spotter on the squad, Nelly Guichard.
Thank you to Atlas Obscura for this wonderful feature. To find more incredible stories from around the world, check out their YouTube channel or their website. 
"We love water, we love surfing, we love the sea life. We just want to protect it. We [don't] want to disturb it or detract from it, because it's a good way to live with nature."

Nelly Guichard
To learn more about the Vigie Requins shark spotting team, check out their website.
The story of Réunion's shark spotters reminds me of one of my very favorite paintings by John Brosio, in which a woman in a museum gazes upon a T-Rex skull. The piece is aptly titled, Two Earthlings. This story is much like that: a reminder that sharks are not an enemy nor an evil, but just fellow earthlings who, like humans, deserve understanding, respect, and protection.
For a deep dive into a few more ocean inspired articles that are optimistic, shark-inspired, or even shocking, take a jaunt through our nature archive or check out these articles, next.
"We provoke a shark every time we enter the water where sharks happen to be, for we forget: The ocean is not our territory, it's theirs."

Peter Benchley, American Author, Screenwriter (Jaws), and Ocean Activist 
So maybe choose a spot to surf that's safe… but if you must go to the paths less traveled, it's nice to know that there are incredible humans out there who are keeping an eye out for your wellbeing, and the wellbeing of the planet, too.
Ellen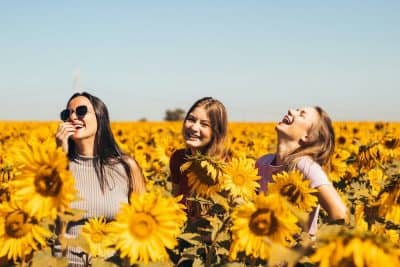 Don't miss out on a single article!
Enjoy unlimited access to over 500 articles & podcast that give you a positive perspective on the state of the world and show you practical ways you can help.
Sign up now!