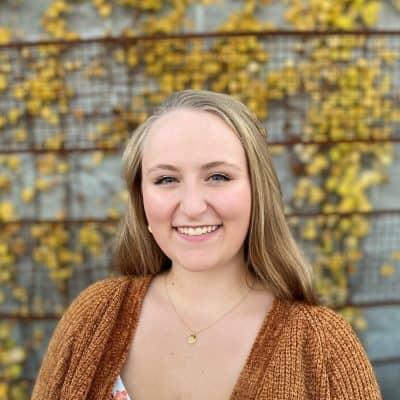 After graduating from St. Lawrence University in 2020 and returning home to Vermont, Ellen found that helping make the world a better place with the GE team was just where she wanted to be. You can usually find her watching television while getting crafty, on the ice as a figure skating coach for 10-14 year old's, or in her inflatable kayak named Heidi. She's quite the film nerd and quite the cook, and likes it best when those two things - movies and food - coincide.
Ellen Allerton
Chief Operating Officer
Hi! I'm Ellen, the COO of the Goodness Exchange.
Having always known I wanted to make the world a better place in my professional life, I joined the Goodness Exchange team as an intern in 2018 back when we were still Ever Widening Circles, ready to dive in and help the world see all the goodness out there. Now, three years later, I'm our Director of Operations, Head Writer & Editor, and (as the GE team would probably say) organization aficionado, keeping all cylinders firing in the same direction.
I graduated from St. Lawrence University in 2020 with a dual degree in Performance & Communication Arts and Government amid the start of the COVID-19 pandemic. Graduating in such a tumultuous time forced me and my fellow COVID-grads to enter the workforce with a unique perspective that despite the seeming dumpster-fire of the world: that there had to be some good happening... there had to be other people like me who cared about our world and were working to make it better. I was dead set on finding them, on feeling less alone in that feeling of caring so much. And I certainly did! That's why I'm here, and by nature of being here on the Goodness Exchange, I know that must be - in some part - why you're here too.
My academic background included 6 months living and studying abroad in Dunedin, New Zealand and focused on blending my majors of government and communication to a culminating Senior Thesis on the deep importance of presidential rhetoric (and its profound impact - an interesting topic to be writing my Senior Thesis on in the spring of 2020). My other projects during my academic career included the relationship between governments (US and NZ) and the indigenous peoples whose land they exist on, and gender equity in modern day media.
I spend my personal time as a figure skating coach for 8-12 year old's, a high school varsity softball coach, movie and tv enthusiast, and an avid cook! I hail from the far north (St. Albans, Vermont) but now find myself in Boston, enjoying all the city has to offer.
Contact me if you…
Have a great short film you'd like to pitch for us to feature on the site (and maybe you'd like to write the article around it!)
Think your film would be a great fit for Amazing World Media
Find a typo! Anywhere!
Or for literally anything else. Hearing from you all is my favorite part of my day! You can find me at [email protected].
After a summer dominated by news of wildfires, a beacon of hope has started to emerge. Soaring above the smoke and flames, these heroes aren't who you might expect. No, these new champions against wildfire aren't people... they're drones. Here's a glimpse of a world where technology and nature can unite to confront the growing threat of wildfires head-on.