In many places, just a generation or two ago, weaving was a vital and widespread craft. From blankets to textiles, weaving served as means of keeping us warm and clothed, and evolved into an artform, with woven patterns and styles becoming deeply ingrained in the history and fabric of cultures. In the Carpathian mountains of Ukraine, one of these age-old weaving traditions is in danger of being lost, but one family has found a unique way of sharing their work with the world and keeping their traditions alive through the power of the internet.
While Etsy may be an unexpected place for us to imagine the vital work of cultural history being preserved, for the Kischuk family, it has become an important part of their livelihood and telling the story of their culture. From sheep to final shipping, Natalya and her husband Yaroslov, along with their children, use traditional methods handed down for generations to craft beautiful blankets, rugs, and clothing that are now enjoyed by people around the globe.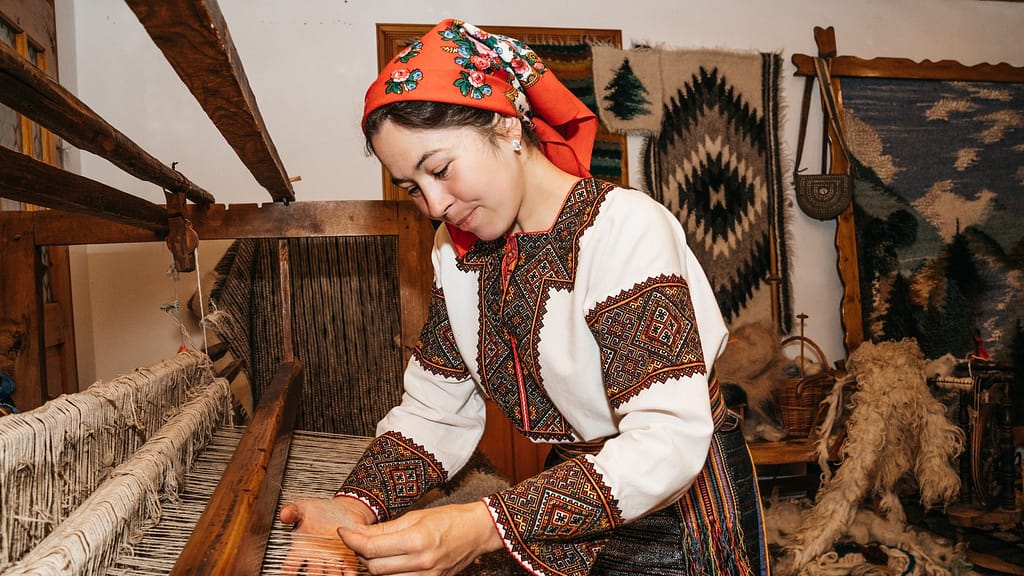 From the Carpathians to our Couches
The Kischuk family is a part of the Hutsul ethnic group, a distinct culture in western Ukraine that has been around since at least the beginning of the 15th century. Hutsul culture has survived through invasions, empires, changing borders, and even through modern struggles continues to remain strong. Their culture is known for its craftsmanship of bright, expertly embroidered clothing, beautiful woodworking, traditionally painted Easter eggs, and expertly woven lizhnyks–blankets. 1
Lizhnyks are thick sheep's wool blankets often used as bedspreads, bench cushions, and for extra warmth in the winter. Traditionally, they featured simple patterns and basic black, gray, and white coloring. But in modern times the color palette has grown, incorporating beautiful hues and more contemporary designs and bold geometric patterns. 2
The process of creating these blankets is difficult. Setting up the loom alone takes hours and 3 people to manage. After spinning the wool herself—using her mother's antique spinning wheel—Natalya is finally ready to weave. This can take days depending on the size and complexity of the blanket. Once the lizhnyk is finished it must then be taken to the "valylo" a traditional water tumbler fueled by a local stream where it is agitated for up to 8 hours so that the blanket becomes thick, tightly bound, and more fluffy. After ringing out and laying in the sun to dry, the blanket must then be combed to become fluffy and soft to the touch. 3
Then, after days of work, it is finally ready to make its way to a new home.
Saving traditions for the next generation.
Weaving lizhnyks is a labor intensive process, and though it has been a traditional craft for centuries, it—like so many traditional crafts around the world—is becoming less and less widespread in the next generation. Though Natalya Kischuk grew up with her mother and grandmother weaving and spinning, her path almost took her into the world of mathematics and physics. Despite pressures to move to the city and take a more traditional career path, her love of weaving brought her back home to pursue her passions.
The Kischuk's weaving is a family affair, with Natalya, her husband, and children all contributing to the family business. Whereas previously, they would have only been able to sell at local or regional markets, they now have happy customers around the world, selling their work on Etsy has allowed them to share hundreds of years of tradition with people around the globe!
Theirs is the story of seeing opportunities in unexpected places, and finding ways to bridge the old and the new. Here's more about their story and Ukraine's traditional mountain weavers from Insider Business.
To see more in the amazing Still Standing series from Insider Business that explores other traditional industries around the world and the innovative ways people are keeping them alive, go check out the full playlist on their YouTube Channel.
Want a traditional Hutsul Blanket of your own?
If you're interested in buying a blanket, socks, slippers, or other wonderful piece from Natalya and her family, go check out their Etsy store (I've got eyes on this beautiful vest). You can also follow them on Instagram to admire all of their latest designs.
Finding Unique Ways to Keep Tradition Alive
It can feel like the internet and technology are the enemies of traditional crafts and ways of life. But the Kischuks are a great example of how the interconnectedness the internet provides can be a means of keeping traditions alive.
From YouTube channels and filmmakers like the many we feature on Goodness Exchange shining a spotlight on dying traditions to raise awareness, to people that have found new audiences across the globe for their work online, the internet can be a powerful tool for cultural revival and preservation.
Here are just a few of my favorite articles we've featured about world-wide traditions and traditional ways of life that are being preserved in unique ways.
So, are there any traditions you may hold a little more dear now? Are you inspired to take up a new craft yourself or support somebody who has turned their passion into a small business of their own?
Our world is full of artists, artisans, and cultures to celebrate, if only we take the time to look, learn, and share their work with others.
Stay beautiful and keep laughing!
-Liesl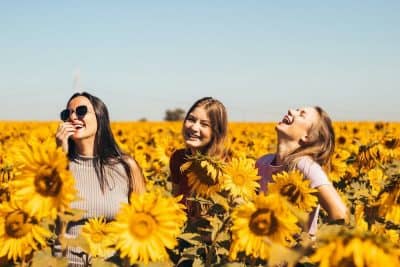 Don't miss out on a single article!
Enjoy unlimited access to over 500 articles & podcast that give you a positive perspective on the state of the world and show you practical ways you can help.
Sign up now!