"If you think you can, you can. If you think you can't, you're right."

—Henry Ford
What's your loftiest goal in life? For Dave Jacka, after losing 94% of his physical function, his lofty goal was simply to get himself into bed unassisted. 25 years later, he became the first person with quadriplegia to fly solo around Australia. Dave's story as a boundary breaker can help each of us attain our biggest goals, whether that's landing our dream job, growing our retirement fund, or being accepted into the right school!
Very often, our notions of what we "can" and "cannot" do are limited by what people say to us and how we think of ourselves. The opinions of others hinder our perception of ourselves, leading us to grow up with a certain image of what we're capable of. And sometimes, that image prevents us from setting and going after our dream goals. So, what do we do?
Well, let's ask Dave Jacka—he seems to know a little bit about setting lofty goals and making them a reality!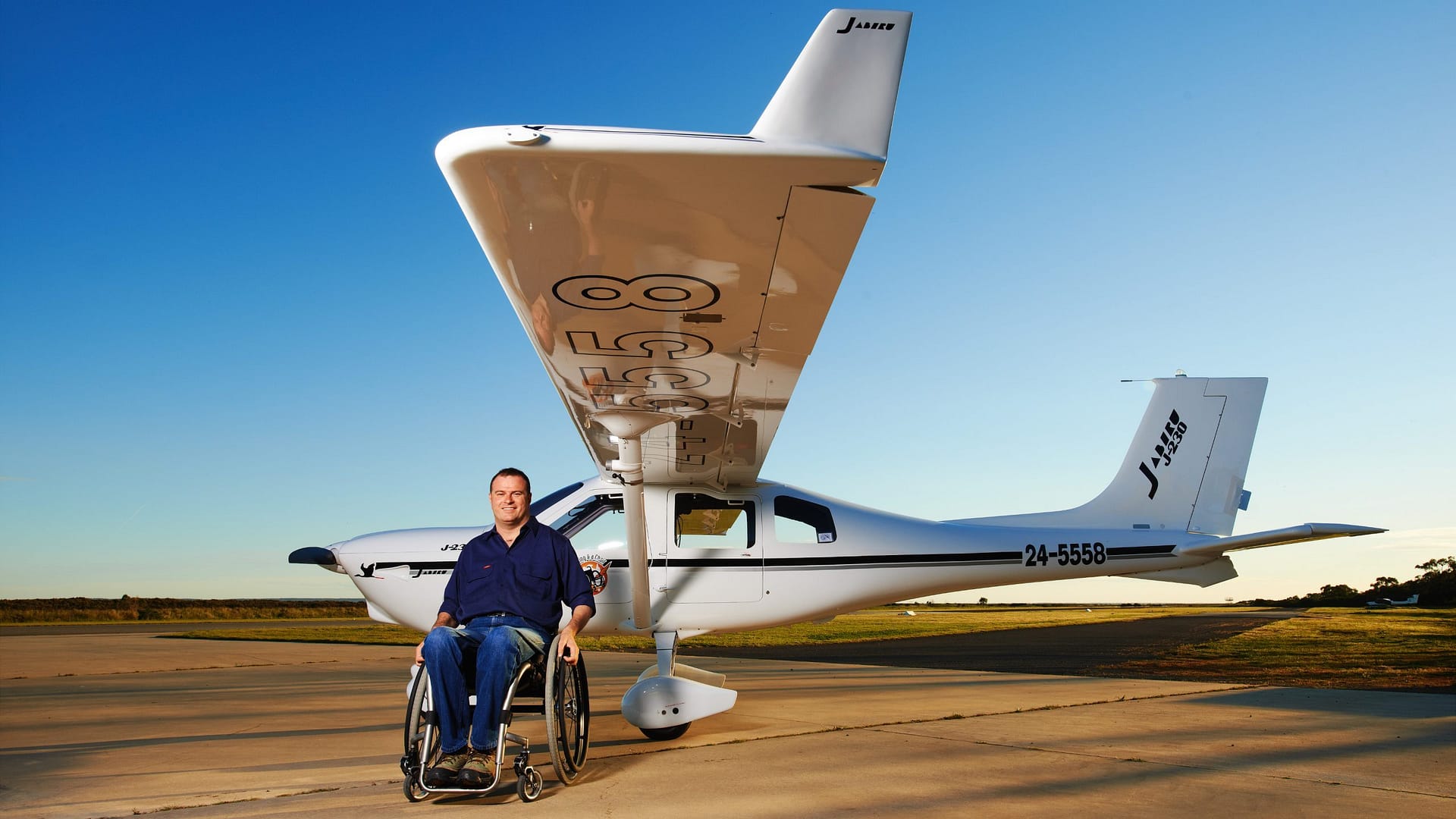 When life changes…
Dave Jacka was just 19 years old when a motorcycle accident left him with just 6% of his total physical function. In an instant, he went from an ambitious and invincible teenager to needing help with nearly every aspect of his life. 25 years later though, he became the first person with quadriplegia to fly solo around Australia.
So, how did he get there? Well, it all started with one goal.
Before the thought of customizing a plane and learning to fly entered his mind, he had a singular goal in mind: getting himself from his wheelchair into his bed by himself. It took two years, but when he was finally able to do so, he had learned a few key points about life and making our goals a reality!
Dave's story is truly remarkable, and listening to him you get a sense that his message is for anybody, regardless of their struggles. So, here's Dave, telling his own story, and sharing with us how he was able to overcome the obstacles in his way and take flight.
If you want to see more from stillmotion, the outstanding creators behind this video, go check out their films page! Or you can jump over to their website to learn more about their wonderful mission to inspire people through their storytelling over on their website.
"If say you can't do something, you're probably never going to but if you say maybe–just maybe–you give it a go, and it opens up a whole new world of possibilities for you."

 —Dave Jacka
How often do we fall into this mindset? We say we can't do something and it becomes a self-fulfilling prophecy. We never give it a try and the doors on possibility shut behind us. How could we change our outlook on life if we made that simple switch from "I can't" to "maybe… I can"?
With one word, we can change everything for ourselves and for others.
Ways to achieve any goal!
When was the last time you set a big goal but then gave up before you attained it? Maybe it seemed too insurmountable. But what if you had taken some of Dave's wisdom to make it happen? What would have happened if you broke down your big, lofty goal into a thousand tiny goals, then just set out to accomplish one of them at a time? One after another, eventually your lofty goal would become doable!
It's not a process that will get you rich quick or have you running a marathon in a month, but it will get you there, eventually. Along the way, you'll probably even achieve goals you didn't even intend to set. Maybe you make it through grad school and along the way meet the love of your life! Or you set out to take a walk every day and lower your blood pressure at the same time!
Ask yourself: What's the next little step you can take to reach your goal?
Most of us won't go through as enormous a physical transformation as Dave, but we will all come up to our share of obstacles on the way to our goals. How we look at these challenges and break them down into smaller, achievable goals and celebrate them changes our understanding of success.
If you'd like to explore a few more inspiring stories of how life's circumstances have changed people in profound ways, here are a few I can recommend:
You can also check out more of Dave's inspiring story, adventures, books, and speaking career over on his website! He also frequently updates his followers over on Facebook about his current adventures, so continue following along over there!
Whatever obstacles you're facing, you're not alone.
You have the support of a world of people open to possibility and who want to cheer you on to see you succeed! However you're inspired to reach your goals, remember: start small, celebrate success along the way, and always choose to keep the doors open on possibility.
Stay beautiful & keep laughing!
-Liesl