When things seem at their worst, sometimes the best way to make the world seem right is to know who out there is helping. It may sound simple, but this practice of finding the "helpers" in chaos can help you to rebalance your view on the world. One of the best examples of this came in early 2020 when the world came to the rescue of one of the world's most beloved creatures: the koala.
You may remember the wildfires that ravaged Australia in late 2019 and early 2020. They decimated over 44 million acres (18 million hectares) of land, destroying the habitats of some of Australia's most beloved native creatures, including the koala.
But this story is far more than the sad part, my friend. This story has an enormous message of hope: of finding the helpers and knowing that even when the world seems at its worst, there are those willing to be kinder than they need to be and lend a hand!
For the Love of the Koala
Though these adorable creatures may sleep up to 18 hours a day, koalas have managed to capture the world's love and attention all the same. So, it was especially difficult to stand by and watch as wildfires swept through the eucalyptus forests that koalas call home!
But in all of that devastation, there were, of course, those who went far out of their way to help these beloved animals.
WIRES, Australia's largest wildlife rescue organization, has over 3,000 volunteers alone. 1 A GoFundMe campaign for the Port Macquarie Koala Hospital raised over $7.9 million (far past their $25,000 goal) to help koalas devastated by the wildfires. 2 In all of the destruction, there is hope, if only we celebrate it—so, let's go meet some more of these incredible people, shall we?
In this great video from National Geographic, we join zoologist Jack Randall as he ventures to South Australia's Adelaide Hills. Here, he takes a look at the impact the fires have had on this region, and meets with some of the incredible people who have helped save the koalas affected by the fires!
‌If you'd like to see more incredible videos, check out National Geographic's YouTube channel! There you'll find clips from some of National Geographic's shows, as well as awesome short films like this one.
I strongly recommend that you also check out the work that the Adelaide Koala Rescue and the Adelaide Koala & Wildlife Hospital are doing. If you have the means and feel inclined to be one of the helpers yourself, please consider donating to either (or both) of these organizations!
Supporting the Helpers!
I'll be honest, even months after the wildfires, it was difficult to research this article. While we know people from around the world donated their money, time, and resources to the support of wildlife affected by the fire, it was difficult to find many places celebrating that remarkable global endeavor.
Very often in the media, the phrase "if it bleeds, it leads" gets used for how outlets choose what to cover.
And, while it is important all of us stay informed about the events of the world, only consuming the hardships without ever being told who is out there being helpful—and how we, too, can be helpful—keeps us from the action.
How often has a problem seemed "too big" and you decided it was beyond repair? That's how the world can feel sometimes if we don't also seek out the stories of progress about our world.
When we can see how people are finding solutions to the world's big problems, it's easier to see how we can each help, too. When we no longer have to act out of impulses of fear and hopelessness, we can start to be a part of a larger constructive movement to make positive change.
There is still a lot to do when it comes to saving wildlife in Australia. As we know, though, feeling hopeless won't bring back habitat, solve climate change, or preserve lands for wildlife. Knowing who the helpers are for each of those big causes, and throwing our help behind them, will.
Here are a few great examples of the helpers out there solving some of the world's biggest problems:
The world needs more people like you, who have chosen to seek and support goodness in the world.
So, the next time you find yourself overwhelmed by the news, ask yourself, "Who are the helpers here?" And when you find them, share their work, and help others see the world in more balanced terms, too!
Stay beautiful & keep laughing!
-Liesl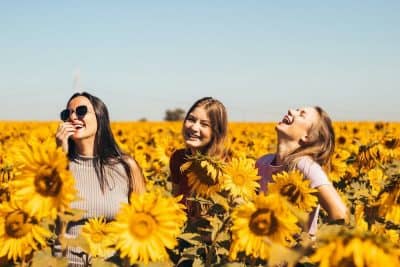 Don't miss out on a single article!
Enjoy unlimited access to over 500 articles & podcast that give you a positive perspective on the state of the world and show you practical ways you can help.
Sign up now!
Published: November 18, 2020