What if you were only using half the potential for success you had at hand? You'd probably want to figure out a way to unlock that other 50%, right? Well, reaching our full potential isn't rocket science, in fact, we can see it happening right in front of our eyes with the coaches on sports teams. So, what's the secret?
This secret to how we make the whole world more successful is on display in an unexpected place: the hall of fame for the most wins in NCAA Division I basketball history. Take a look at the top ten coaches on that list and you might notice there's something surprising going on.
But could there really be some secret sauce to having the most wins? Is your favorite sports team or your business leaving the potential for bigger wins on the table? This is a story of how we make the world more successful, not just on the field or on the court. It has the power to increase the profits of our business, change the way we solve world conflict, and unlock people's full potential. And it could all start on the sidelines of your favorite sport.
It starts on the sidelines…
Studies (and probably your own experiences) show that bringing together a diverse group of thinkers from different backgrounds and life experiences makes for a more successful team. 1 You wouldn't expect your favorite football team to be all that successful if they only brought in coaches that just knew how to coach defense, so why doesn't that apply to other teams as well?
If you take a look at the sidelines of most sports teams, you'll start to notice something. Across these teams of all genders, from grade school up to professional levels, there aren't a lot of women in coaching positions. Even in women's sports, women only make up about 40% of college coaches! 2
So, how about we get back to that list of coaches with the most college basketball wins? What made their teams different?
Well, their coaching and training staff could capitalize on the power of a team that included both women and men. Of those ten coaches, five are men and five are women. 3
So, with all this untapped potential, are the sidelines changing? Let's hear from some of the coaches hard at work changing the coaching paradigm, including Coach Carol Hutchins, the University of Michigans' winningest coach in history. They have some stunning insights on how and why our sidelines matter.
Check out this great, incredibly impactful, piece from The New York Times that will have you seeing the untapped potential of your favorite team! Whether you're a sports fan, business leader, or working on a team of your own here's how you can start to unlock the full potential around you.
To see more content like this, I highly suggest spending some time with the rest of The New York Times' library of videos on YouTube! It's a wealth of pieces covering everything from opinion to hard journalism that will have you looking at this world with a little more insight.
"You're not going to dream it unless you can see it."

—Carol Hutchins, Head Coach, University of Michigan
Right now, the idea of a female head coach for a men's team seems out of the ordinary because, right now, it is out of the ordinary. But it doesn't have to be that way. Just like it doesn't seem strange for men to coach women's teams, the opposite could be true.
And let's not forget, it benefits young men and women to see strong female figures, too. Allowing male athletes to work with female coaches is, as Coach Edniesha Curry put it, "Empowering these young men to have the confidence to work with strong alpha women. When they go into the workforce they're going to work with women." And for young women, having strong female coaches lets them see women in positions of power as well—helping them aspire to more leadership roles in the working world.
So, who's on the team in your life?
Different people with different backgrounds expand the potential of a team. Whether in sports or business, the potential for unlocking success starts with us recognizing where we can improve. If you look at major areas of innovation like the aviation industry, healthcare, and the non-profit world, less than 25% of their top leaders are women. Imagine how much more innovation could be unlocked if they could build more diverse teams of men and women in leadership?
For most of human history, we haven't used the full capacity of humanity. Imagine if the unique life experiences of the strongest women you know in your life could be used to solve the world's big problems!
If American sports culture can find a way to unlock the positive potential of women and men leading teams, imagine how that potential can, and will, spill into the wider world of business, politics, and academics!
For so much of human history, 50% of our human potential for leadership, innovation, creativity, and problem-solving has gone untapped. What is possible if we make a conscious effort to work at 100%?
Stay beautiful & keep laughing!
-Liesl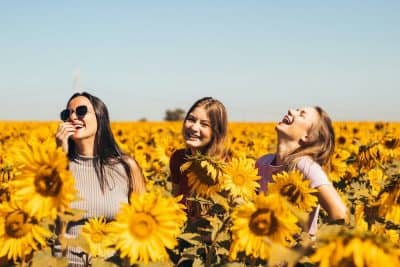 Don't miss out on a single article!
Enjoy unlimited access to over 500 articles & podcast that give you a positive perspective on the state of the world and show you practical ways you can help.
Sign up now!