Who gives us the best advice on learning, handling pressure, and facing disappointments with grace? The answer might be surprising. With wisdom far beyond their years, the young chess champions at the Elementary Chess Championship have some secrets to impart!
There are probably very few of us who could confidently sit down at a chessboard like the kids who attend the Elementary Chess Championships. They are masters in their own way: young minds passionate about a game that brings them joy, teaches them life lessons, and helps them become brilliant thinkers.
These children talk about chess with the kind of zeal unique to those under the age of 11. Their spirit is contagious, and if it doesn't inspire you to dust off the chessboard at the back of your game drawer, it will undoubtedly leave you inspired to believe in and support the bright futures of the next generation of the world's thought leaders!
"Chess is not a boring game, it's like magic"
Every year, the US Chess Federation hosts its National Elementary Chess Championship. Young chess champions in kindergarten through 6th grade come together from across the United States to compete against each other in a three-day tournament.
Like other kids their age at elite basketball or soccer tournaments, they radiate enthusiasm. They sit, huddled together, practicing their favorite methods of attack, excited parents and coaches by their side. And, when it comes time to compete, they are in it: focused, and ready to go.
At 5 to 11 years old, they are already mastering the skills that will serve them for the rest of their lives!
Chess isn't just a game. It's the perfect backdrop to learn strategic thinking, resilience, how to handle pressure and fear, and how to win and lose. While watching them play with speed and confidence is impressive itself, hearing them talk about the game of chess is even more incredible.
So, let's hear from some of these young champions! They've certainly learned more life lessons from the game of chess than most of us will come to until much later in our lives. Plus, kid wisdom can just be hilariously on point sometimes.
Here they are in a short film from one of our favorite creators, Jenny Schweitzer Bell and The Atlantic. This video is sure to put a smile on your face for the rest of the day. And for anybody who grew up with siblings, there are some extra good lines in here you'll relate with.
Jenny Schweitzer Bell is an incredible filmmaker! If you want to check out more of her work, you can see more over on her Vimeo page or her website.
Remembering What's Important
Reading a transcript of these interviews, you could think these quips come from people 50 or 60 years older. And yet, as they sit beside their friends and siblings talking about the game they love, they are like any of the kids we run into in our lives, taunting each other, joking, and full of excitement about the world.
These young chess champions are a hilarious reminder of how much children can absorb. And, for many of us, their words resonate because they are lessons we learned as kids, too. Lessons that as we've grown up, have been forgotten from time to time.
While we encourage kids to take risks, play, and see competition as a way of practicing resilience, we often forget to carry these same lessons with us into adulthood.
As we support and raise the next generation of thought leaders, we can not only foster their zeal and curiosity but be reminded of what we can aspire to as well. Kids are naturally curious; they will ask questions, try to figure out the world, explore the limits of what's possible. Why not every one of us, too?
When kids find their passions in sports, the arts, or chess, how are we using those inroads into their curiosity to teach them the skills they will use for a lifetime? Think back to the sports, arts, or programs you participated in at a young age. What life lessons did you leave with? What life lessons did you, yourself, learn?
Whether we grew up as chess champions, aspiring actors, artists, or little league stars, our experiences facing adversity, cultivating resilience, and exploring who we could be through our passions, shaped who we are today. All of us were once the kid full of excitement for something. What can we do to cultivate that feeling for others? Maybe even grow that feeling for ourselves yet again?
If we want a better world, it's up to all of us to nurture the next generation of thought leaders. And, perhaps, along the way, we can be reminded of what's essential by the ever-entertaining wisdom of kids.
Stay beautiful & keep laughing!
-Liesl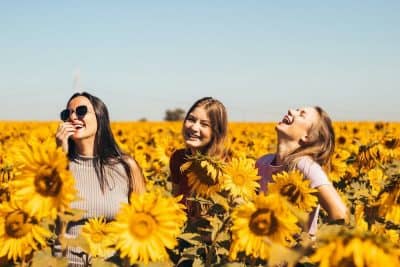 Don't miss out on a single article!
Enjoy unlimited access to over 500 articles & podcast that give you a positive perspective on the state of the world and show you practical ways you can help.
Sign up now!
Published: November 10, 2019