Loneliness can shorten our lives by fifteen years, 1 and for those suffering from a health crisis like cancer, the impacts of loneliness can have even greater consequences. 2 But can food do something to help this? The kitchens of the Healing Meals Community Project in Bloomfield, Connecticut have found a way!
Imagine a world in which people, young and old, came together to share stories, mentor each other, connect, and grow, all while making people healthier and happier. Well, this is exactly what the Healing Meals kitchen looks like.
The mission of Healing Meals is simple enough: provide high quality, organic, nutritious meals for families going through a health crisis. But the way they make that possible has changed thousands of lives. Not just for the families they serve, but for the volunteers that staff their kitchen.
As you'll see, they've found a way to give people a sense of connection through the seemingly simple act of coming together over food.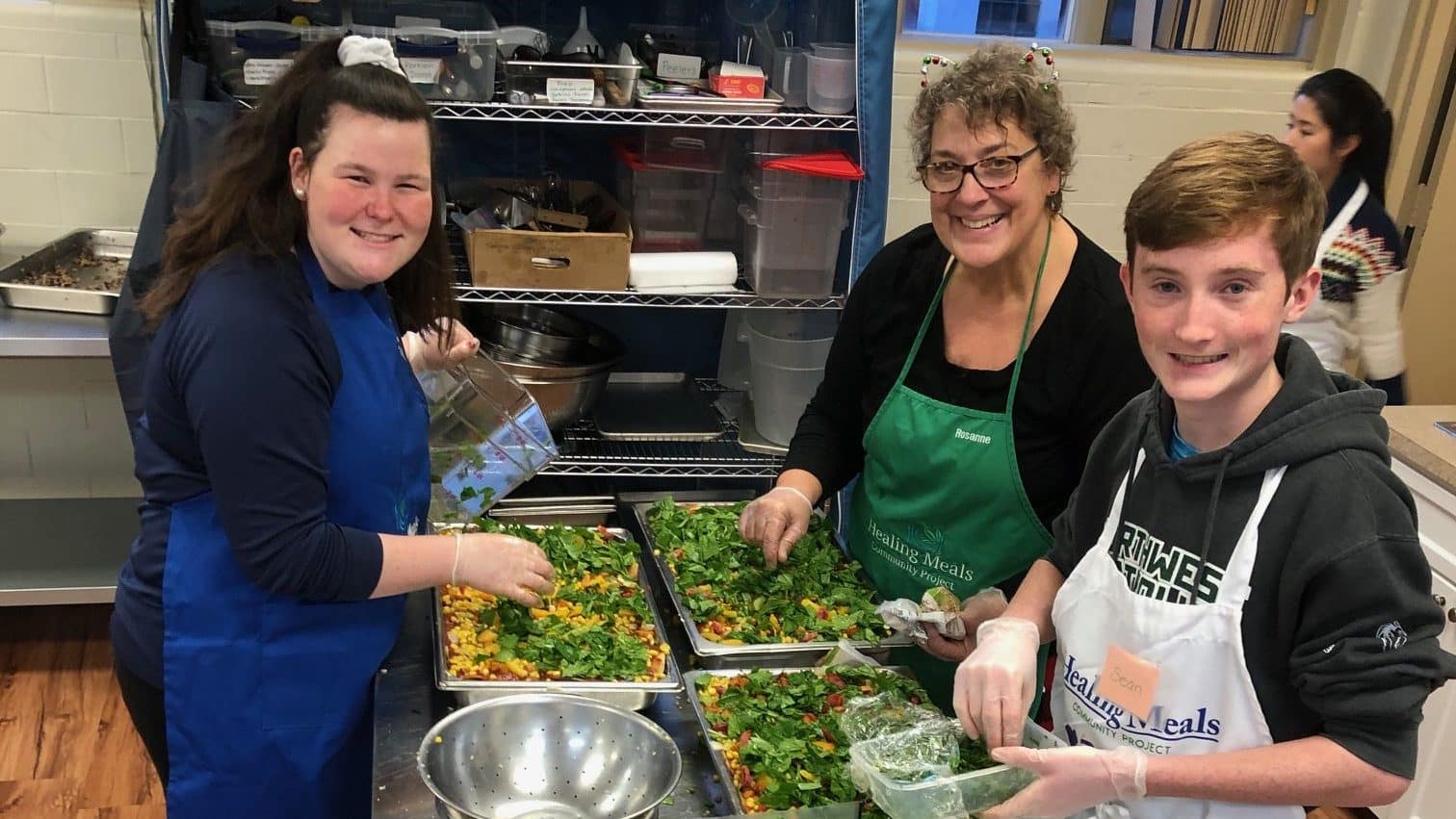 The Healing Meals Community Project has struck upon a recipe for success when it comes to running an organization that is truly changing lives.
On Wednesdays and Thursdays, the Healing Meals kitchen is abuzz with people preparing meals together while connecting and learning from each other. They are on a mission to have every person who walks through their doors to volunteer or receives their meals feel supported, nourished, loved and cared for. And, along the way, they are tackling the enormous problem of loneliness. 35% of the people they serve food to live by themselves and report feeling alone—a startling statistic when you learn that feeling socially connected can help improve people's survival rates by 50%. 3
Combine this with the fact that young people report higher levels of loneliness than any other generation ( including the elderly) 4 and you have yourself a place to find a solution to both problems.
Healing Meals has created a model that gives people, from all generations, a meaningful way to connect with others!
"When a young person realizes they have made a difference in the life of another human being, they realize they matter."

—Sarah Leathers, Healing Meals Community Project Founder
Along with serving nutritious meals to people going through a health crisis, a central part of the Healing Meals' mission is to empower young people through volunteer service. Since they began in 2016, over 650 youth (ages 14-22) have worked alongside adult volunteers to create healthy, organic meals from start to finish. But that's just the start of what "happens" in the Healing Meals kitchen. How does the simple act of showing up, volunteering, and connecting begin to change people? And how do you create a positive and life-changing community for people?
In her beautiful TEDx Talk, the founder of Healing Meals Community Project, Sarah Leathers, explores why now, more than ever, we need to be thinking about creating ways to fight isolation and loneliness. It's a great talk with some profound insights on how we can create a more meaningful way for people to connect.
You can see more great talks from TEDx by checking out their YouTube Channel. There, you'll find speakers from every walk of life, giving insightful talks about all kinds of subjects. It's a great channel to get lost in for 10 minutes or a couple of hours!
"I love coming to healing meals because of the energy. Before coming I didn't realize that positive energy existed."

— Healing Meals Volunteer
Don't you want to be a part of that kitchen?
There is something so central to our humanity about giving back. It allows us to feel like we're a part of something bigger than ourselves, to remind us that we matter and that we can and do have an impact on the lives of others. How might the world change if we were reminded of that more often?
In talking to Sarah for this piece, she had so many great stories to tell, but I was particularly impressed with the sheer number of hours that their youth spend volunteering with Healing Meals.
They don't just come once. They commit to coming back again and again, with some teen volunteers logging 50 or even 100+ hours! Youth start to become mentors to each other and the adult volunteers, too. Sarah shared that, "many youths start off in the kitchen too nervous to talk to anybody. Over time we watch them transform into confident and empowered young people who know they are changing the lives of those in their community." As she describes it, so often, working with Healing Meals is a transformative process for those involved.
But the impact of Healing Meals doesn't stop at the kitchen. It ripples out to the families that receive their food, too. Sarah shared that they hear again and again that their clients aren't just nourished by Healing Meals, they can feel the love in every bite.
If you want to learn more about the Healing Meals Community Project, you can donate and check them out over on the website. If you're in their area, you can also consider becoming a volunteer. And, even if you're not, Healing Meals is modeled after the Ceres Community Project, their affiliate partner which has 8 affiliates around the United States and one in Denmark. You can check out other Ceres affiliated programs on their website. Who knows, there might be one near you!
Giving back can be good for you…
Whether you volunteer with Healing Meals or an organization close to home, it can have a real, positive impact on your health! Studies have shown that volunteering can reduce your stress, decreases your risk of depression, and may even help you live longer. It's no wonder an environment like Healing Meals feels so positive. It is, quite directly, having a positive impact on the volunteers' overall health.
The stories that come from Healing Meals is a great reminder of why we should volunteer, reach out, and work to be a part of something bigger than ourselves. Moreover, why we should work to instill those qualities in our young people.
Goodness is all around us. Most of us are already a part of something that allows us to use our passions to help others. And, if not, there are so many great opportunities for us to connect with new people through volunteering. Even if we choose to do the little things, we're still making a difference for someone. This next article is just one more amazing example!
Be a part of what we're calling the Conspiracy of Goodness: a movement of people acting in ways big and small to make the future better for us all!
Stay beautiful & keep laughing!
-Liesl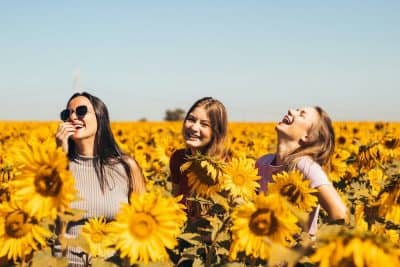 Don't miss out on a single article!
Enjoy unlimited access to over 500 articles & podcast that give you a positive perspective on the state of the world and show you practical ways you can help.
Sign up now!