When we look to the stars, who do we see? Do those people who look like us, are they people who come from the same backgrounds as we do? Wait, what kind of stars are we talking about here? The ones in the sky, or the ones on our television and movie screens? Well, this is the story of both. This is the story of how one of the world's favorite science fiction characters changed the history of space exploration.
It's well known that science fiction has had an impact on science fact, but Lieutenant Uhura of Star Trek: The Original Series, played by the incomparable Nichelle Nichols, holds a very special place in scientific history. Not only was she one of the first Black women to appear in a position of power on a major television show, she also became a leading ambassador for NASA, empowering innumerable people of color and women to apply to the space program, and changing its trajectory forever.
But this was a history that we almost missed out on had it not been for an important encounter between Nichols and one of her biggest fans–Dr. Martin Luther King, Jr.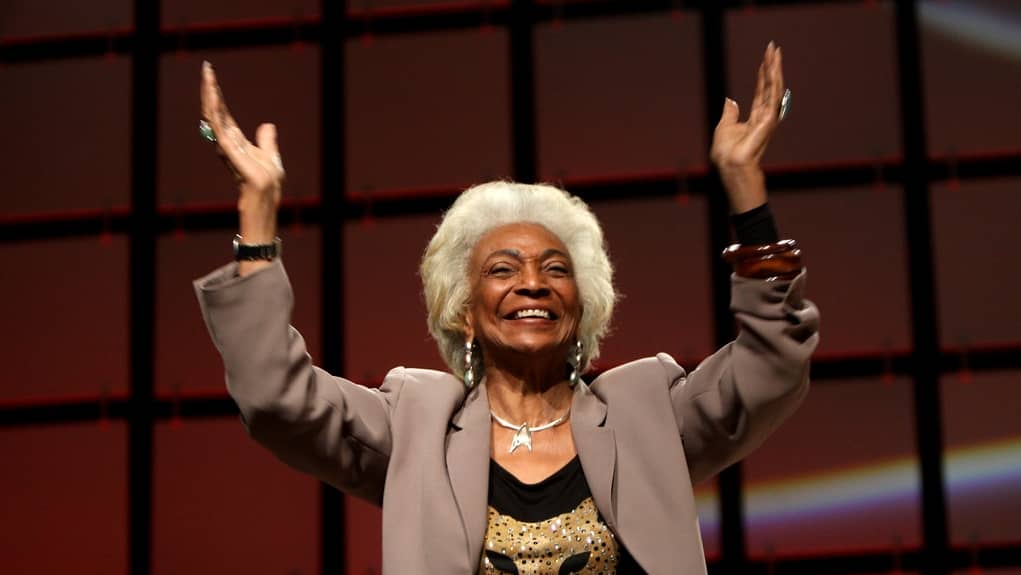 Where no show had gone before!
In 1964, the ambitious new television series Star Trek began filming. The show's creator, Gene Roddenberry, wanted to paint a picture of life 300 years in the future where men, women, and a diverse swath of people were represented on the ship's bridge. For his communications's officer, he chose Nichelle Nichols, whose character they would name Uhura–based on the word uhuru, the Swahili word for freedom.
After the first year of filming, Nichols was beginning to feel discouraged with the diminished role she felt she was playing on the show, and planned to leave for her first love: musical theater .(Before acting she had actually been a touring singer with jazz legend Duke Ellington). At an NAACP event though, a huge fan of Nichelle's wanted to meet her. And that fan turned out to be Dr. Martin Luther King Jr.
Star Trek was one of the few shows Dr. King let his children watch–his son even remembers fondly watching the show with his father 1. When Nichelle shared with him that she was leaving the show he told her "No you are not", and impressed upon her the importance of her being on the show saying, "Don't you understand, for the first time, we're seen as we should be seen. You don't have a black role. You have an equal role." 2
With this encouragement, Nichelle stayed, playing Lieutenant Uhura for the television show's three seasons and in the subsequent films. As an actor she became an inspiration for young Black people, including the renowned LeVar Burton and Whoopi Goldberg—both of whom later became a part of the Star Trek world—but Nichelle Nichols' role in reshaping people's vision of possibility didn't just stay in science fiction.
From Star Trek to NASA
In the 1970's, NASA had a problem. Following the success of the Apollo program–whose last flight returned to Earth in 1972–the agency was embarking on the audacious and inspirational Shuttle Program. They had no way of knowing how successful this era would become, lasting 30 years, fly 335 people into space on 135 missions, and help construct the International Space Station. 3
But at the time they did know that the faces of the astronauts and scientists at the agency didn't reflect the diversity of America. While NASA was trying to open its doors to more people, years of historic racism and disenfranchisement of people of color and women discouraged them from applying. They needed help.
At the same time, Nichelle Nichols had extended her role as a pioneer of space exploration from the television screen to the real world, becoming a member of the board of directors at the National Space Institute. After a talk she gave where she looked around the room of space exploration leaders and asked "Where are my people?"NASA knew they had to meet with her. So, they brought her in to talk about how they could bring a new, more diverse class of astronauts for the space program. With just months left before applications for the space program closed, Nichelle embarked on a tour of the country to recruit people of color and women. She took astronaut training, spoke directly to college students, dispelled misconceptions about applying, and helped people understand that NASA needed them.
"I suppose it's like going from fantasy to fact and then wondering which is the fantasy and which is the fact."

-Nichelle Nichols 4
Through her efforts, she helped recruit Dr. Sally Ride, the first female American astronaut, and Colonel Guion Bluford, the first African-American astronaut, as well as Dr. Judith Resnik and Dr. Ronald McNair. Mae Jemison, the first African-American woman in space, and Charles Bolden, NASA's first African American Administrator, also credit Nichols with inspiring them to join the space program. 5
Any great story is best told by the person who lived it. Thanks to the amazing channel, Great Big Story, we can hear Nichelle herself recount this incredible rise to fame. Take a watch!
A huge thank you to Great Big Story for sharing this piece of history! Though they are no longer creating new videos, their archive is full of stories like this highlighting pieces of culture that will leave you seeing the world with more wonder. Make sure you go check them out.
Explore this world even further!
In researching this article, I took the time to watch Woman in Motion, a recent documentary about Nichelle Nichols' remarkable career and influence on science and pop-culture. It's one of the best documentaries I've had the pleasure of watching and is well worth taking the time to enjoy. Whether you're a Star Trek nerd, a film buff, a science lover, or just a curious person, this should be at the top of your "watch next" list. You can find where to stream it by clicking here.
Changing our understanding of what's possible!
While working on a project to get Goodness Exchange content into classrooms, I had the opportunity to talk to a group of high school students who were completely disengaged from school. When I asked them why, the majority of them said that they didn't see the point in school if they were just going to have to get a job they didn't like anyway. As they saw it, they had only two or three potential career paths because they had only ever seen two or three career paths. They couldn't begin to imagine any other possibility than the one they had seen before.
This moment brought to light, before my eyes, the depth of Mirian Wright Edelman's incredible quote:
"You can't be what you can't see."
What Nichelle Nichols presented as Uhura and as a voice for NASA was a new and limitless possibility. One where Black people and women were welcomed and given a powerful place in science, technology, and the exploration of new frontiers.
From film and television, to laboratories, to the seats of decision makers, we need to share the diverse stories of the trailblazers. Celebrating them isn't just a pat on the back for society, it's an invaluable, flashing welcome sign to everybody that connects with them that they, too, are capable of reaching those places.
People need to know what's possible, and know that they will have somebody to welcome them and support them into unfamiliar rooms. Perhaps you are your own kind of trailblazer and can mentor or welcome in new people, or maybe you are in a place of decision making that would allow you to make the choice to bring in new voices. We can each play a role in making possibilities more visible, and help every person reach for the stars (sorry, couldn't help it).
Stay beautiful & keep laughing!
-Liesl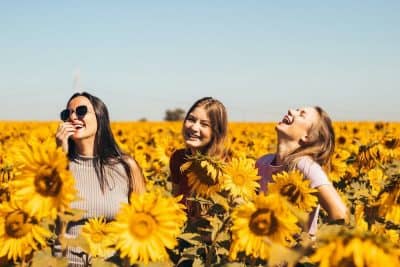 Don't miss out on a single article!
Enjoy unlimited access to over 500 articles & podcast that give you a positive perspective on the state of the world and show you practical ways you can help.
Sign up now!
Published: March 21, 2022