When you hear the name LeVar Burton, where do you know him from? Roots? Star Trek: The Next Generation? Reading Rainbow? LeVar Burton has been a staple in American TV Culture since 1977, but it isn't just his acting that has made him a beloved American hero, it's something deeper: the way in which he has—in quiet but profound ways—educated us all to be better people.
I can still picture the TV I sat in front of almost daily to hear the theme song of "Reading Rainbow" come in—slightly distorted by the misaligned rabbit ears catching the signal of Vermont Public Television. I remember the excitement and wonder I felt with each story read by LeVar Burton. For a kid who had trouble reading, Reading Rainbow helped me fall in love with it, and eventually writing.
This is just one story of the kind of handprint LeVar Burton has left on so many people without them realizing it. It's a legacy that not only speaks to his power as an individual, but the potential power of film and television to improve us all.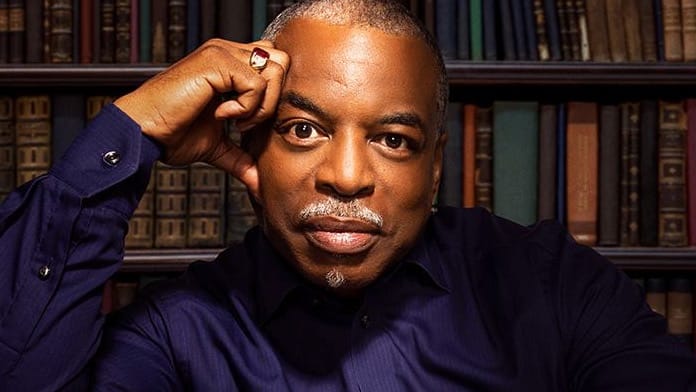 The Power of Story
Across cultures, history, and mediums, storytelling has been a central part of social fabric. Through history, the way we tell stories has evolved from being told around the fire to tales written on the page, from books copied through the power of the printing press to radio dramas transmitted over the airwaves, from film and television to YouTube and streaming services. But through all of this, storytelling has been a powerful medium for helping us learn from the past, see our hidden potential, and imagine a better future.
And if there is a modern champion for the power storytelling has to improve lives, or even change the future, it's LeVar Burton.
After being cast as Kunta Kinte in Roots at the age of 19, LeVar saw first hand the power of television in educating people and opening new dialogues. And it was this realization in conjunction with a passion for literacy and education inherited from his mother Erma Gene—an English Teacher— that led to the creation of the hit show Reading Rainbow just 6 years later. As he puts it in a 2021 interview with GQ, "…the connection between Roots and Reading Rainbow is absolutely direct: It was an opportunity to use this very powerful storytelling medium to light the fire of a thirst for knowledge and the written word in children." 1
The Educational (and Award-Winning) Impact of Television
It was a counterintuitive choice at the time, to connect education with television, but it was a model that led to one of the most influential shows in television history. Reading Rainbow ran for 26 years, and won more than 250 awards, including the Peabody Award, Telly Awards, Parent's and Teacher's Choice Awards, and 26 Emmy Awards. 2
Oh, and of course, we can't forget that while LeVar was gracing PBS stations, he was also a part of the hit television series Star Trek: Next Generation, as lieutenant Geordi La Forge. Where, following in the steps of the beloved Nichelle Nichols' Lieutenant Uhura, he portrayed a powerful example of Black people's place in the future.
"Kunta [LeVar's character in Roots]helps to tell the story of Black people in America at the beginning of our journey. Geordi is our future. And in the middle of that continuum stands LeVar, the Reading Rainbow guy…"

LeVar Burton
Through all of this, LeVar Burton has remained an incredible, humble, and kind force. To hear him talk about his trajectory, what he has learned, and what it has meant to him is an incredible reminder of how human our heroes can be. Here he is with CBS Sunday Morning's Mo Rocca for a deep dive into his journey:
If you'd like to see more from CBS Sunday Morning, you can check your local Television listings to catch it live every Sunday, or you can head to their YouTube Channel to catch highlights from each week's episode.
The Quest for Spreading a Love of Learning Continues!
Though Reading Rainbow is no longer on air, LeVar Burton is still spreading a love for reading in new ways. In 2012, the Reading Rainbow App was released for iPad that featured hundreds of interactive eBooks and real world video explorations. And in 2014, a Kickstarter campaign was raised to expand the app to reach more people, devices, and classrooms. The Kickstarter for the rebranded Skybrary app met it's initial $1 million goal in just 11 hours, and by the end of it's 35 day run, it had raised over $6.4 million and shattered previous Kickstarter contribution records with over 105,000 people donating to the campaign. 4
The Skybrary app is available online, and in most major app stores! So, whether you're a parent, grandparent, educator, or just have kids in your life for whom you want to inspire a love of reading, you can get Skybrary by checking out their website (or searching your app store).
Oh, and if you're an adult missing the wonderful tones of LeVar Burton's voice, you can check out his podcast LeVar Burton Reads. As the name implies, LeVar Burton reads short stories from authors like Neil Gaiman, Haruki Murakami, Octavia Butler, Ray Bradbury and more.
"There's a gift in everything."

LeVar Burton
To many, it would seem that LeVar Burton has lived an impossibly influential life, and yet, he will be the first to admit that he could have ever imagined his life to be what it became. And that is, in great part, to the idea in the quote above: there is a gift in everything.
Every turn in the road is an opportunity to chart a new, perhaps better, course. Any letdown or rejection when we don't meet a goal or aspiration is a chance to seek out something better. When we are guided by a desire to put our unique skills, experiences, talents, and successes towards contributing to the greater good, we keep opening up doors of opportunity.
Whether we're bringing our talents of acting and passion for storytelling to educate wider and wider audiences, using our gardening knowledge to feed our communities, or inspiring people to embrace themselves and the activities they love, finding the gift in everything gives us ways to serve those around us and grow our positive impact on the world.
If you want a little more inspiration to find how your unique talents can have a positive impact check out these articles:
Stay beautiful & keep laughing!
-Liesl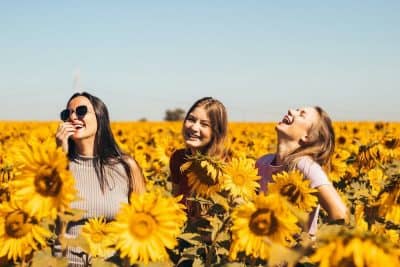 Don't miss out on a single article!
Enjoy unlimited access to over 500 articles & podcast that give you a positive perspective on the state of the world and show you practical ways you can help.
Sign up now!
Published: November 8, 2021