Get ready for a wild ride through history with your taste buds! Stocked on shelves all across the world is a reminder of our shared humanity. Whether it's a mystery meat or a delicacy to you, Spam has become beloved across the world as a staple and the centerpiece of some iconic dishes!
From stews in Korea to ceviche in Guam, Spam has become a part of many beloved cultural dishes. And though its popularity around the world may reflect a frightening time in world history, it is a food that also shows just how ingenious and resourceful people can be!
For the love of mystery meats!
Spam may not be the most appetizing food in the world for many, but it sits in a cultural pantheon of beloved meat dishes beside hotdogs, braunschweiger, head cheese, and haggis. Despite its reputation, though, it's actually made of just six ingredients: pork shoulder (once considered an undesirable part of the hog), water, salt, potato starch, sugar, and sodium nitrate.
Like so many dishes that don't employ the "finest cuts" of
meat, Spam's cultural significance didn't come from the upper crust of society. Instead, it was people using what they had in difficult times to survive, and making something delicious out of the ingredients at hand.
Spam was first released by Hormel Foods in 1937, and it spread around the world as it journeyed with soldiers during World War II to army bases and places devastated by war. As it became a staple source of meat, this ever-so-American product married with local dishes and culinary tradition, taking on an international flare all its own.
So, it's high time we took a look at some of these extraordinary ways people ha
ve taken Spam to

new cultural and culinary levels, don't you think!

To take us on the adventure, we join up with Beryl Shereshewsky on her remarkable journey to create a dish from every country around the world! This time, she's exploring the world through the lens of Spam!
‌If you want to travel the world of food from the comfort of your home, check out more from Beryl Shereshewsky over on YouTube! Her channel has quickly become one of my favorites.
Oh, have you ever wondered why those annoying, endless emails are called "spam"? Well, it's a strange story that involves the comedy troupe Monty Python, Spam, and of course, weird internet culture. You can read all about it here!
"Cooking is all about people. Food is maybe the only universal thing that really has the power to bring everyone together. No matter what culture, everywhere around the world, people eat together."

—Guy Fieri
Okay, so I promised I'd get around to making a connection between Spam and our shared humanity, and I think that quote from Guy Fieri (which also feels fitting here) sums it up. Food is universal. Regardless of where we are in the world, what we eat is a celebration of who we are, our culture, and our humanity. Beloved dishes often come with stories, even if sometimes those stories are difficult.
Every plate tells a tale of its own. Whether it's how the food got there, how the recipe was passed down, or the circumstances that brought the dish to life. What could be more human than sharing a meal, telling a story, and reflecting on our history?!
If you want a few more beloved food storie
s to dig into, here are th

ree of my favorites!

Maybe you're inspired to make a beloved dish from your family recipe book, or perhaps, try out one of these Spam delicacies. Either way, the next time you dig into your favorite dish, pause and take a minute to think about how all those ingredients made their way there. Suddenly, you'll find yourself even more connected to the human story we all share!

Stay beautiful & keep laughing!

-Liesl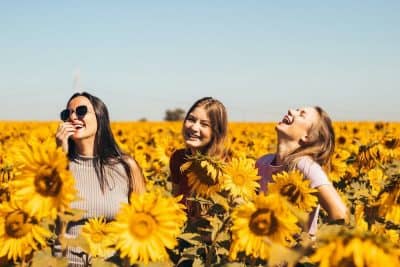 Don't miss out on a single article!
Enjoy unlimited access to over 500 articles & podcast that give you a positive perspective on the state of the world and show you practical ways you can help.
Sign up now!
Published: January 15, 2021