What if the moon could be our next renewable energy source? Okay, maybe not the moon itself, but a force that it's controlled since the first oceans covered our planet: the tides.
If you live in or have visited a coastal area, you know that the tides are a regular part of life. And it's this regularity that could make them a powerful part of a world run on renewable energy. So how does this all work, and why aren't we already lighting our coastal cities with the power of the ocean?
A Turning Tide for Renewable Energy!
In 2019, renewable energy accounted for 72% of new power expansion around the globe, with solar and wind energy making up 90% of that growth. 1 It's clear that the future of our energy consumption will be in renewable energy, but energy sources like solar and wind come with some limitations. Namely, they aren't always consistent. Over the course of the year, or even day to day wind and solar can fluctuate wildly with changes in weather. So, what can we do to diversify our renewable energy portfolio with a more consistent energy flow? Enter, tidal energy.
Tidal energy uses the movement of water to generate electricity as it moves turbines. Tidal energy has several advantages. First, because water is denser than air, it is more powerful than wind energy. Second, it's much more predictable and consistent. 2 Tides, which are controlled by the gravitational pull of the moon and sun, aren't dependent on the weather like wind and solar. These advantages are putting the study and growth of tidal energy on the world's research radar.
So, why aren't we using tidal power everywhere?
Well, currently it's very expensive to install and maintain tidal power plants, and setting up the infrastructure to link these power plants to the wider national power grid would take a big investment. 3 Luckily though, these hurdles and others are actually pretty promising barriers to entry. As more and more people recognize the potential of tidal energy, we can start to shine a light on it in ways that puts more brains on the job of improving it and folding it into the future of renewable energy.
Though wind and solar might have a head-start, that doesn't mean we can bring tidal power up to their level of adoption and integration. Think back to just a few years ago… then, it was unthinkable that renewable energy found in wind and solar power would be such an enormous part of our world's economy and energy systems as it is today, but now it is. This is a promising record for the history of renewable energy, and tidal power could soon follow suit.
So what do these underwater turbines look like? Are there already some out there making waves–or turning those waves into energy? Here's a great video from DW Planet A to get us all up to speed and maybe inspire the engineers, biologists, and community leaders out there to start turning to the tides!
For more inspiring and helpful videos on climate change and all things environment, go subscribe to DW Planet A on YouTube and dive into their video library. They are quickly becoming one of my personal favorite channels to turn to for solutions-based climate and environmental coverage.
A Rising Tide Raises all Boats
Wind, solar, tidal power… there is no single "best" renewable source we can use. Each comes with their pros and cons, but to focus on the cons is to limit ourselves to an entire range of possibilities that could move us away from fossil fuels. When we can acknowledge the downfalls of different—but still astronomically more positive—energy sources, and still not let that limit our research or enthusiasm, we open the doors of possibilities. In recent years, installing more sustainable energy infrastructure, like wind turbines, has been a source of tension in some communities. But if handled correctly, friction can be a way to create progress. What if we could look at the concerns of some and the enthusiasm of others in a way that didn't pit neighbor against neighbor, but instead could both be a valuable part of the conversation and be a force for continuous improvement?
We're making great progress when it comes to clean energy. In the US in 2020, renewable energy sources produced more power than coal for the first time on record. 5 More people are finding employment in the clean energy sector. For example, in the US, it's one of the fastest growing sectors of employment. 6 To have a sense of future fatalism—the idea that things are doomed, so why even work on them—about clean energy is a limiting belief. We not only need to know about all the possibility that's out there, but also, celebrate and recognize the strides being made today.
So, what can you do today?
If you already work in a space that can have a productive influence on improving the world's access to renewable energy, be an advocate in your circles and mentor for those coming into the field. In your communities, be a measured, positive voice for clean energy. If you run into neighbors or friends that might take a different stand, remember this key piece of information I once heard from an old Vermonter: "Nobody ever changed their favorite sports team because somebody yelled at them at a bar." Instead, getting curious about your common values, shared fears, and visions of the community's future are great places to start—oh and most importantly, remember internet comments are not the places for big conversations. Have those conversations in-person instead. 7
In addition, it helps to share and celebrate success stories, too, so that these ideas don't seem like a farfetched vision of a distant future. Here are a few of my favorite nuggets of inspiration to get you started! (But if you want more, go check out our full Environment Category)
How #TeamTrees Proves the Internet Can Do Good 
20. Million. NEW. Trees. You read that right! When fans of YouTuber MrBeast sparked a lofty goal of planting 20 million trees in 2019, the mission spread like wildfire, exploding to include thousands of content creators and hundreds of thousands of people around the world. Check this story out for proof that when people come together for good, there's no end to their impact.
Read Article
Watch Video
Listen to Podcast
I hope this article has helped you see that we are only limited by the power of our imagination when it comes to building a more sustainable future, and that though there are hurdles out there, they are not insurmountable. With some curiosity, determination, and bolstered by the successes we've already been making, anything is possible.
Stay beautiful & keep laughing!
-Liesl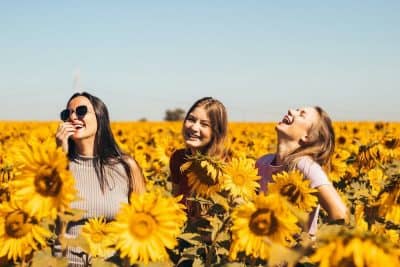 Don't miss out on a single article!
Enjoy unlimited access to over 500 articles & podcast that give you a positive perspective on the state of the world and show you practical ways you can help.
Sign up now!