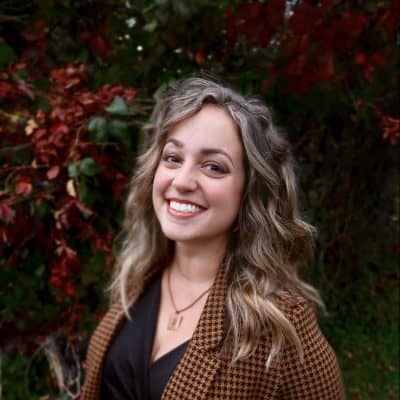 Renee is a graduate of FIDM, and has held jobs in several industries such as apparel manufacturing, retail, professional office work, and even hospitality! Her creative outlook, wide variety of experiences, and desire to notice the beauty around us make her a great addition to the Goodness Exchange team!
Renee Laroche-Rheaume
Outreach Coordinator & Writer
Renee's welcoming presence and desire to notice the beauty in the world around us makes her an excellent addition to the GE team, where she writes articles on topics in art and culture, and works to connect with our community as our Outreach Coordinator.
Hi there, I'm Renee, the Goodness Exchange's Outreach coordinator!
Starting from a young age, my curiosity about the world has been fueled by empathy, art, and culture. I have earned several scholarships in my youth in recognition of my vocal talents, creative writing, and moral compass.
After high school, I went on to earn my Associate of Arts degree for Apparel Design from FIDM in Los Angeles, where I gained the technical knowledge and creative inspiration to pursue a career in design.
I have combined my passion for timeless style, my ability to recognize value, my artistic eye, and organizational skills to build an e-commerce business. Since 2013, I have personally curated and styled vintage fashion for my Eco-friendly online store, Spotlight Vintage. My work with Spotlight Vintage and the Northwest Nightmares Film festival have been both a creative outlet and a great training ground for building an online following, a knowledge base I have brought with me to grow our community at the Goodness Exchange.
In addition to my many creative endeavors such as fashion illustration, learning to play the ukulele, and seasonal window painting, I am an active member of the arts community in Saint Albans, VT. I also love connecting one-on-one with local patrons by working charitable events and bartending in the taproom at 14th Star Brewing Company. My high level of empathy makes me an expert communicator and gives me the ability to instantly engage and connect with others.
If you find yourself at a dinner party with Renee, ask her about her favorite films or her tastiest concoctions in the kitchen!
Get ready to discover your new favorite (well, maybe second favorite) corkscrew! The best scientific breakthroughs are often inspired by nature, and today we're exploring a game-changing innovation that was inspired by nature, for nature. Prepare to be wowed as we propel ourselves deep into the origins of a new self-seeding robot that is tackling deforestation from the sky above!