Fishing is a remarkable celebration of our relationship with nature; it's a place to tell stories, enjoy the bounty of nature, and then share a meal with those we love. It's no wonder that the fisherman's tale of the "big catch" or the "one that got away" is so common across the globe—we love commemorating those special moments in life. So how do you capture them and still enjoy that fish you caught for dinner? Why not cover your catch in paint first and create beautiful art with it?
Before the advent of the camera, if you wanted to celebrate your biggest catch or your child's first catch, you didn't have many options. That fish was headed straight to the pan for dinner and all that was left was the image in your memory. So, a community of ingenious Japanese fishermen came up with a way of documenting those moments through an art form called Gyotaku.
This art of using prized catches to create beautiful prints developed from the hands of fishermen to the brushes of skilled artists over the past centuries. Now, artists like Naoki Hayashi (who we'll meet in a minute) are still keeping the art form alive. Their work is a celebration of nature's beautiful abundance and a long heritage of printer's that came before. Truthfully, it's hard not to be inspired to celebrate nature's beauty after experiencing Naoki's own infectious spirit!
What is Gyotaku?
The word Gyotaku translates to: gyo=fish, taku=impression.
In its simplest form, Gyotaku is a print made by painting a fish with non-toxic ink and then pressing paper down onto it to capture the impression of the fish. In Japan, fishermen would have their Gyotaku supplies with them onboard their boats. It became a way of documenting a wide range of catches; from fish that had to be thrown back because of their cultural significance, winning specimens for fishing contests, and even, in some accounts, to commemorate a Japanese emperor's biggest catch. 1 The latter story is said to have propelled Gyotaku into a popular art form.
As Gyotaku became more popular it also became more beautiful and stylized. Artists started painting over the original fish print using color to highlight details from the fish, and give it life by painting in details in the eyes.
Hawaii-based artist Naoki Hayashi continues to carry on the legacy of the Gyotaku masters on the island of Oʻahu.
His art celebrates the bounty of Hawaii's seas and the moments and meals that matter most to people.
Since he was 11, Naoki has been perfecting his Gyotaku technique. He is a master with a contagious passion for his art! Here's his story from one of our favorite creators, Great Big Story.
We love Great Big Story! They travel the globe in search of untold stories of thinkers, artists, scientists, and quirky characters. Their videos always leave us a little more curious about the world around us! Go check them out, and give them a follow on YouTube!
You can see more of Naoki's work on his website or follow him on Facebook to see his latest work!
"I get energy from nature, and I put it on paper and share it with the world."

— Naoki Hayashi
Naoki's work is the celebration of our relationship with the natural world. It is a celebration of the fish's beauty and the meal shared with friends and family that it made possible. With a practice rooted in respect for nature, he only creates art from fish that will later be eaten. Naoki captures the moments that most deeply connected us to our food and the planet.
These prints are more than just art. They are memories, captured in ink, to be shared for generations.
Perhaps Naoki's work speaks to so many people because it connects us to two elements that we can never fully remove ourselves from: our environment, and our heritage.
So often, the traditions we celebrate most—the foods of our region, the weaving traditions, the craft of local woodworkers, are rooted in the combination of heritage and the environment our ancestors called home.
Another beautiful example of this celebration of nature and heritage comes from Hawaii's O'ahu island. There, Hawaiian youth are reconnecting to their ancestors and their land in new ways by reviving ancient ways of farming.
Maybe the next time you reel in that big catch or find a particularly beautiful leaf specimen, you'll look at it with fresh eyes. Maybe, this time you'll see a little bit of nature's art, waiting to be shared with the world.
Stay beautiful & keep laughing!
-Liesl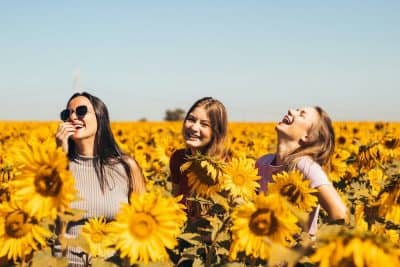 Don't miss out on a single article!
Enjoy unlimited access to over 500 articles & podcast that give you a positive perspective on the state of the world and show you practical ways you can help.
Sign up now!