Could a therapy that can halt and even reverse the effects of Parkinson's Disease be sitting in basements and rec rooms right this minute? In the fight against this debilitating disease, ping pong has had some promising possibilities! It may seem like an odd pairing, but for players like Nenad Bach, ping pong has changed their lives!
Parkinson's is a progressive disorder of the nervous system that affects movement. Generally, symptoms of Parkinson's start with hand tremors. As the symptoms progress, the disease can cause slow movement, slurred speech, and impaired posture and movement.
It's estimated that there are more than 10 million people in the world living with this disease with no cure. 1 So, what can a game of ping pong do for those living with Parkinson's? Well, as it turns out, perhaps a lot!
Ping Pong for Parkinson's!
Ping pong as a therapy for Parkinson's may seem strange at first. For the founders of Ping Pong Parkinson, though, this combination is natural!
The idea for PPP grew came from the experiences of Nenad Bach, a Croatian-American musician turned ping pong enthusiast who had to give up his music career when he was diagnosed with Parkinson's. With the help of ping pong, he was able to improve his Parkinson's symptoms, and now he is helping others do the same. In March of 2017, Ping Pong Parkinson was founded with the goal of halting the progression of Parkinson's Disease by using a few paddles, a ball, and a table as a form of physical therapy.
At the Westchester Tennis Table Club in Pleasantville, New York, Ping Pong Parkinsons has worked with Parkinson patients, aka "Pongers", to help them battle this disease with a whole lot of fun.
So, why don't we meet Nenad and hear about his journey from world-renowned musician and composer to advocate for ping pong! This beautiful story will have you looking at the strange directions life takes us with a newfound sense of possibility. Enjoy!
If you'd like to see more from the filmmaker, Brandon Lavoie, check out his Vimeo page or website!
You can also learn more about Ping Pong Parkinson over on their website! They are doing some great work that you can support or be a part of!
A new form of therapy?
In May of 2020, scientists presented a preliminary study at the American Academy of Neurology that confirmed that ping pong could, indeed, be a promising form of physical therapy for Parkinson's patients!
The study found that people with Parkinson's who were a part of a ping pong exercise program once a week for six months showed improvement in their symptoms!
The participants in the study were, on average, 73 years old and had been diagnosed for seven years, with their conditions ranging from mild to moderate. With the incorporation of ping pong into their treatment, participants "experienced improvements in speech, handwriting, getting out of bed, and walking." 3 It's a promising field of research and rehabilitation that reminds us to keep avenues of possibility open when it comes to solving problems!
So often, we limit our thinking by staying within the boundaries of what seems "normal".
I'm guessing that if I were to have told you to describe a room full of people playing ping pong at the top of this piece, a room of Parkinson's patients enjoying a good game of table tennis would not have been your description. And yet, now there's some evidence to show that something as seemingly off the wall as ping pong could be helpful in improving people's lives who are living with the disease. Who would have thought it?
What's in it for us all?
Imagine if we embraced fun, thought outside the box, and experimented a little more when it came to all of our problem-solving? How would we expand what's possible?
Great solutions are very often at the intersection of two things nobody ever thought to combine! Here are just a few of our favorite examples:
What other ways of improving people's quality of life are out there just waiting to be explored? How could we expand our notions of possibility by embracing joy, fun, and the unexpected in life?
Maybe with an older relative who is suffering from dementia or Alzheimer's we could employ the spirit of improv comedy! Perhaps, we could turn making dinner into a fun adventure by challenging ourselves to use our strangest pantry item. Or maybe we could learn from the kiddos in our lives and spend a day fully immersed in their imaginary worlds with them; no phones, no emails, just mindful quality time!
You never know where inspiration will strike!
Stay beautiful & keep laughing!
-Liesl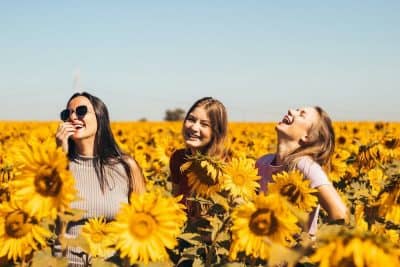 Don't miss out on a single article!
Enjoy unlimited access to over 500 articles & podcast that give you a positive perspective on the state of the world and show you practical ways you can help.
Sign up now!