Picture this… you're standing in the most beautiful place you've ever been, in awe of everything around you. You look down, and you're standing on a strap barely over an inch wide, suspended over a canyon. You lose your balance and fall, but a harness catches you, leaving you hanging above the ravine. For some, this may sound like a nightmare. But for others? The dream. 
So what is this unique sport that's got the outdoor community transfixed? Slacklining.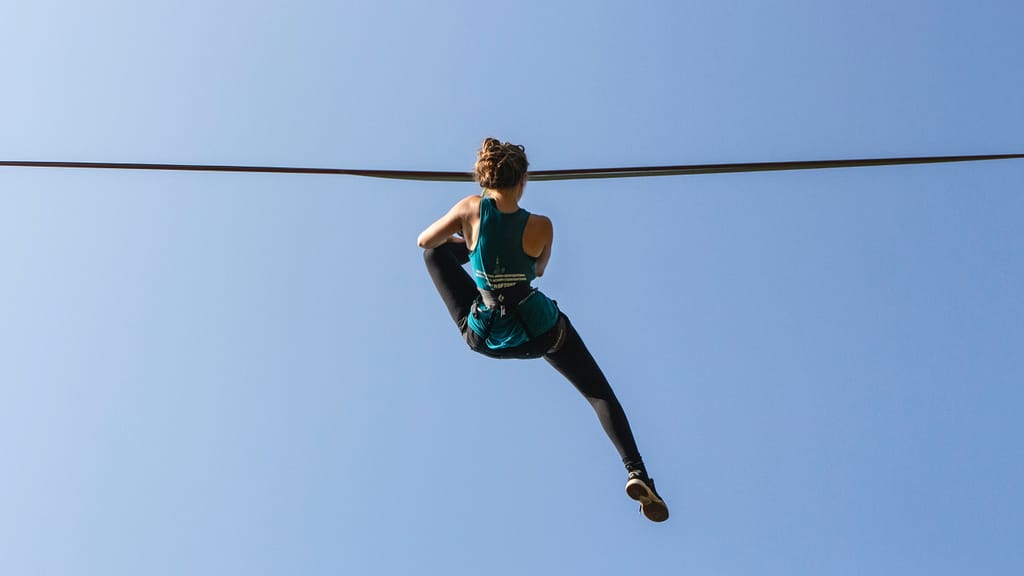 First up, what is slacklining?
The first time I saw a slackline, it was on my college campus in the yard of our Outing Club. I watched some upperclassmen walk from tree to tree on a thin belt, thinking all the while that it looked insanely hard. And a few years later when I stumbled upon a slackline on campus on a walk with friends and decided to try it out, we learned that it is insanely hard.
A slackline is a thin (2-5 cm wide) belt, usually made from polyester, which is fixed between two points in space. It could be between two trees like I saw on my college campus, or two rocks on opposite sides of a canyon like those strung up by today's daredevils. Similar to tightrope walking, this activity requires inhuman balance, strength, and calmness. But unlike tightrope walking, a slackline is tensioned significantly less, meaning it's not pulled nearly as tight. This allows the slackline to stretch and bounce, almost like a narrow trampoline. 1
With rodeolines and tricklines designed for acrobatics, flips and spins, longlines and speedlines aptly named for lines of great length and those designed for racing, and highlines and waterlines which are strung high in the air or over water, respectively, 2 there is a huge variety of skills within slacklining.
Slacklining, like many other extreme sports, remains very male dominated, but things are starting to change. Walking almost on air, four fearless women have become pioneers of the open space finding mental calm while harnessing their physical strength. By being open and vulnerable high in the air, they display brave feats that we all might just be able to learn from.
"It has tended to be, in the past, a very male dominated sport. So when I come across another woman who's just such a badass, I want to be her and do everything that she does. And then I realize that I can just make her my friend, and instead of that woman being somebody that I hold at a distance and either look up to or am jealous of, when I meet another woman who's just raging, I'm like wow… if she can do it, I can do it too."

– Michelle Griffith
Heather Larson, Michelle Griffith, Alli Gordon, and Liz Thomas haven't always known each other, but over the past few years they've found each other through their shared love of slacklining, and in so doing have created a powerful community around them.
They are not only crushing the narrative that slacklining is exclusively for men and adrenaline junkies, they're also ending the tired idea that people–women in particular–need to be in constant competition with each other. Their comradery proves that instead of being jealous of the people who are doing incredible things, we can inspire and support each other, and when we do, it only improves the world around us.
Emphasizing the importance of gender representation in sports and staying calm not just in the air but in life, these bold women walk in places people have never walked before… between two cliffs.
"If you're scared, the line will tell you you're scared. The only movement that comes to a slackline is the energy that you bring into the line. If you're calm and you're collected, and you're present, then you'll probably send [walk cleanly, without falling]. If you're worried and nervous and thinking about what you have to do that day, you'll probably fall."

– Alli Gordon
Isn't that the best metaphor for life you've heard all day?
Without further ado, let's take a breathtaking journey up to the highline with Heather, Michelle, Alli, and Liz for a look at their incredible athleticism and inspiring community in this beautiful video from Wanderlust.
Shoutout to Wanderlust for this incredible short film. For more awe-inspiring content inspired by nature's wisdom and radical self-love, check out their channel on YouTube.
To connect with Heather, check out her interview on Xtreme Spots. Learn more about Michelle in her interview with Straight Talk or by following her on Instagram. Hear more from Allison on the Wanderlust website. And finally, catch up with Liz's adventures in her profile on SlacklifeBC.
The power of finding your people!
We've heard the classic lines about sports teaching teamwork, self-reliance, resilience, leadership and confidence. Those phrases may seem cliche, but they are true… but perhaps not in the way you think. I'd argue that it's not sports that help us develop those life-long skills, but rather, finding something you love and something that gives you a sense of community.
You don't have to walk along a rope suspended in midair or even be an athlete to experience this kind of empowering comradery. Finding a group you love volunteering with, engaging with a community of crafters, or simply having fun with a quirky community you love, are all ways to tap into our deeper, happier, more connected selves.
For more articles about inspiring women building community and changing the game, check out these articles next.
If nothing else, come away from this article remembering two things: breathe and seek community. When we're centered, focused, and surrounded by people who love and support us, we are sure to flourish.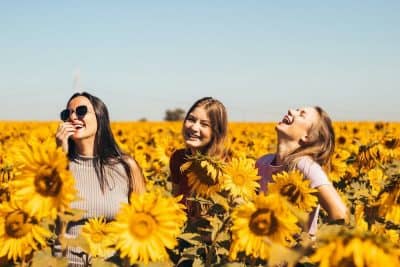 Don't miss out on a single article!
Enjoy unlimited access to over 500 articles & podcast that give you a positive perspective on the state of the world and show you practical ways you can help.
Sign up now!
Notes:
US, Slackline. "What Is Slacklining?" Slackline U.S., https://slackline.us/what-is-slacklining/. ↩
"What Is Slacklining?" International Slackline Association, 4 Apr. 2021, https://www.slacklineinternational.org/what-is-slacklining/. ↩
Wanderlust. "Slacklining Sisters: Crossing the Chasm Together." YouTube, YouTube, 22 Feb. 2016, https://www.youtube.com/watch?v=l9k2IIrC8a4. ↩