How do we help the world see the value in animals that have been abandoned, abused, or left behind? Could some of these rescued animals one day come to our rescue? These animals with so much still left to give are easily overlooked by society, but this incredible organization has found a solution to this problem: giving horses who have been left behind a new lease on life.
At Mustangs To The Rescue, a simple shift in how they went about saving unwanted, neglected, abused, and forgotten horses has not only saved the lives of many horses, but brought many of them to places where they could rescue us one day.
"There is an invisible line, that sometimes isn't even there, between horse rescue and people rescue."

Kate Beardsley, Founder of Mustangs To The Rescue
In the beautiful sweeping countryside outside of Bend, Oregon, Kate Beardsley is giving horses and people life-changing experiences.
Since 2012, they have been on a mission to give horses and their owners the training and skills they need in order to ensure a long-lasting, safe, and secure home. And, as a part of that, Kate and her team of volunteers work to rehabilitate and train horses so they can be put in roles of service, ranging from search and rescue, to helping guides carry goods, to forest patrol.
This novel way of giving these horses value that others can see, too, is helping these horses find life-long homes!
There is no doubt that in all of this goodness—from the people who volunteer, to the horses who find new homes, and those that find new purpose—that Kate and her organization are creating a cycle of rescue, learning, and uplift that has a ripple effect far beyond the hills of Oregon.
To hear Kate talk about the work of Mustangs To The Rescue is deeply inspiring, so here's a short piece from BESIDE MEDIA to introduce us more deeply to this remarkable work.
‌To see more from BESIDE MEDIA, check out their YouTube channel for more beautiful, inspiring visual storytelling.
If you'd like to support the work of Mustangs To The Rescue, you can donate, volunteer, or follow their journey on Facebook! They post some incredible stories about their rescued horses over there, so I recommend you like their page, follow along, and share the stories that inspire you most. (Really, it's the easiest way to help support any organization or mission you love.)
Fun Fact! As wildfires ravaged through Oregon in 2020, several Mustangs To The Rescue horses were able to put their training to work and help out rescuers and firefighters! You can read about these stories, and more, over on their Facebook page.
What we value, we take care of…
For many of us, it's hard to find value in the things that are outside of our immediate circle. Most of us would "value" the life of a rescued horse, but by giving these horses the training to help forest patrol, firefighters, and people experience the wilderness, Mustangs To The Rescue is making that value even better understood to the general public.
This leads us to the question: what incredible organizations or life-changing experiences are we overlooking because we don't see them as having value in our lives? What would happen if we were able to step outside of our comfort zone and find value in the remarkable work happening in far away places that help people, landscapes, and animals we may never meet?
We know it's possible for the world to rally behind iconic animals and landscapes we love (check out this great article about the remarkable efforts to save koalas during the 2019-2020 fires), so how do we rally around far less cute, but equally important organizations like those saving a salamander called the "snot otter"?
Keeping this world moving towards progress begins with finding value in the movements that are changing lives for the better, even if they aren't changing our own.
Rescue dogs may find new lives stopping poaching, people may create joy and wonder for others as they discover their hidden talents, or stories written from a new perspective may inspire a generation of young readers who have never seen themselves in a novel before. You may not care much for dogs, art, or be the target audience for these books, but each of these stories has had a lasting, positive impact on hundreds of thousands of people (and animals) around the world, and that lifts us all up.
If you want a few more stories that have caused a ripple effect of goodness, I suggest you check out one or two of these stories; they are some of my go-to reminders that it's still an amazing world.
What if Mass Media was Used for Good?
There's more power in positive media than just making us feel good! Sharing stories that celebrate progress around the world has the ability to change lives. Check out this collective of creators redefining the way we tell the stories about some of our world's biggest issues, and the people working to alleviate them.
Read Article
Watch Video
Listen to Podcast
How will you support the organizations, ideas, and people who are making the world better for others (even if you never feel the impact)?
Even if you can't donate your time or your money, simply listening, following, and sharing the messages of these movements goes a long way towards amplifying their causes. It is still an amazing world when we remember to find value in things that have a positive impact on us all.
Stay beautiful & keep laughing!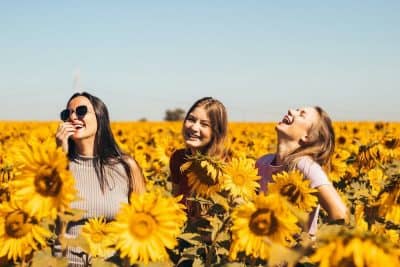 Don't miss out on a single article!
Enjoy unlimited access to over 500 articles & podcast that give you a positive perspective on the state of the world and show you practical ways you can help.
Sign up now!
Published: November 22, 2020