We've all heard about the important role trees play in removing carbon dioxide from the atmosphere, but did you know that there is an animal so good at sequestering CO2 that, over its lifetime, it can sequester the same amount of carbon dioxide as 1,500 trees? Who are these ocean roving, plankton feeding powerhouses? Why, it's whales!
So, what happens when a whale loving economist breaks down the carbon sequestering power of whales? Might we be able to look at these incredible creatures in a way that could create a lasting, positive impact on the whale population and the planet?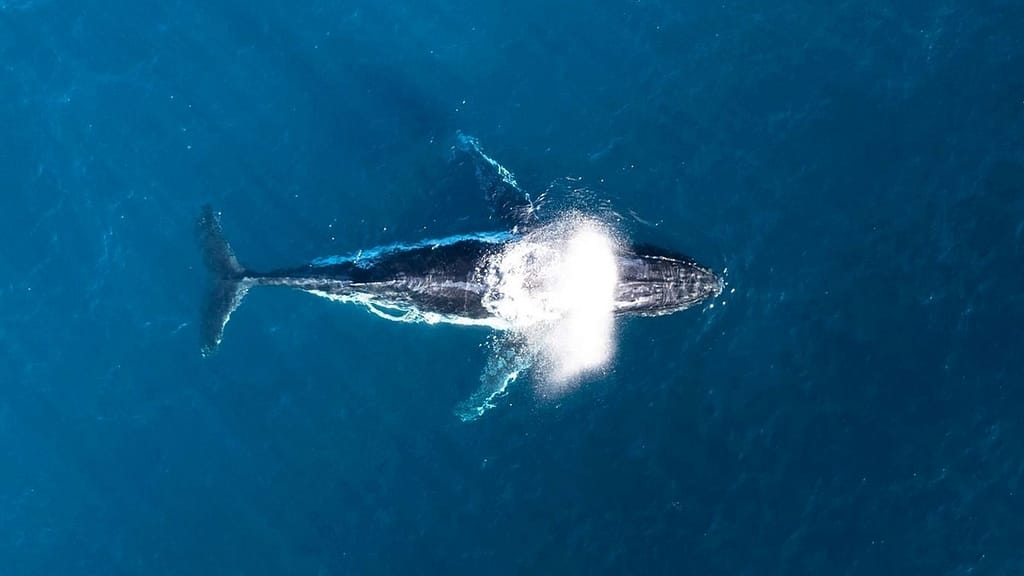 What's up with whales?
Whales are pretty incredible at sequestering carbon for reasons that are just byproducts of their living, eating, pooing, and passing away. You see, as they eat and grow, their bodies store literal tons of carbon—for a great whale, as much as 33 tons. And, when they die, most often their bodies fall to the bottom of the ocean. There, the carbon stored in their biomass stays for hundreds or thousands of years. 1
So, what about the byproduct of all that eating? Whales are the center of what is called the "Whale Pump". Essentially, as great whales dive deep to eat krill and plankton, and then release fecal plumes–poop and urine–at the ocean's surface, they cycle much needed nutrients through the oceans. 2 These nutrients are critical to one of the most important, CO2 extracting, oxygen producing life forms on Earth: plankton.
The plankton then capture 40% of the planet's CO2 and contribute 50% of the oxygen in the atmosphere. 3 In the simplest terms, more whales means more plankton, and more plankton means more carbon dioxide being removed from our atmosphere.
All of this means that the mere existence of whales is phenomenal for the health of our planet. They eat the carbon, they store the carbon, they feed critters who capture the carbon… It's another great example of the way Earth evolved to be completely self-sustaining, and if we as humans can become self-sustaining too, the planet is designed to heal itself.
Like so many complex natural cycles, it can be difficult for people to see how one small change could have major repercussions. This is where the economist Ralph Chami and the International Monetary Fund come in. 
What's a whale worth?
Before we jump in here it's important to say: figuring out what a whale is "worth" isn't an exercise in commodifying nature for the sake of human gain. Rather, by translating the powerful impact whales have on the planet into a language that runs the world—dollars and cents—we're able to make sure that every country around the globe is investing adequate time and resources into whale conservation and make the case for greater international protections. 
Because whales have enormous migratory ranges, passing acts to protect or improve the health of whales in a single country won't make a difference, so international rules have to be enacted. If we can talk about the importance of whales in a widely understood way (how much they are worth to the global economy) we can deem them an international public good and give them protections in new and valuable ways.
When the economists looked at the numbers, they found that an individual whale is worth $2 million, and that the entire whale population is worth over $1 trillion in "carbon removal technology," so to speak. This means that across the world, investing over $1 trillion in the protection, conservation, and growth of the whale population would be more than worth it. 
The International Monetary Fund's study is an absolutely fascinating take on making a case for conservation in concrete terms, not to mention full of science that will have you wowed by the power of the natural world. So, to get a closer look, here's a video from Terra Mater that explains it all—the power of whales, that whale pump, and why it's important we put a value on all the work whales do.
If you're interested in more videos like this that combine beautiful videography with stories about conservation and our environment, go check out more from Terra Mater over on their YouTube channel.
The International Monetary Fund research that is the focal point of this video is absolutely fascinating. I highly suggest you check out this article from the IMF that explains the science behind whales' carbon sinking power, and how bridging economics and conservation can lead to some important changes in the way we, as a global society, work to protect whales.
In addition, if you'd like to learn more about international efforts to conserve whales please check out the work of the International Whale Commission. While whale populations are slowly rising, there is still much to be done to understand and protect whales' migratory routes, breeding and foraging areas, and reduce the impact on whales of human traffic, noise, and ocean use. You can learn more about some of these efforts through the World Wildlife Fund's Protecting Whales and Dolphins Initiative.
When forces combine!
Conservation and economics are two fields we rarely see combined in daily life. And yet when they are brought together, they can make a powerful team. Sometimes, the very real scientific, cultural, historical, or biological significance of a conservation effort can get lost in political or economic debate. Very often, the conservation arguments made that only have long-term benefits that don't make for the most compelling arguments. Yet when we are able to translate the environmental impacts of conservation efforts into the language of economic impact that—for better or worse—tends to dictate policy and decision making, we have a better chance of bringing more people onboard.
When we are open to combining different perspectives on the world, we are able to communicate and make change with more people, bring on new stakeholders, and turn ideas into action. The great thing is, most of us have more than one passion in life. We may be passionate artists and environmentalists, physics lovers with a penchant for politics, or urbanites with a love for agriculture. When we embrace these disparate parts of ourselves, we become translators between ways of thinking. And the world needs more people like you.
So, what two worlds do you understand? How might you be able to use your unique perspective on the world to positively impact people and the planet?
Stay beautiful & keep laughing!
~ Liesl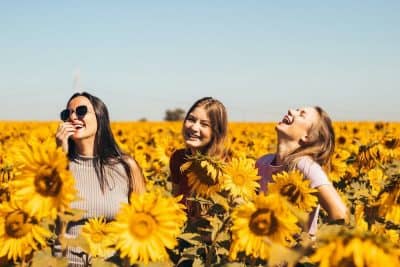 Don't miss out on a single article!
Enjoy unlimited access to over 500 articles & podcast that give you a positive perspective on the state of the world and show you practical ways you can help.
Sign up now!
Published: February 7, 2022