Have you ever tasted bacon made of fungi? Received a package cushioned by mushrooms? My guess is not yet… but probably soon! New York-based company Ecovative has created an alternative to plastic, which can save water, time, money, and the planet, too!
We all know we need alternatives to the plastic materials we use so often. But how can we reduce the use of something we handle every single day? We use bubble wrap to cushion our packages. Containers to keep our food clean. Plastic bags to carry our groceries home. Some of those examples have simple solutions, but others are much more complicated.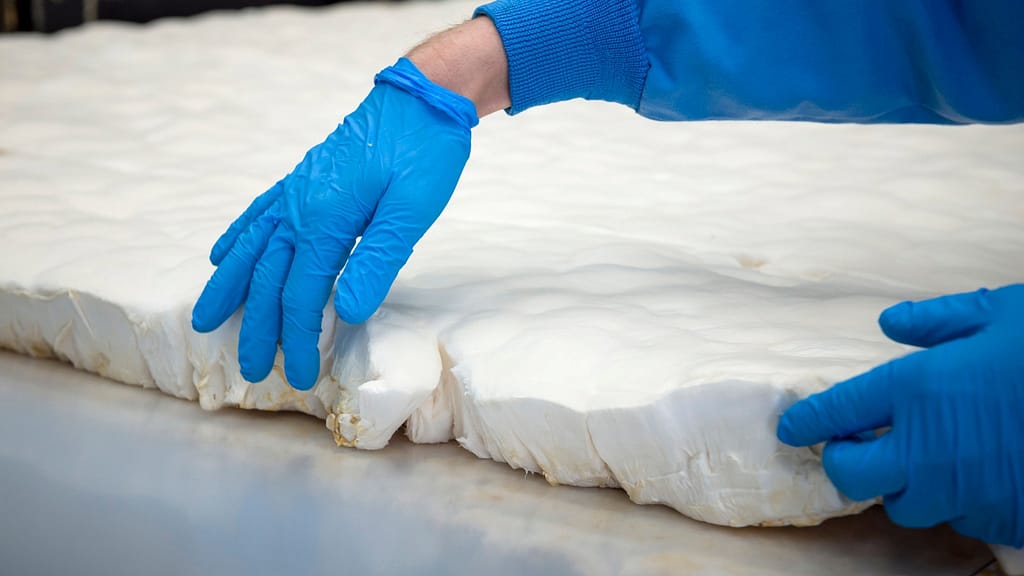 That's where Ecovative comes in!
Using mycelium, the living root structures of mushrooms, Ecovative has created sustainable solutions for some of the most vexing sustainability problems. With mushroom leather, mushroom Styrofoam, and mushroom bacon, mycelium-based solutions cross industries and could be the next big impact in the climate change game.
Founded in 2007, Ecovative began with just a few spores, and soon realized their product would be able to solve two big problems:
Problem #1: Plastic Waste
With 91% of our plastic packaging ending up in landfills or ending up in the environment, 1 packaging is one of the biggest hurdles to plastic waste reduction out there.
The problem with Styrofoam is even worse, as close to one-third of all landfill space is taken up by the light white packaging 2. But Ecovative's Styrofoam replacement, MycoCommposite, is completely biodegradable, taking just 30 days to decompose. (That's compared to the more than 5 centuries it takes for Styrofoam to break down, of which less than 1% is ever recycled 3.)
Ecovative is already working with a number of small businesses to create packaging for their products. Providing an alternative to plastic packaging is the first step toward reducing the amount that goes into landfills and the ocean, giving us one big piece of the puzzle in how we can slow climate change.
Problem #2: The Environmental Impact of Our Food
Did you know that your dinner could influence the future? Almost a quarter of global greenhouse gas emissions come from agriculture and the land use it necessitates 4 The carbon dioxide and methane created by livestock are deeply damaging to the environment, which is why movements such as Meatless Monday—which proposes that everyone take one day of the week to eat plant-based—have started to grow.
Starting with agricultural waste and spores, Ecovative controls the growth of these mushrooms into a marshmallow-like mushroom slab, which can then be sliced, seasoned, and fried up, just like Bacon! It even has the same protein content as a regular slice of bacon, with one-fifth of the fat. In 2020, Ecovative even launched a line of mushroom-based meat alternatives called MyForest Foods.
While one person changing their food habits won't change the world, products like this make it easier than ever for hundreds, then thousands, then millions to change their habits in small but impactful ways and make a real difference.
To learn more about the environmental impact of eating meat, check out our article about it here: (and remember, it's about progress, not perfection!)
Styrofoam and bacon and leather, oh my!
Since 2018, Ecovative has been working with Bolt Threads. There, scientists and workers create Mylo, a leather alternative for use in clothing and handbags. Backed by pioneering brands like Adidas, Lululemon, Stella McCartney, and more, Bolt Threads is taking Ecovative's process and taking the mycelium that has grown beneath our feet since the dawn of time to create fabrics that are infinitely renewable. With a wonderful texture and without all the negative environmental impact, Mylo is "everything you love about leather, without everything you don't." 5
With more information about this incredible company and to find out how possible this really is, let's join our friends at Business Insider to check out this strange spore that could change the plastic waste game as we know it.
Check out Business Insider for more incredible content like this – their videos dive into a deep library of incredible organizations turning trash into treasure, like sacred flowers into incense, banana waste into fabric, and chopsticks into tables.
To learn more about Ecovative, check them out on their website, Facebook, Instagram, or almost any other social media platform. Their mission has caught fire on the web recently, and that momentum will hopefully lead to a more sustainable future for us all.
If you want to support or work with Ecovative, I'd recommend you visit their FAQ here. And for those of us who want to get our hands on some mushroom products, we might have to wait just a bit longer. Currently, MyBacon is only available at one grocery store in Albany NY, and Mylo leather is not yet being commercially sold due to overwhelming demand. While we're sad that we can't get our hands on some mycelium products just yet, the demand for this product and excitement about its growth is a wonderful sign for the future of food, textiles, and packaging going green.
But in the meantime, we can best support Ecovative by following them on social media and sharing their work! The more people who know about these solutions, the more who will call for them to be bigger and better. And it's simple economics: when the masses demand something like this, the money flows in to make it happen.
While Ecovative Designs is a long way from entirely replacing plastic packaging and factory farming, they are harnessing the potential of the living world and creating real solutions that can be a big part of solving the world's biggest environmental problems.
Interested in more creative ways to rethink our world? Check out these articles from our archive next!
In the meantime, we can refuse that Styrofoam cup and take part in a Meatless Monday here and there. Those things feel small, but when we do them together, they make a big difference. And hey, it's good to know that companies like Ecovative exist out there to make it a bit easier for us all to help be a part of creating a better future.
To learn more about the Conspiracy of Goodness that you're a part of just by being here, check this out!