Imagine waking up in the morning to the sound of raindrops instead of an alarm clock. Your post-coffee morning commute is not by car, but by zipline. As your eyes adjust to the morning sun, you find yourself filled with childlike wonder because you live in a rainforest. And not just anywhere in the rainforest, you live in a treehouse in the rainforest. We're headed to the Finca Bellavista Treehouse Community to find out how this beautiful and sustainable sanctuary came to be!
If you could create your own utopia, what would it look like? Who'd live there with you? And most importantly, what exactly is it about this magical place that makes you feel alive? Today, we're gliding through the jungle canopies of Costa Rica to explore a community that has created their own slice of paradise in search of a life less ordinary. Let's feed the wanderlust that's been brewing within us and tap into the excitement that awaits us in life—no matter where we live—as we head to meet the people living in the treetops!
Are you ready to discover what it takes to build your own community? Climb on up!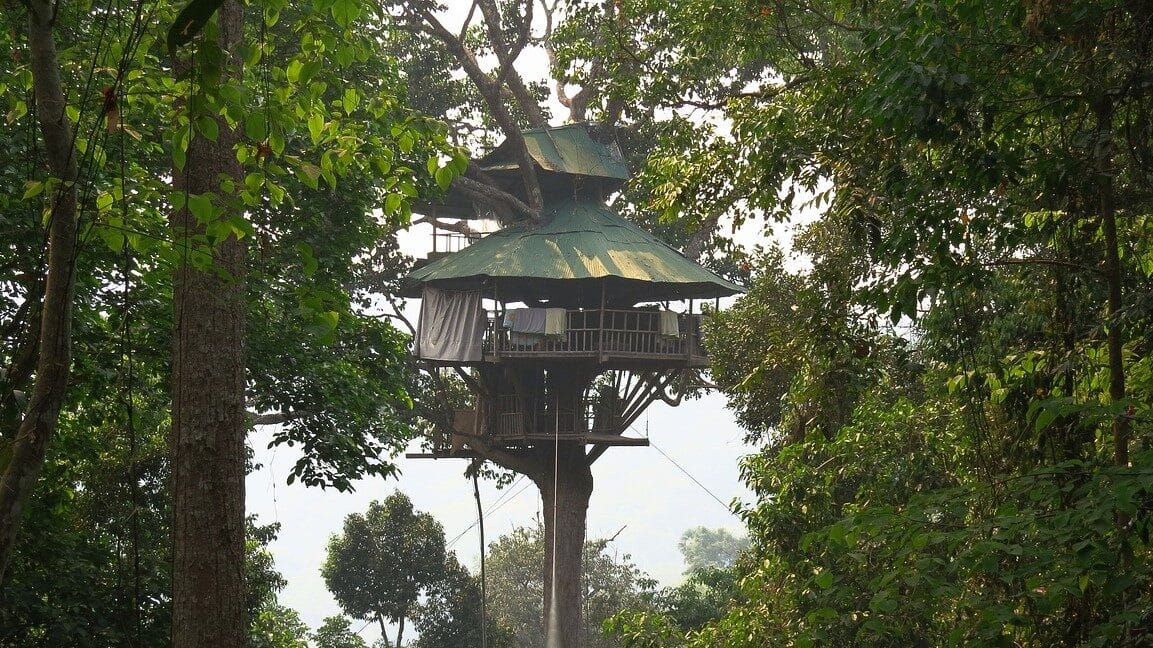 If you can dream it, you can do it!
In the case of this glorious sustainable treehouse community, the dream started in 2006 with founders Erica Andrews and Mateo Hogan after a chance visit to Southern Costa Rica.
The 62-acre property was actually intended to be sold as a timber harvest site, but both Erica and Mateo felt enchanted by the land and envisioned it as a treehouse community like the Ewok village from the Star Wars movie, Return of the Jedi.
They dreamt of creating an idyllic place to live, but they also wanted to build a community with sustainable, earth-friendly values at its core; one that would celebrate and preserve the natural beauty they fell so deeply in love with. So, with help from a close-knit group of hard-working Learners, Helpers, and Doers, their dream became a reality just 10 years later!
Aside from living in a cool treehouse, what makes this place so special?
The design of Bellavista—from the very beginning—has been focused on living in harmony with nature. The biodiverse rainforest backdrop surrounding the expanding treehouse village spans over 600 acres, including an entire peninsula of rainforest mountain, and frontage on two whitewater rivers that are teaming with Costa Rican wildlife! Adding to this, the network of hovering huts runs primarily off solar energy and they grow 80% of their food right on site.
Here, amongst the huge trees and lush organic gardens, the handful of permanent residents, guests, and 20 staff members who reside at Bellavista have said that they feel more deeply connected to nature and themselves than they ever have before. In finding themselves, many of these people have discovered a family of like-minded people with whom they can share their home.
Bellavista has a few different types of people living in this unique paradise. Most of the people who permanently live here have purchased real estate and built their own treehouses to live in year-round. Some of the treehouses are part of a resort experience and are listed as short and long-term vacation rentals. The resort employs people who live there, ensuring that every detail is carried out with pride and great care.
From the cooks pouring their heart into every dish to the gentle touch of the person folding linens, each member of the community brings their own unique talents to the table. This creates an unmatched environment for guests, one where both the residents and mother nature herself seem to welcome you with warm, open arms.
It almost feels made up, right? I swear, it's a real place.
Sometimes it can be hard to envision something so awesome if we've never witnessed it before… So, do you want to know what it's like to reach outside your bedroom window and pluck tropical fruit for breakfast?
Let's see it for ourselves in this extraordinary video that takes you right inside the heart of Finca Bellavista Treehouse Community!
‌Wow! I don't know about you, but I can't seem to pack my bags fast enough. *Searches frantically for passport.*
Ready to book your very own stay in one of those amazing treehouses? Learn more about the land and book your stay through Bellavista's website.
Find what makes your heart sing!
You can tell from the video that the residents of Bellavista have a deep-rooted connection to the land and each other. Each one of them has a twinkle in their eye when they talk about the life they've discovered for themselves there, proving that dreams really are the best when you share it with others.
There are so many different ways to live, so why stop dreaming there?
If you love the idea of living off-grid but you prefer fewer bugs, maybe your path is to build an Earthship! Or if you truly love where you are right now, share your backyard wonder with your community. There are many small ways we can rediscover the wonder in where we live by just slowing down a bit.
The adventure begins with recognizing what gets your imagination soaring in the direction of a life less ordinary. You can build your life to be whatever you want—so, I ask again: If you could create your own utopia, what would it look like? Who lives there with you? And most importantly, what exactly is it about this magical place that makes you feel alive?
Need a little inspiration? Check out some of the weird and wonderful ways other people are living out their best lives with these articles from our library!
Keep dreaming and notice the beauty around you!
~Renee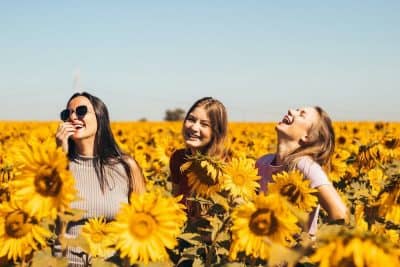 Don't miss out on a single article!
Enjoy unlimited access to over 500 articles & podcast that give you a positive perspective on the state of the world and show you practical ways you can help.
Sign up now!