Jimmy Chin is one of the world's most renowned adventurers, photographers, and documentarians. He is the Meryl Streep of adventure photography, the Muhammad Ali of extreme sports, and the Bill Gates of creative filmmaking. Jimmy is an incredible athlete who makes climbing thousands and tens of thousands of feet in the air look easy. But how does he fare when trying something down at sea level, learning to do something he's never done before and seeing the beautiful majesty that is our planet from a different perspective?
In 2006, Jimmy Chin was one of the first in the world to ski down the summit of Mount Everest. Just years prior, he was recruited by National Geographic as cinematographer for a high profile trek across Tibet's Chang Tang Plateau. He has climbed mountains on every continent, led dozens of exploratory expeditions, and his 2019 documentary, Free Solo, won "a BAFTA, 7 Emmy's, and an Academy Award for Best Documentary Feature." 1
While you or I outside of the outdoor community might not have heard of Jimmy Chin before, in the outdoor community, he's the best of the best.
So, why is it so cool that Jimmy Chin went surfing?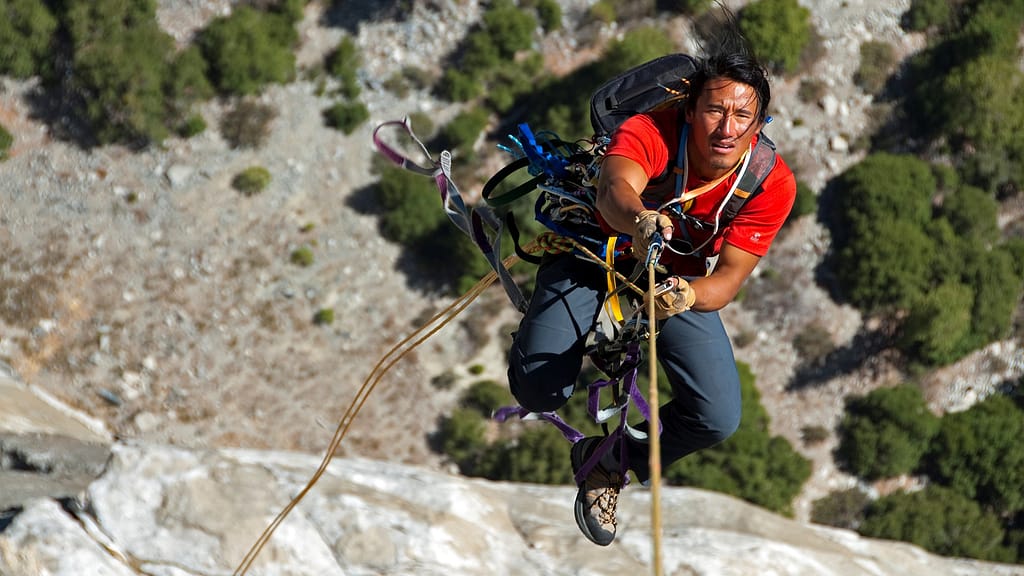 This photographer, filmmaker, professional climber, and skier's career as a professional climber has spanned decades, despite a few scary accidents along the way. He is a master of climbing, photography, and skiing, but the mountains are his home, not the ocean. When some friends took him out to catch some triple-black-diamond worthy waves, Jimmy was in over his head… literally.
Part of what makes surfing so difficult is the changing conditions. You never know what the ocean will be like on a given day, and perfect weather can turn on a dime. Especially with the impact of climate change on the sport, 2 there's no knowing what kind of swells you'll face on any given day. While a tennis court, football field, or balance beam is the same every time, there are no two identical waves.
So, how did mountaineer Jimmy Chin find his way onto a surfboard off the coast of Nicaragua?
For someone who has done so much and been to so many places in his life, Jimmy was asked what was left that he still wanted to do in his life. What remained on his bucket list? His reply: get barreled.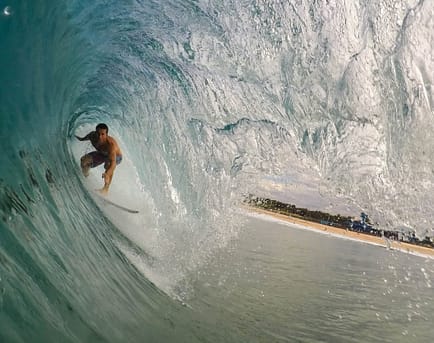 Getting barreled is a surfing term that refers to being inside of the wave: when you're surfing and the crest goes over the top of you and you shoot through the curl and come out the other side.
And so, his friends devised a plan to get Jimmy out onto the waves to see if this world class adventurer had the chops to master the sea.
His story is a testament to the fact that a big part of being young and staying happy—for all of us—comes with trying new things, even if you're awful at them at first. And that's exactly what drove Jimmy to this adventure.
In this video from YETI and with proof that it's more than okay to be bad at something, here's Jimmy Chin in a film that flips the script on the filmmaker and focuses on his journey to try something new:
To see more incredible content from YETI (yes, the cooler, drinkware, & outdoor products company who made your friend's favorite water bottle), check out their YouTube channel here. Their videos are gorgeously filmed and truly inspiring.
You can view Jimmy Chin's photography here, learn more about his adventures and work on his website, and learn more about his Academy Award winning documentary, Free Solo, here. (The full film is available on Disney+). He also has a book of stunning photography which features over 200 extraordinary photographs of some of the greatest moments of the world's best climbers and outdoor athletes, plus additional behind the scenes details.
Even the masters have something new to learn!
Even masters at their craft like Jimmy aren't good at everything. Imagine something you're passionate about, be it a sport, a craft, an art, then imagine Serena Williams giving it a go. She'd probably be as good as you were when you first started!
It's easy to look at those who have reached the top of their fields: Simone Biles, Bill Gates, Taylor Swift, or Pablo Picasso, and think they must have it all figured out. But even these ultra-talented competitors, artists, and businesspeople, as we saw from Jimmy Chin, can't do everything. But as Jimmy shows, it's all about being brave enough to be bad at it. And if you're having a great time, who cares if you aren't Simone Biles? You don't have to master everything, or anything for that matter. As long as you're trying and continuing to do your best, that's all anybody can ask for.
"I think a big part about staying young and happy and stoked is always being open to learn. And I think it keeps you young, you know. I think that I always want to be learning something new, or having a new experience, or pushing myself in a new way. I think that's important."

Jimmy Chin
Your new hobby doesn't have to come completely out of left field, either. Like Jimmy, who was used to changing conditions on the ski slopes and took that knowledge to the ocean, you can learn things adjacent to your existing mastery. Do you like to paint? Give papermaking a try. Are you an engineer? Try creating something unique with that expertise. Big fan of game night? Try creating your own. Starting in a world where you're already familiar is an easy way to find a new passion.
What's next for Jimmy Chin?
Since the release of Free Solo and the global acclaim the film received, Jimmy has been travelling the world with his wife to attend award shows and share the story of Alex Honnold's (the climber featured in Free Solo) incredible feat. Such international success can easily turn people into Hollywood regulars, but Jimmy is headed right back to exploring the world, making movies, and adventuring with his friends. We'd expect nothing less.
His next imminent adventure is happening as we speak: in January 2022, Jimmy is headed to Antarctica to join fellow ski mountaineers to ski down the highest peak in Antarctica. And after that, they'll ski the second highest. 4 Because why not? He hasn't stated what comes after that, but we're sure he'll keep climbing, keep trying new things, and maybe, keep trying to get barreled on the big surf.
Click here for an interview with Men's Journal, a great look at Jimmy's perspective on how precious our time is, how fleeting our youth is, and a look at the future of Jimmy's career.
"People always ask me what the greatest risk I have ever taken was, and they assume it was climbing a cliff or skiing a mountain. But it is pretty clear to me that the idea of pursuing a life of climbing, with no idea of how I was going to survive, was akin to leaping off a cliff… That purity of intention is something that I look back at and is still intact. I started doing this with no anticipation of becoming successful or famous. There was no outside validation that I was searching for out of this. That is how I know it is the right way to spend my days."

Jimmy Chin, for Men's Journal
Jimmy has been to Antarctica before to climb some remarkable peaks, and you can check out that adventure in another Goodness Exchange article that we published recently. Check it out here:
Want to dive deeper into the surfing world? Here's an incredible organization helping heal trauma by building not only athletic ability, but community:
Or if you're more interested in the climbing part of Jimmy's work, check out this article:
Lastly, keep in mind that it's never too late to try that new thing you've been itching to give a go, as proven by this amazing woman:
So stay open to new things and don't be afraid to give them a try! If even the masters can continue to have fun by pushing themselves to learn new things, you can too. And you never know what beautiful things and people might come into your life because of it.
~ Ellen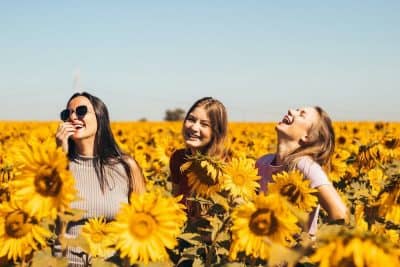 Don't miss out on a single article!
Enjoy unlimited access to over 500 articles & podcast that give you a positive perspective on the state of the world and show you practical ways you can help.
Sign up now!
Published: January 31, 2022