If I were to ask you, "What's something positive that happened in your community recently?" What would you say? Take a second and answer this question for yourself.
We ask this question to people all the time, and inevitably people share one wonderful story after another of the goodness that is happening all around them—neighbors helping each other, quiet acts of kindness, people going above and beyond. It's clear that despite what we see on the news or experience on social media, goodness is really all around us. 
In fact, over the past 10 years we have seen a growing movement that seeks to challenge today's negative narratives and shine a light on the positive actions and kindness that exist all around us: the Conspiracy of Goodness™. And today on the 4th anniversary of this movement, we have a question: Are you a co-conspirator?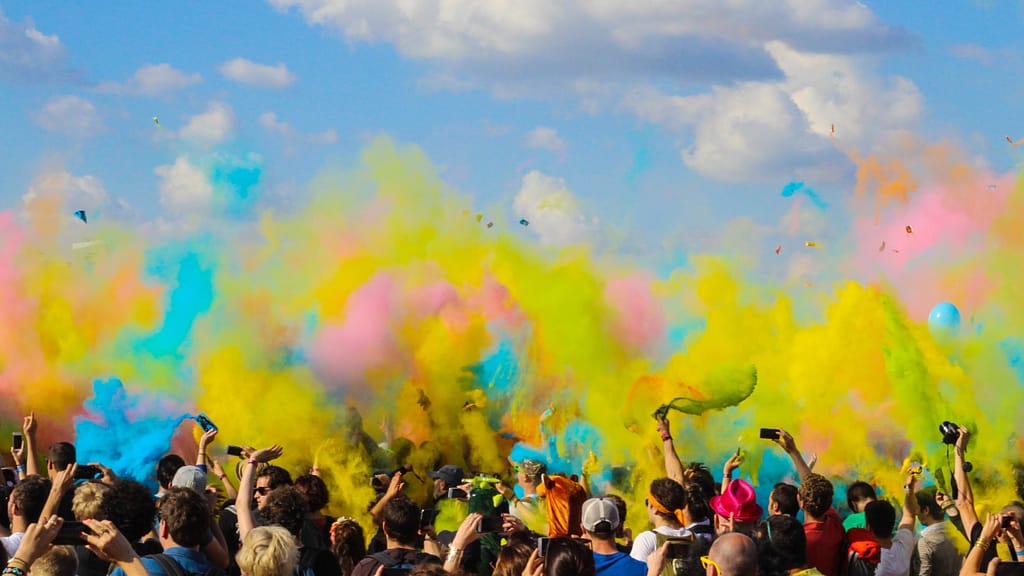 The Conspiracy of Goodness celebrates the enormous wave of goodness and progress well underway in the world that almost no one knows about. Over the course of 1,000 articles celebrating over 2,500 individuals and organizations that are working towards a better future, we've found that the problem is not a lack of goodness in our world, it is the lack of awareness about all that promise.
There are innovators out there saving the rainforests using old cell phones, helping fellow veterans struggling with PTSD through their love of beekeeping, using their business acumen to turn single use items into beautiful pieces of furniture. There are thought leaders doing the impossible: treating spinal cord injuries with asparagus, teaching the blind to "see" with sound, and growing a year's worth of groceries in their own backyard.
Countless people and projects are making the world a better place, and yet most people can barely recall a story of positive news they've recently seen on the news or social media.
So why aren't we hearing more about all the boundless progress and wonder in the world?
The news is so horrible… is the world really getting better?
In a world where bad news and negativity seem to dominate headlines and social media feeds, it's easy to become disillusioned with humanity. But if you look back at the arc of time, our history is trending towards goodness and progress, and the world IS getting better.
Over the past 20 years, extreme poverty across the world has declined at a rapid pace 1, and over the past 200 years, the world literacy rate has increased from just 12% to 87% 2. Child labor around the world has been cut in half in just 16 years. Child mortality has fallen by more than half since 1990. The list of trends towards a better future could go on and on. 
You might ask yourself, why haven't I heard any of this?
Whether you get your news online, through social media, or by watching it on TV, it would seem that crime is rampant, disasters are constantly impending, and the state of the world is worse than ever before. So, where is all this good news? Why do we only seem to see negativity?
To put it simply, news is about what doesn't happen frequently. It is about things that are new and noteworthy.
And, in an increasingly news-saturated world, these stories have to be emotion-inducing, too. A violent crime, the impact of a horrible natural disaster, the latest drama in politics, these are all newsworthy subjects because they are breaking stories with new information that induce an emotional reaction. They are headlines that catch our attention as we flip through the channels or scroll through our Facebook feeds.
All of those indicators of positive progress towards a better future? Well, unfortunately, most of the time that progress is slow, deliberate, and takes daily, consistent action to come to fruition. While one or two big breakthroughs may hit the news from time to time, the real progress is made in ongoing work, the kind of routine things that are not "breaking" and don't make the news cycle.
Once we understand that the news cycle—as it is right now—is not designed to feed us positive news or solutions to the problems it presents us, it gives us the opportunity to do something different: seek it out for ourselves and celebrate it!
This all gets us back to that question I asked at the top of the article: "What's something positive that happened in your community recently?"
A Conspiracy of Goodness™ All Around Us!
From small acts of kindness, generosity, and compassion, to people and movements working to solve the world's toughest problems, there's a lot more goodness and progress out there if we start to look. That exploration starts with our own lives and communities.
We first heard the term Conspiracy of Goodness™when a thought leader and friend of ours at the Goodness Exchange described our work using the term. We were struck by this beautiful phrase and, diving deeper, learned that the phrase was used to describe the way that people quietly came together during World War II to protect Jewish families and children. One man who hid a family in Holland described the quiet, unspoken, cooperation of communities in this work as "a conspiracy of goodness". If you want the full, beautiful, story, you can read it here.
We believe the Conspiracy of Goodness is so descriptive of the times we live in today. So many people are quietly cooperating to build a brighter future. They are doing this without central coordination or recognition, in spite of the negativity of the news. Like stars in the milky way, acting as small points of light in the dark, together, creating something awe-inspiring.
Here are a few of our very favorite examples of the Conspiracy of Goodness™ that may inspire you to become a co-conspirator, or help you see your existing place in this remarkable movement of goodness and progress!
The power of a kind neighbor
Let's start with what the Conspiracy of Goodness™can look like when neighbors embrace the power of kindness and community.
First up: Fridges! What if we could support and feed one another with the abundance we have in our lives? Those extra tomatoes during tomato season, the extra food in our fridges, the extra food left at your restaurant or bakery at the end of the day. Freedges are community fridges filled with free food available to anyone. They are stocked with donated food from individuals, businesses, and organizations and are accessible to anybody. Best yet, they are something any one of us can start in our own community–or even at a smaller scale at our workplaces, schools, or centers of community!
What about something even more simple: walking. The non-profit organization, GirlTrek, is committed to promoting the health and well-being of Black women in the United States. They help women prioritize their own health and wellness by participating in daily walking routines and engaging in community-building activities. With an act as simple as walking together, these women are not just improving the health of their communities, they are improving the safety and livability of their neighborhoods as well! Inspired to do more with your daily walks? Take a look:
Using your talents
What about those talents that are just a part of us? Those things that make us uniquely us. Can they help us be a part of the Conspiracy of Goodness™? The simple answer is, YES!
Have a profession or talent you are passionate about? Why not use it for good? Nasir Sobhani, also known as "The Street's Barber", takes his talents as a barber to provide free haircuts to people experiencing homelessness in Melbourne, Australia. His skills as a barber go beyond a haircut, helping people feel seen in a meaningful way and building self-esteem in those who may be struggling.
What about taking something you're terrible about and turning it into a force for good? Hercule Van Wolfwinkle took his terrible skills as an artist and turned them into a way to raise money for animal rescue organizations. His hilariously bad drawings of people's pets have helped him raise thousands of dollars with his art.
Is your unique talent just being present for people? You could take after Shoji Morimoto. He has made a career as "Tokyo's Do-Nothing Guy." His clients hire him simply to be present with them, providing people with quiet companionship. His work, using talents once deemed useless by others, have made people feel more comfortable and confident by just being there. Even if we don't make a career of this, how could we take his way of being out into the world to bring happiness to more people?
Ordinary people coming together to make extraordinary change
Great things happen when people come together to solve problems they are passionate about. Are you already one of those people? Here's some inspiration!
In Sweden, ReTuna is redefining what a "mall" looks like. Though this may look like a traditional mall, all of the shops sell recycled and upcycled goods, changing hearts and minds towards business models that reduce our impact on the environment and make it easier to be a conscious consumer! From shop owners, to patrons, to those that donate goods at the on-site recycling center, ReTuna is an amazing example of how businesses can help make a positive difference and change hearts and minds.
What if we turned our own experiences feeling "different" or like an "outsider" into a movement that made more people feel welcomed and empowered? All Bodies on Bikes is a growing movement started by cyclists Marley Blonsky and Kailey Kornhauser to make the world of biking more inclusive. With a growing following across the US and an active community on social media, their work has had a positive impact on thousands of people–myself included! Passionate about something and want to make it a more welcoming place? You, too, are a co-conspirator in goodness!
Can we turn generations of knowledge into a powerful tool for change? This community-led reforestation project in the Peruvian Andes incorporates traditional indigenous knowledge and practices to restore degraded lands and plant native trees. It makes the most of one of our most underappreciated resources: local wisdom. What wisdom can you and your local community share with the world?
Found yourself inspired by some of these stories to become a co-conspirator in the Conspiracy of Goodness™? Do you see yourself in some of these stories in some small way? Then WELCOME to the movement! We need more people like you! 
The future is GOOD! 
At its core, the Conspiracy of Goodness is about shifting our perspective from one of fear and cynicism to one of hope and positivity. It's about acknowledging the challenges and struggles that exist in the world, but also recognizing the resilience and compassion that can help us overcome them.
As we celebrate this 4th anniversary of the Conspiracy of Goodness™as a worldwide movement, I urge you to find your place in it, and pat yourself on the back if you are already a part of it. Random acts of kindness, volunteering, donating, supporting mission driven businesses—or starting them—caring about our planet, sharing stories like the ones above, it all counts!
So let the world know all of the great work people are doing to make the world a better place. Shout out your friends, the people, organizations, and businesses you know who are actively participating in the Conspiracy of Goodness™  on social media with #ConspiracyofGoodness.
Share your work on social media with #ConspiracyofGoodness, or simply send us an email at [email protected] letting us know how you are making a difference! We want to hear from you!
Stay beautiful & keep laughing!
-Liesl
Published: April 19, 2023